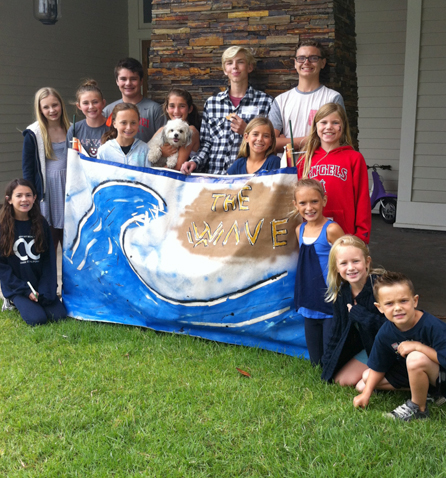 Thanks to the volunteer efforts of 12 Newport Beach junior high boys and girls involved in the philanthropy group called THE-WAV (Teens Helping Everyone, With A Vision), many women at the Correctional Institute of Women in Corona will soon receive their own copy of "Jesus Calling," a small book of readings for every day of the year.
"It all began because of a young woman I know who is in prison," Newport resident Jody Danese explained. "She could receive email at that particular prison, so I started emailing her every day.  I'd get up early every morning and write the day's message I read in 'Jesus Calling.' I really like the little book; it's a daily devotional that touches the hearts of readers in amazing ways. It always seems to help, no matter what you're struggling with. Each day's message is short, and it seems easier for many people to connect with than the Bible, though it refers to Bible verses."
When I visited the young woman in prison some time later, she looked totally different than the last time I'd seen her," Danese continued. "It's hard to put into words, but she just seemed to radiate light. The next time I saw her, she said she was sharing what I'd sent with her cellmates, and they just couldn't wait to read what the message was for each day. She said several cellmates began noticing positive changes in their lives they never thought were possible. I decided I had to do this in a bigger way. I want to get 'Jesus Calling' into as many prisons as possible, hopefully everybody can get their own copy, or at least can have access to it."
"Jesus Calling" is a collection of journal writings by Sarah Young, a missionary, counselor and church planter who ministers with her husband in Australia. Sarah wrote each day's entry as if Jesus were speaking directly to the readers.
"I've seen how this book helps change lives," Danese said. "It helps people feel loved, connected and forgiven."
Danese recently founded THE-WAV with her children, Gian, 13, and Gianna 11. Danese's children had been involved as junior counselors in KWAVS  (Kids With A Vision) and Jody was so impressed by the group's impact on her children and others that last January she launched THE-WAV for older children. It is under the umbrella of Women of Vision, a ministry of World Vision, an international Christian humanitarian organization. The group meets once a month, and is both Mother/son and Mother/ daughter.
"There wasn't the niche for them. I realized we needed a Christian-based ministry leadership group for junior high age," Danese explained. "We have three philanthropies.  Two are from Women of Vision; our kids donate supplies and tutor at Shalimar Learning Center in Costa Mesa once a week, and we also participate in the Walk for Water, which supports clean water for families in Kenya. I also wanted this prison ministry. Our girls sold bracelets and lemonade, and our boys had a car wash. They raised $350 and are really excited about donating the 'Jesus Calling' book. I've contacted the publisher and we're figuring out details."
"We took the summer off, but we're getting ready to start back up in September," Danese continued. "We're kicking off the new season with a recruiting event Friday, September 6 at Big Corona Beach in Corona del Mar at 7 p.m. for a bon fire and s'mores."
For further information, email [email protected]  
Cindy can be reached at [email protected]