Late last week I had the occasion to once again be reminded what a remarkable and unique area we are blessed to encompass.
I was headed north on the 73 from San Juan Capistrano, arrived at the top of the hill beside Newport Coast, and witnessed a site to behold.
The air was clean and dry which allowed visibility to be over 60 miles. To the left, Palos Verdes, the Spruce Goose dome and the high-rise Long Beach buildings seemed five or six miles away. Viewing east were the Santa Monica Mountains and the Wilshire District high-rises. Further east, the tall buildings in downtown L.A. appeared to be little more than 10 to 12 miles away, and the Hollywood hills. Amazing!
And the pièce de résistance: a small white blur that was obviously the Hollywood sign! Behind those hills were the Santa Susanna Mountains which are the far side of the San Fernando Valley. Only in America! Change that, only in Newport!
I was once again reminded and grateful to be blessed in what I think and feel is the greatest place on earth. We are so lucky. Is this a great life or what?!
Moving on; I thought I'd share what I just reminded my yacht clients. This may sound farfetched but experience shows that spring and then the summer boating season is closer than you might think.
Therefore, instead of waiting until that last moment, I recommend that any boat projects or maintenance needed be performed now. Once the February rain ends, (if we have any), and the temperature improves, (that is if we have any cold temps), boat owners will realize that the summer boating season is drawing near.
By the time that event transpires, the quality repair and maintenance crews are already engaged and their schedules are backed up. This can cause stress and consternation. Life's too short to cause this unnecessary event and proper planning is my recommendation.
My lifetime of boating has re-enforced the notion that preventative maintenance breeds smooth sailing. A small mechanical defect can start a chain of events that quickly become extremely expensive.
A quick reminder of costs on yachts: figure the estimate in your head and then double it. Sorry to say, but that's boating.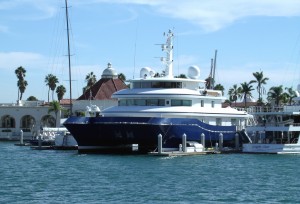 A quick change of subject. Ray Richards, the Costa Mesa naval architect and mechanical engineer I used 25 years ago to spec out my pile driving barge, showed me at that time a photo of a 400-foot Swath yacht hotel he designed for a Hong Kong business.
Ever since then I've been keen of those catamarans, and a few years ago Showboats International magazine featured a dark blue yacht of Swath design called Silver Cloud. I took a photo of it recently in San Diego.
The owner's wife becomes seasick easily so he built this and they cruised around the world twice without any illness. The motors, generators, fuel and water tanks are inside nine-foot torpedo shaped tubes below the water surface with the propellers.
Happy New Year!
Sea Ya,
Skipper Steve