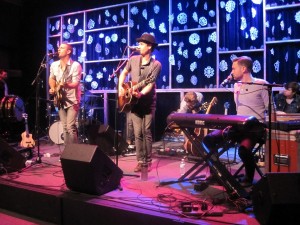 "This was my first time experiencing "A Christmas Together," said Corona del Mar resident Joel Carlson. "My girlfriend and I were invited by friends, and though I hoped to get more into the Christmas spirit, I wasn't too sure what to expect. A lot of church concerts leave the guitarist in me looking for more. To say I was surprised by the talent is an understatement. All the artists meshed together into something incredible! I was astounded by the skills and variety each one brought to the stage, be it Southern Blues, Reggae, or a Christmas carol. It was fantastic!"
"I was also very impressed with the audience," he continued. "There was a great sense of community as we all came together to enjoy the music and sing Christmas songs together. From 10 to 80 year olds, everyone enjoyed the night together. I eagerly await next year's concert. I wouldn't miss it!"
Joel was one of the over 800 people who attended "A Christmas Together" concert at Rock Harbor before Christmas. The concert featured a talented collection of individual musicians and singer-songwriters who not only perform their own songs, but also reflect the name of the concert by collaborating and singing family style; they provide back up music and harmony for one another.
This was the 4th annual tour for "A Christmas Together," and each year they produce a new album.
During the month of December, "A Christmas Together" held 18 performances at churches in California, Arizona, Washington and Oregon.
The musicians this year were Dominic Balli, Trevor Davis, PawnShop kings, Jadon Lavik, Tyrone Wells, and Evan Wickham. PawnShop kings is made up of brothers Joel and Scott Owen who were born and raised in Newport Beach.
Each artist was introduced with a brief video during which they said a bit about themselves or shared favorite or meaningful Christmas memories.
"As artists we're all from different backgrounds, but we're all here to promote Jesus." Jadon Lavik said.
This was the third year "A Christmas Together" was held at Rock Harbor. Sponsors for "A Christmas Together" include Food for the Hungry and Open Doors, which serves persecuted Christians worldwide.
Food for the Hungry is a Christian organization serving the poor in 30 countries. The audience had the opportunity to choose a child to sponsor, committing a dollar a day to help provide a needy child with clean water, stable food, access to medical help and education. By the end of the evening, 55 children from an impoverished town in Ethiopia were sponsored.
"A Christmas Together" concert has become a fun tradition for our church family to enter into the Advent season together," explained Jeff Gideon, Communications Director at Rock Harbor. "It's a creative way to prepare our hearts. In the midst of a season that is chaotic for everyone, we wanted to take time to pause, slow down and get centered on the fact that we're celebrating the coming King and to keep that in focus."
"It's a great concert where we heard a variety of Christmas carols and old school hymns, as well as originals from the artists. Music can be such a wonderful way to help us slow down and take a posture of undivided attention towards God and the season. Any time we have the opportunity to get together as a church family and worship God together, we always open ourselves up to the possibility that God is going to do something significant."
"A Christmas Together" album is available on itunes, amazon.com and at achristmastogether.com.
Cindy can be reached at [email protected]