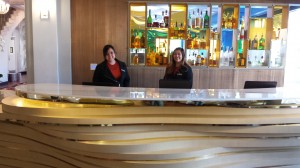 Newport Beach is famous for its Christmas Boat Parade, but a few days later Newport's cousin to the north, Pasadena, has the national spotlight on New Year's Day as it hosts the Tournament of Roses parade and the Rose Bowl.
We may not think of Pasadena as a weekend getaway destination, but at just over 50 miles away it is a historic and beautiful ride. I spent a weekend there recently to see what they had to offer, and I can state that it takes longer than one weekend to appreciate this gorgeous town.
Most people don't know that the connections between Newport Beach and Pasadena truly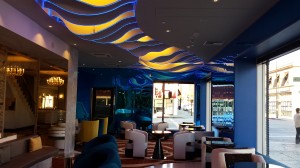 do make us sister cities of a kind.
Once upon a time, back in the 20s, Balboa Island lots were difficult to sell. The land was dredged, people were unsure of the stability of the houses or if the area would ever amount to anything.
Land in Pasadena was not selling too well either, but some developers here and some up there decided to throw in a free Balboa Island lot if they bought a lot in Pasadena. Really. It was a deal too good to be true, and a lot of home buyers took advantage of it.
First things first: where to stay.

Personally I hate boring, trite, ordinary hotels so tried to find a Bed & Breakfast or boutique hotel. I came across a hotel with a name I could not pronounce or recognize: DusitD2 Constance.
After researching the name, I learned that Dusit Thani Group is actually a well-established 65 year old hotel management company from Bangkok, no different than the Marriott's and Hyatt's of the world. They have luxury resorts in China, India, Egypt, Kenya, and now this new one in Pasadena, their first in the US. It's conveniently located on Colorado Blvd just off Lake St.
The "D2" designation is one of four groups under their umbrella, each with a different market. The D2 is contemporary, with a touch of Asian influence and totally modernized to today's standards. It first opened in 1926 as The Constance Hotel. The hotel had 164 guest rooms with five retail stores on the ground floor. According to the DusitD2 Constance website, the hotel has 136 luxury accommodations, including 12 suites, with the latest in technology. Each guest room features an iPad touch system that serves as a virtual concierge and allows guests to adjust room controls, make housekeeping requests, arrange dining reservations and even shop online. How many other hotels do you know that can say that?
When I asked people what cultural sights I should experience in Pasadena, two answers kept coming up: Norton Simon Museum and the

Huntington Museum. These are the top dogs in town, but there are many others including the Pacific Asia, the Museum of California Art and Pasadena Museum of History. The list of museums in this town runs more than a dozen.
The Norton Simon is named after the man that made a name for himself by growing his non-descript sheet metal company into a powerhouse, then purchased a struggling bottling company that turned into Hunt-Wesson foods, Canada Dry, Max Factor and Avis Car Rental.
The museum is chock full of American and European arts and sculptures, including works by Raphael, Rembrandt, van Gogh, Degas, Picasso, and other noted names. There is so much amazing art here that my short visit convinced me that this museum requires a full day to appreciate it all.
The Huntington encompasses a museum and so much more, including a library and botanical garden. Founded by Henry Huntington in 1919, this complex houses more than six million volumes including a manuscript of Chaucer's Canterbury Tales, a Gutenberg Bible, an original edition of Audubon's Birds of America, The Blue Boy, a full-length portrait by Thomas Gainsborough, and a world-class collection of the early Shakespeare work.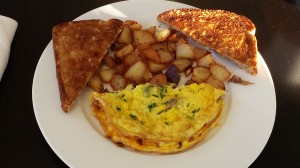 The Huntington also is a noteworthy centers for the study of the American West, with materials that cover the pioneer experience, the Gold Rush, and the development of Southern California. The adjoining 120 acre botanical garden can be a half day commitment in itself and, like the Norton Simon, demands a full day of exploration.
My search for unique dining near the Dusit took me to Le Cordon Bleu, the famous culinary school. They offer a retail restaurant that is not fancy, but is manned by the students and is unbelievable priced. I had an omelet for $3!
I like to go someplace that sticks in my memory and offers experiences I can share with friends. My brief sojourn to the DusitD2 Constance, the Norton Simon, Huntington Museum and Le Cordon Bleu hit all the right marks.
The DusitD2's Rose Parade package allows guests to view the parade from the comfort of their room, complimentary room service, pastries on the morning of the parade, and more. Packages start at $408 per night with a two-night minimum.
To reach the Dusit: (626) 898-7900 or dusit.com.
Norton Simon: (626) 449-6840 or nortonsimon.org.
The Huntington: (626) 405-2100 or Huntington.org.