Normally we use white kitchen-size trash bags for all of our garbage needs, but the other day I brought out the extra size for some serious cleaning.
Wyatt was sitting at the kitchen counter and saw me walk in with the black bag.
"Is that a Glad bag?" he asked
"Well, not exactly, it's the Costco brand," I answered.
"Does it have Force Flex?"
"Does it have what?"
"Force Flex."
Thinking that sounded like a good thing for a trash bag to possess, I said, "I think so."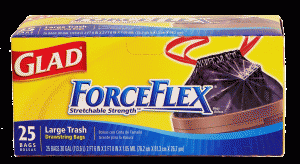 Kudos to the marketing team at Glad, apparently their campaign is working. But I am not sure that their target market is 6-year-olds.
Of course, I want my trash bags have the latest technology. But more importantly, when did my son start listening to household product commercials?
I was reminded of the power of advertising. Obviously, I know that this time of year kids are tuned in to the commercials advertising the toys. But the fact that Wyatt was able to prompt a conversation about trash bags was unexpected. Kids pick up on everything. They're like those paper towels, the quicker picker-uppers.
A few days later, I probed Wyatt a bit more on what he learned, just to test the power of commercials.
But the moment had passed.
"Can you just watch it on YouTube, mom?"
So I did what any busy mother right before Christmas does. I sat and watched Glad trash bag commercials, and clicked on the print ad links for no good reason.
Or so I thought.
By and by, the garbage gods had a special message for me channeled through the advertising campaign: It was after the Consumer Reports video (can a trash bag really hold the contents of a broken piano?), the printable coupon for the odor shield bags, and the nostalgic Tom Bosley of my teenage years, that I received the Good Word: "Offering stretchable strength when you need it most, the Glad® Force Flex® drawstring garbage bags are just the thing to keep your trash contained."
If you take away the specific product info, the message reads: "stretchable strength when you need it most … just the thing to keep your trash contained."
The combination of strength and flexibility. Isn't that the balance we all strive to possess?
Some have a great deal of power. But in a storm it is the branches that don't bend that instead break.
And among us, who doesn't know those people who seem to just keep stretching and stretching as they accommodate everyone's needs. That's not good, either. These people carry too hefty a load (sorry, Glad people, I couldn't resist) and lose strength – breaking at some point is certain.
There are a whole lot of people who have trouble keeping their trash contained. It spills all over the place and makes for messy situations.
"Stretchable strength when you need it most … just the thing to keep your trash contained."
A marketing scheme to sell more garbage bags?
Perhaps.
Regardless, I am sold on Force Flex.