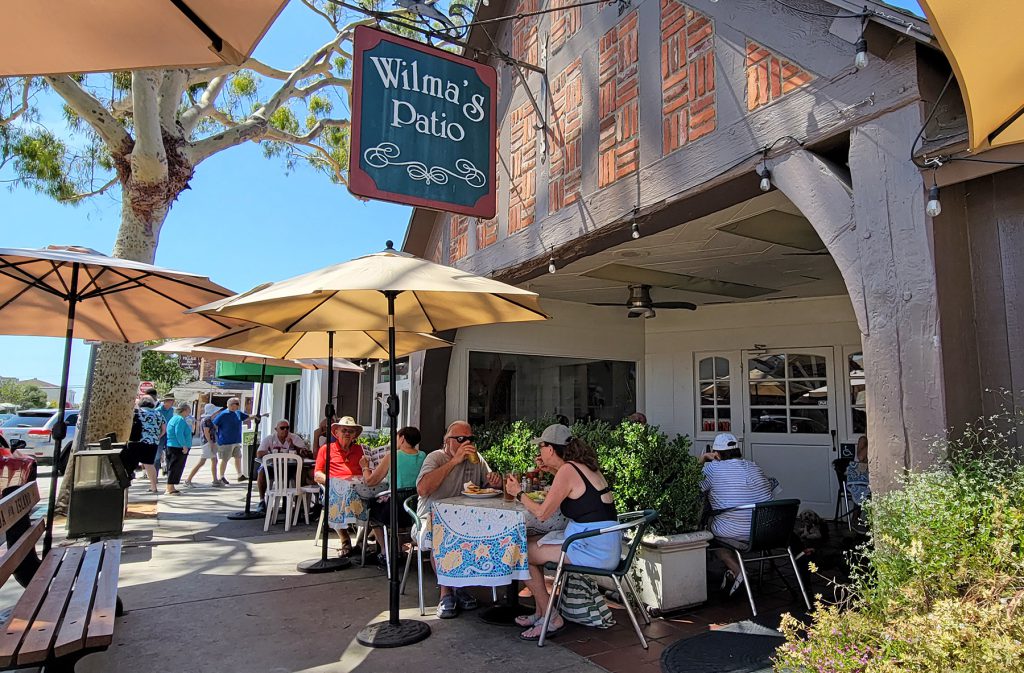 Dozens of restaurants have come and gone on Balboa Island, but only one has endured for four decades: Wilma's Patio.
Wilma and Maurice Staudinger opened Wilma's Patio on September 7, 1982. The 40-year anniversary is an impressive milestone in Newport Beach's culinary world. According to Sheri Drewry, the daughter of Wilma and Maurice who now runs the day-to-day restaurant operation with her husband, Dave, Wilma's Patio has been celebrating all month long.
Drewry remembers when her parents opened Wilma's Patio down the street from the current location. Their grand opening excitement, said Drewry, was short-lived.
"They opened on September 7 and closed five days later," stated Drewry. "They had hired the chef from the Jolly Roger restaurant to put together a menu for them, but they came from the fast-food arena and did not have the experience of a sit down restaurant. The chef created an elaborate menu with oysters and crab and lobster and steaks. The place was tiny and the menu was too big. My parents did not know how to manage it."
Turns out the chef was taking half of the food out the back door and home, so Wilma fired everyone except on person: Vinnie Martinez, who still works for Wilma's patio 40 years later.
"They scaled back the menu to one page with breakfast and a few lunch items, reopened with a new crew, and created something they could manage," said Drewry.
After a couple of months, Drewry – who was living in the San Fernando Valley – got a call from her mother asking her to help run the restaurant. Drewry has been laid off, so moving to a beach town and working in a restaurant was an easy decision.
Locals came to love dining at Wilma's, so eventually the menu expanded to include dinner.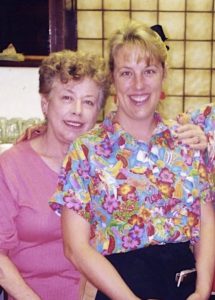 In the fall of 1997, Wilma's Patio had the opportunity to take over the space where the Jolly Roger restaurant once stood, although Maurice did not live to see the new restaurant—he passed away prior to the move.
The new space was much larger than the old restaurant, and Drewry said that led to new challenges.
"We did not do well right off the bat," admitted Drewry. "We made a lot of mistakes. We did not know how to manage something this big. It was a big learning curve, and it took a couple of years to get it dialed in."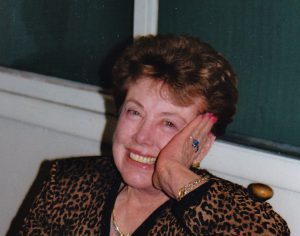 Wilma retired from daily involvement in the restaurant in 2007, but she stayed active in the community, and in 2004 she was honored to be Balboa Island Parade's Grand Marshal. Wilma died in 2014.
Wilma's Menu Opus
When Wilma's Patio opened in the new spot on Marine Avenue the menu was scaled back, but it has since grown into a multi-page opus. Drewry kiddingly blames the lengthy menu on her customers.
"People would say can you make me something not on the menu, and if we had the ingredients we'd make it and add it to the menu," explained Drewry. "So if you look at our menu it is big, but the way we did it was through pilfering items we had in house so there was not as much waste or storage We'd do think slices of ham for breakfast and thin slices for sandwiches. We had fried chicken on the menu so we added a fried chicken sandwich. We had burgers and then we added a patty melt because we had bread. And a sourdough burger—that's probably our number one seller."
Drewry said at one point she tried to cut some of the comfort food for healthier options such as seafood, but "people want pot roast, people want grilled cheese, people want fish and chips. It's comfort food. That's why they come here."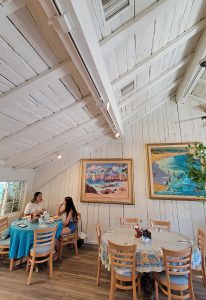 They also come for the history. One dining room is constructed from wood that was salvaged from the original bridge onto Balboa Island. The beams in the restaurant are from the railroad that came down the peninsula. The spacious back patio was once a badminton court where people could learn to play and purchase badminton sets.
History took a back seat when the pandemic hit in March 2020 and restaurants had to close their doors.
"Normally we get five to six weeks of spring break starting in mid-March, and I ordered a lot of food. What are we going to do?" wondered Drewry.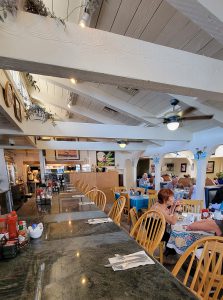 The answer: create an ad hoc market in front of the restaurant and sell everything from eggs to orange juice and milk. They made dinners to go including enchiladas, pot roast and chicken, plus champagne brunch. They delivered free on the island.
"We did what we had to do," recalled Drewry. "I had bills to pay, so we got creative."
Now, Wilma's Patio is one again packed with hungry diners who relish their favorite dishes, which includes pumpkin pancakes.
"People start calling in September asking if we have our pumpkin pancakes. They have a fan following all their own," said Drewry. "We've been selling them for 35 years, way before the pumpkin craze started."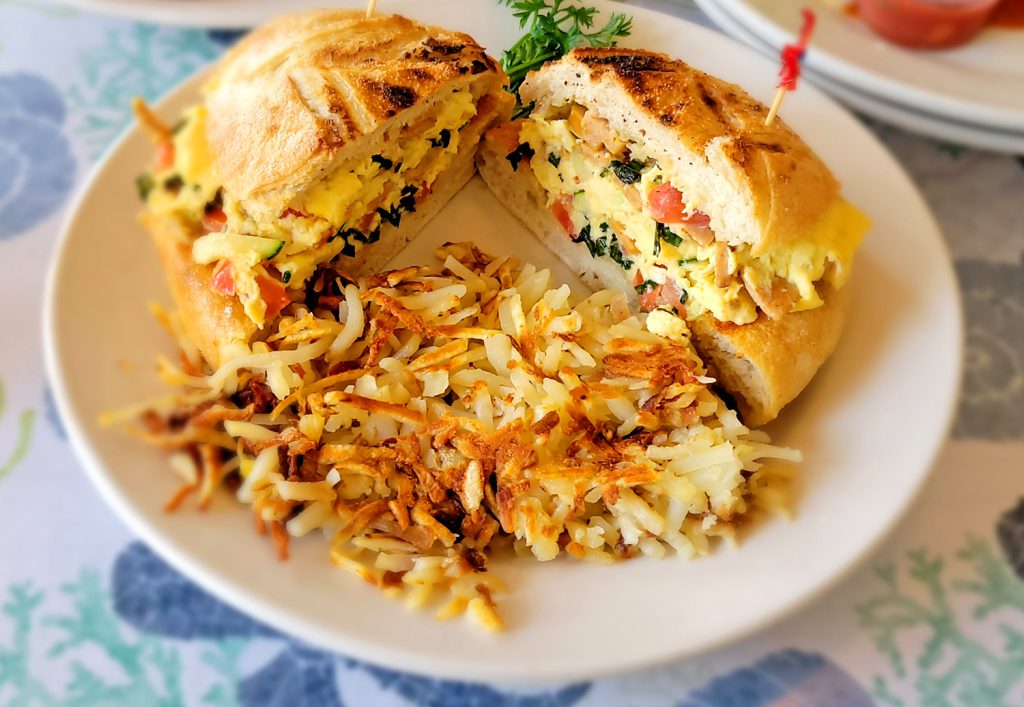 Another popular breakfast dish, said Drewry, is the Belly Bomb: a sourdough loaf cut in half and stuffed with an omelet. Also the egg enchilada, another item that's been on the menu for several decades.
Drewry has witnessed countless changes on Balboa Island over the years, but fewer changes to her staff—some longtime employees have been working at Wilma's Patio for more than 20 years.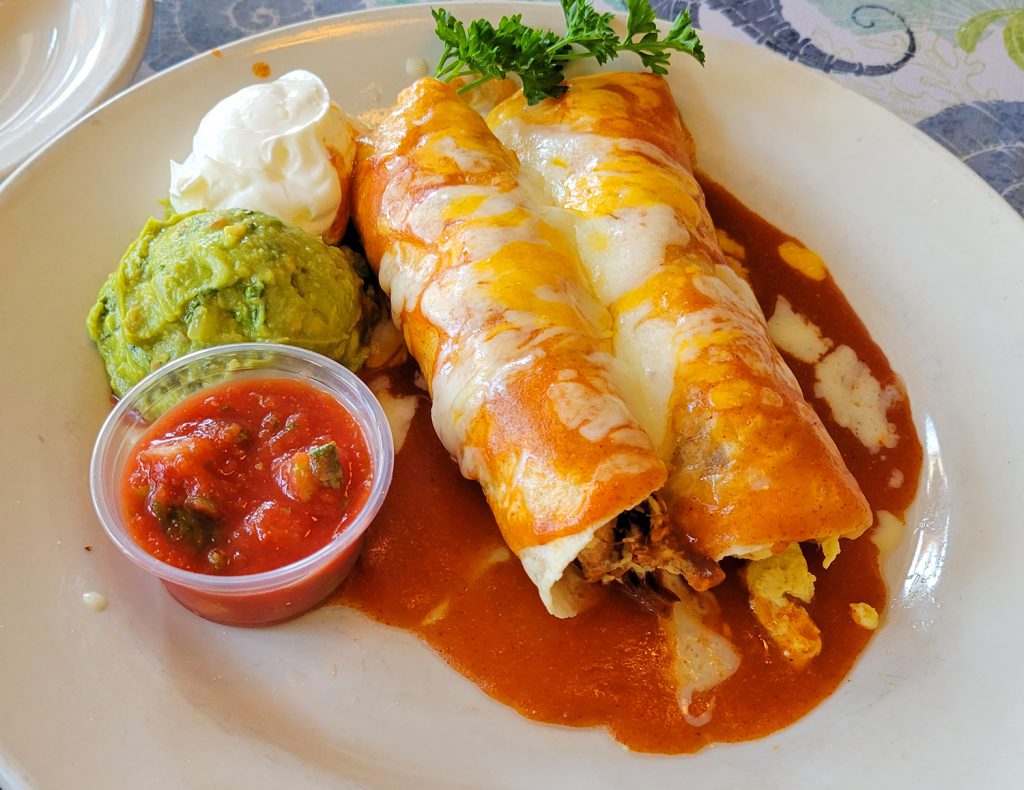 "It's a family-run business, so it has a different feel to it," said Drewry, who added that although she's been running the restaurant for many years, she has no plans to retire—yet.
"I would love for my daughter to take it over. She grew up working here as a server. This could be hers if she wants it."
Until then, Drewry has plans to host monthly wine dinners and bring in live music, among other things.
"Maybe a three-course dinner with wine pairings. Something fun and different. I love food, and I love creating."
Drewry is already planning her strategy for the Newport Beach Christmas Boat Parade, which brings thousands of people to Newport Beach, and Balboa Island.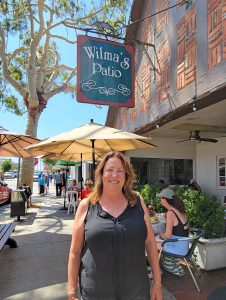 "The Sunday of the boat parade is the busiest day of the year for us," said Drewry. "All the families are here, people come out during the day to meet friends, there are big parties, and people come in here all day long."
The Boat Parade does bring an avalanche of customers, but Wilma's Patio has been blessed with many longtime diners who frequent the restaurant multiple times a week. It's easy to see the allure: fine food, friendly staff, and an ambiance that says "welcome to Wilma's…welcome home."
Visit http://www.wilmaspatio.com.