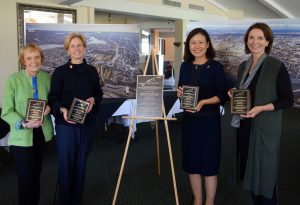 Newport Beach Councilmember Diane Dixon, Orange County Board of Supervisors Chairwoman Michelle Steel, former Newport Beach Country Club co-owner and civic leader Colleen Johns were honored at the Newport Beach Golf Course for their support in the course renovation and preservation for open space.
A plaque was presented and will be mounted at the course in recognition of being the inspiration behind the formulation of a group of investors to buy the once down-trodden facility and renovate it to become a crown jewel in the community.
Golfers are flocking to the facility and the golf course is thriving for the first time in years. The new ownership group, which has been in place for about 15 months, is interested in the long-term responsibility of keeping open space in the county-owned back nine on the golf course, closest to John Wayne Airport.
"We are interested in economic development and open space rather than an airport (on the back nine)," said Dixon, addressing a luncheon audience in the Tee Room at Newport Beach Golf Course, including host and organizer Buck Johns. "You have the full support of the city of Newport Beach here, and, Buck, I want to thank you for protecting our community in this unique project."
In addition to advocating for the golf course and Newport Beach open space, Steel said she "admired (golf course ownership) for bringing a lot of business to Orange County, particularly Asian business."
Steel added that she would love to see more Asian female golfers playing at Newport Beach, instead of going to Industry Hills, Riverside or San Diego.
Since the new ownership group took over, the locally renowned 18-hole executive golf course has undergone a successful major overhaul throughout the property, including a new driving range with synthetic turf.