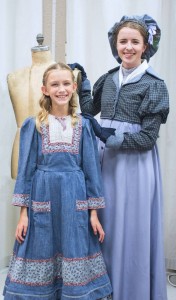 Christmas is considered a family affair; so too is South Coast Repertory's annual production of "A Christmas Carol" that starts previews this weekend.
Hal Landon Jr. returns to play Scrooge for the 36th year, and a handful of other longtime SCR favorites are back in pivotal roles.
But every year, SCR welcomes a host of new faces—16 students selected from SCR's Theatre Conservatory (and chosen through rigorous auditions) to tackle the various children's roles in "A Christmas Carol."
The 16 actors are divided into red and green teams. After the second week of rehearsals, and during the run of the show, they will perform with their teams on alternate days. This allows them time to share the holidays at home with their families as well as onstage with the SCR family.
According to director John-David Keller, "Our adult actors and the show's other artists are a very special group. Most of them are veterans of numerous productions; however, the youngsters, with one or two exceptions, are all newcomers to the show, and it's great fun to see the joyful fresh faces and welcome them to our cast of professionals." This year, the young cast members include two girls from Newport Beach: Lauren Lyons and Aoife McEvoy. McEvoy portrayed Tiny Tim last season, and now alternates in the role of Belinda Cratchit. Lyons portrays Scrooge's sister, Fan, and a teen girl.
"I am so thrilled to be in this amazing production again," said McEvoy. "The experience is very different as a new character but I love it! It lets me explore a different kind of acting and character. I love being back with the adults. I missed them and I am sure they will teach me many things. I love the sense of family and professionalism in A Christmas Carol. I never dreamed I would get in again but I am elated I did."
Lyons said it has been a dream of hers to get cast in "A Christmas Carol." This was her first time auditioning for the show, and she did well enough to get called back, but then started to doubt herself.
"I stumbled over a couple of my lines in the read through and I felt I didn't do as well as I had done in the audition," explained Lyons. "But even though I had some doubts I know I did many good things as well, like having the two scenes almost completely off book and being able to think on my feet when the directors asked me questions."
Lyons was naturally elated when she learned she had been cast in the show.
"My acting teacher at South Coast Repertory was the one who told me. I was overjoyed and I gave her a huge hug. I was so excited to have the opportunity to work alongside professionals. Having seen the show many times, this has been a dream of mine for years. I had always wanted to audition but I always had other commitments at the beginning of the school year so I was never able to audition.  This year when I did not have any huge commitments I decided this is the year, I'm going to audition and see where I go from there. It's now or never," and look what happened. This year was the year!"
"A Christmas Carol" runs through Dec. 27, 2015. For tickets and more information, visit scr.org.