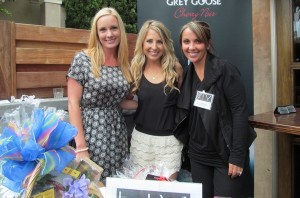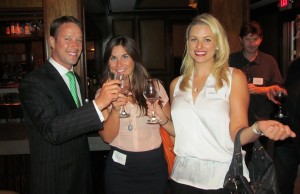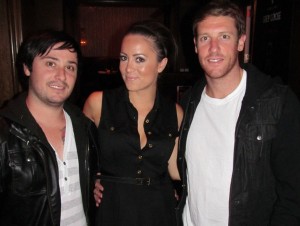 About 30 guests joined Literacy in Vision's young philanthropists to "Gather, Toast and LIV" in the name of literacy at the Landmark Steak House.
Literacy in Vision (LIV) board members Daniel Korpman, JoAnn Modarelli Amara Omoregie, Russell Watts, Aaron Young and Britni Lopez hosted the "LIV-OC: Landmark Steakhouse Social" to raise awareness for the Literacy Project Foundation (LPF).
Proceeds from the event benefited the students at Sunkist Elementary School who recently graduated from LPF's 10-week literacy program.
President Dan Korpman addressed the crowd: "Literacy in Vision serves to teach and inspire young professionals to impact their community while developing themselves as leaders."
The event attracted those looking to give back to a worthy cause through networking socials. New on the scene were Casey Arisohn, founder of Radii Footwear, with girlfriend Crystal Cannon, creator of Naked Girl Bikinis, who mingled with another fascinating entrepreneur, Raymond Fuentes, a recent gradute of Cal State Fullerton and CEO and Founder of Rosa Packs, a backpack manufacturing company.
A passionate message was delivered by LPF Master Teacher Kara Gregory, who shared her experience on LPF's front lines in Orange County elementary schools. She spoke about the positive effects the reading program is having on struggling readers in the 3rd and 4th grades. Increased reading skill levels and self-esteem mark the 10-week literacy program's success in more than 39 elementary schools.
This friend-raiser was one of a series of lively events LIV hosts throughout the year. Guests included Alan Freeman, LPF President Sue Tucker, Erin Gargan, Paulina Valdez, Peter Mudge, Alicia Bedrosian, Jonathan Chortanian, Rico Ferrante, Marisol Garcia, Tamara Copeland, Paul Johnson, Mimosa Lam-My, Natalie Heimstra, Danielle Drucker, and Kimberly Vig, Kara Gregory and Scott Dicus.
For more information, visit literacyprojectfoundation.org.