By Christopher Trela and Catherine Del Casale | NB Indy
Luck of the Irish Cuisine at Muldoon's
St. Patrick's Day is still a week away,  but when you go to Muldoon's Irish Pub in Fashion Island, every day is St. Patty's day.
That's what it felt like when we were invited to Muldoon's for dinner.
From the outside, Muldoon's looks like a small restaurant, but once you step inside the spacious atrium courtyard, it expands into two separate bar areas plus a dining room and patio seating.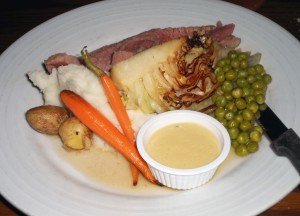 We were seated at a cozy table next to the fireplace. Almost immediately, Muldoon's signature soda bread was brought to our table. This hearty and highly-addicting baked treat soon made way for two small starter dishes: banger bites (sliced sausage) with warm Dijon sauce, and chippers (a small version of fish and chips), which our friendly server, John, recommended.
"I've never had fish and chips, even though I've been to England and Ireland," admitted Catherine. "These chippers are crisp and warm, and everything I imagined fish and chips should be."
We ordered specialty brews to go with our pub food: Honey Blonde American Ale for Catherine, and Taste of Ireland (flight of three beers) for me.
When it came time to order entrees, we asked John about some of the more popular dishes on the menu.
"You can't go wrong with the corned beef and cabbage–it's one of our signature items," he told us. "I really like the barbecued salmon too."
We ended up with both items, and were glad we listened to John.
"This salmon is cooked to perfection," declared Catherine. "And I really enjoy the flavor of the barbecue glaze."
"Sure and begorrah, the corned beef is fit for a leprechaun," I said with a horrible Irish brogue.
We were nearly full, but two desserts called our name: Cindi's special dark chocolate pudding (made once a week by owner Cindi Schwartz), and berry trifle with vanilla bean custard and whipped cream
"Wow. Wow. This is fabulous," I exclaimed. "Maybe the best trifle I've ever had."
"You know me–I'm a fan of anything with berries in it," said Catherine as she pulled the bowl of trifle away from me.
We agreed that repeat visits to Muldoon's are mandatory.
Appetizers are $4 to $10. Entrees are $10 to $25. Website: MuldoonsPub.com
Bloody Mary Brunch at Charlie Palmer's
"I'm not a big Bloody Mary fan, but when I heard about Charlie Palmer's new Bloody Mary brunch, I had to try it," said Catherine.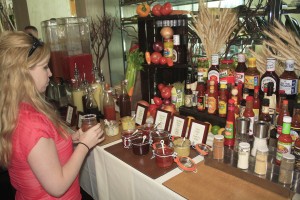 And try it we did on a recent Sunday morning. Catherine started with a Bloody Mary made with gazpacho, lemon and lime juice, basil, ginger, cayenne pepper, honey barbecue sauce, and decorative trimmings including celery and lettuce. She also ordered a side of homemade beef jerky which was so good she ordered a second helping to go.
I made two trips to the Bloody Mary bar, trying various combinations of spices and garnishments. The first was refreshing but too mild, the second perfectly spicy.
Then, it was on to food. We enjoyed the caramelized onion and Gruyere quiche appetizer, which Catherine declared delicious.
"I really enjoyed how soft and light the eggs were, but still had that delicious cheese flavor," she explained.
I slowly devoured my entree of salmon rillette Scotch egg with lemon caper butter sauce and kale, but the winning dish of the day was the French toast bread pudding.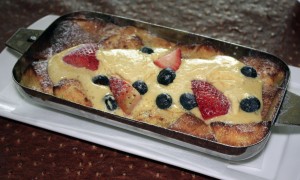 "I will definitely be coming back again for more of this," she said with a smile. "I like the presentation: served warm in the dish it was cooked in. I also love the maple foam and fresh berries on top."
The Charlie Palmer Bloody Mary Brunch is $37.50 per person, and includes one appetizer, one entree and unlimited trips to the Bloody Mary bar. It's available Sundays only. Website: CharliePalmer.com.