Newport Beach Mayor Diane Dixon had some big ideas, straightforward principles, and specific goals to share during her "State of the City" speech at Speak Up Newport's 35th Annual Mayor's Dinner on Feb. 4.
"I am pleased to tell you that the state of the city is in excellent shape," Dixon said.
The city is in a solid financial state, she said. Revenue is strong and they are finding more ways for cost savings. There is a budget surplus and the city does not, and will not, create budget deficits, she noted.
The "big picture" is that Newport Beach is a great city to live and work in, Dixon said.
But while there are a lot of benefits, there are also some challenges, she admitted, including unfunded pensions.
"It is a problem that is not going to disappear any time soon," Dixon said, although they are working on it.
Other challenges include traffic and law enforcement issues related to the high number of visitors.
"Our job as elected officials is to plan carefully for the future and overcome these challenges," Dixon said.
She also spoke about her views on strong city leadership.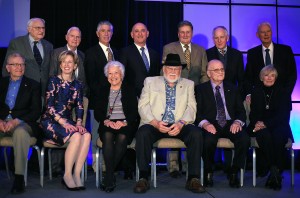 "I have to be responsible to the people who put me here," Dixon said. "Then, doing the right thing on a particular issue follows naturally."
To accomplish this, she aims to listen, respect residents and business owners, be transparent, and rigorously protect the city's fiscal house. She also hosts regular town hall meetings and holds office hours at the civic center.
"I may not be able to solve all your problems, but I will listen and I will try to find the path forward," she said.
She also went over her five mayoral goals for 2016, which she had previously announced: Maintain fiscal discipline, renew and revitalize the city, invest in and keep the harbor and beaches clean and secure, public safety, and involve the community in public and private partnerships.
"In case you didn't notice, I love this job," Dixon said. "I love serving the people of Newport Beach."
She included a humorous video that described her path to the city council, which included movie clips and a voiceover from Dixon. Referring to some of the debates the current council has had over certain issues, she showed a clip of a group of people arguing at a table as Dixon said, "I thought we'd all be in step and do our best for the city, but reality was a little more complicated than that."
She made a few light-hearted jokes, but thanked all the other council members.
"We actually do enjoy serving together," she said.
Disagreeing on some issues is bound to happen and it's not always a bad thing, she added.
Newport Beach is comprised of a diverse group of people with different ideals, philosophies, and opinions on key issues facing the city, she noted.
"This is our city's greatest strength," she continued. "It is good when we disagree, sometimes passionately, on the issues that we face. And I listen, because good ideas and solutions can come from just about any direction."