Lake Forest Man Arrested After Vehicle Chase
A Lake Forest man was arrested Wednesday after leading authorities on a chase through multiple Orange County cities, including Newport Beach.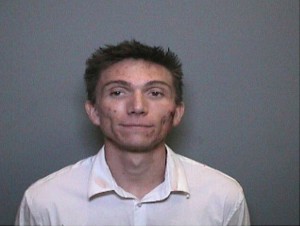 Michael-Claude Jordan Salas, 23, was charged with two felony counts of evading a police officer and one count of misdemeanor reckless driving, Orange County Sheriff's Department Lt. Mark Stichter said.
Salas was being held on a $100,000 bail, according to OCSD jail records.
The vehicle pursuit started just after 3 p.m. when Salas drove a pickup through an injury traffic collision scene that OC sheriffs were investigating between Bake Parkway and Biscayne Bay Drive in Lake Forest, Stichter explained.
Deputies attempted to stop the truck, but he continued driving through, he said.
The pursuit continued through Irvine and into Laguna Beach, where police attempted to use a spike strip, Stichter reported. He's unsure if Salas drove around the spike strip or it just didn't work, but it was ineffective.
The chase continued into Newport Beach along Pacific Coast Highway.
Newport witnesses report seeing the truck speed by followed by at least eight SUV and four motorcycle officers.
Salas was driving up on the median and into opposing traffic, Stichter noted.
"He was putting a lot of pedestrians in danger," he said. "It was obviously a very big public safety issue."
Salas was eventually stopped in Huntington Beach after officers carried out a vehicle maneuver that causes the suspect's car to turn sideways, causing the driver to lose control and stop.
Stichter was unsure if drugs or alcohol were involved.
3 Injured After Cement Truck Overturns on 73
A traffic incident at Newport Coast Drive and the 73 off ramp on Thursday morning sent three people to the hospital, according to authorities.
A heavy duty cement truck was reported to be turned on its side around 8:42 a.m., California Highway Patrol traffic incident information reported.
A gardening truck and BMW were also involved, according to the CHP. About 50 vehicles were backed up by 8:46 a.m. Several vehicles had to be towed from the scene. CHP traffic information also noted that there could have been possible brake failure on a truck.
Orange County Fire Authority confirmed that three people were injured.
Rebirth of Peninsula at Speak Up Newport Meeting
The Rebirth of the Balboa Peninsula is the topic at the upcoming Speak Up Newport meeting on March 9 at 5:30 p.m. in the Newport Beach Civic Center Community Room.
Moderated by Kim Brandt, city of Newport Beach Community Development Director, the program will feature presentations by panelists Stenn Parton (DJM Development), Robert Olson (RD Olson Development) and Steven Mills (Dart Development Group).
The panelists will speak about the renewed Lido Marina Village (opening soon), Lido House Hotel (soon to break ground), and three major new developments.
The major developments to be discussed: The five-story Lido office and penthouse project on Via Lido (recently completed), the Lido Villas, 23 luxury three-story condos on Via Lido (ready for construction), and the Newport Bay Marina mixed use project, with 27 luxury condos, a marina and 36,000 square feet of commercial/retail space on Newport Blvd. (currently under construction).
A questions and answer period will follow the presentations.
The free meeting is open to the public. Reservations are not necessary.
For more information, call (949) 224-2266 or visit speakupnewport.com.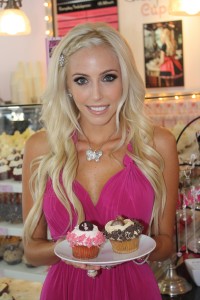 Casey's Cupcakes Founder Ties Knot in Newport
Casey Reinhardt, one of the stars of the cable TV series "Laguna Beach" and the namesake of Casey's Cupcakes (which has a cupcake boutique in Fashion Island) tied the knot last Saturday at The Resort at Pelican Hill in Newport Coast.
Reinhardt wed her longtime boyfriend, Sean Brown, in a ceremony that the cupcake queen described on Instagram as "magical and incredible."
"Walking down the aisle with my two incredible dads, being led by 10 violinists, staring at my gorgeous man with a huge smile on his face, surrounded by so many people who love us. Wish I could live in that moment forever. Thank you for such a beautiful experience!! The resort at Pelican Hill will always be a very very special place for us!" she wrote.
Reinhardt wore a wedding dress designed by Zuhair Murad. Wedding guests enjoyed a fireworks display and décor planned by White Lilac. Sara Bareilles performed what Reinhardt said is her favorite song, "I Choose You."
"It was so incredibly touching!" said Reinhardt.
Teen Tech Week at Newport Library
The Newport Beach Public Library invites teens to celebrate Teen Tech Week March 6 through 10 by learning what they can create using technology resources at the library on March 9 at 6 p.m. in the Media Lab on the lower level of the Central Library.  
Teens will learn about all of the digital resources and services that are available to help them unleash their creativity, succeed in school, and prepare for college and careers. Refreshments and demonstrations provided. Teens and parents are welcome.
The Central Library Media Lab is fully equipped with MAC and PC workstations and design software programs such as Adobe Photoshop, Illustrator, Final Cut Pro, ProTools, and other professional software platforms.
The special event is open to all teens in seventh through 12th grades, as well as adults who would like to learn about these resources.  
There is no registration or prior experience with design programs required. Participants will be able to explore the full range of high tech equipment available in the Media Lab and learn about some of the new "tech toys" that will begin circulating soon.
Event participation is free.  Seating is limited and available on a first-come, first-served basis, limited by room capacity. Participants should have a Newport Beach Public Library card to access programs
For more information, call (949) 717-3800 or visit newportbeachlibrary.org.