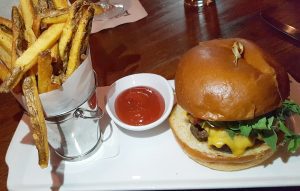 We're counting down the days until Christmas — and the number of days left in A Restaurant's 8 Days of Christmas lunch.
Yes, A Restaurant's special holiday lunch menu has returned and is available on weekdays (except Monday) this week from 11:30 a.m. to 2:30 p.m. through Friday.
Executive Chef Jonathan Blackford is offering a variety of classic starters including the roasted garlic soup, chopped winter salad and A's signature spicy yellowfin tuna. Entrees include the grilled chicken sandwich, jumbo diver scallops and the popular A burger. And, A Restaurant's classic steak cuts are also available for lunch, as are favorite side dishes including young broccoli, mac n cheese and house bistro fries (twice fried and served with truffle aioli).
We sampled the A lunch menu last year and were impressed with the offerings, and it was nice to see A Restaurant during the day.
Last year, Christopher ordered the classic A burger, which comes piled with arugula, cheese (we substituted cheddar for the blue cheese), bacon and caramelized onions, and is served with a generous portion of bistro fries.
"This is a really good burger," stated Christopher between bites. "The caramelized onions add a sweetness to the dish, and I like the brioche bun. And these are the kind of fries I like best, thick cut with the skin on."
If you can't make it in for lunch, this is also a terrific time of year to come to A Restaurant for dinner — the restaurant is decorated for Christmas in a classy display of décor and lights.
For more information, call (949) 650-6505 or visit arestaurantnb.com.