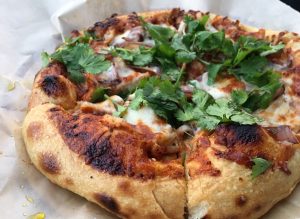 Newport Beach residents and restaurateurs Marin and Noah von Blöm always seem to have something fun in store for adventurous diners.
Their first restaurant, ARC, at SoCo Collection in Costa Mesa, has been a hit ever since it opened several years ago. Everything is cooked over wood or in a wood-fired oven, and their cocktails are some of the most creative in town.
They also opened Restaurant Marin adjacent to ARC last year, but closed it last month to make way for a new concept: ARC Pizza House, featuring a menu of unique wood-fired pizzas.
Restaurant Marin is not gone completely—it will be relocating to a new home on the Balboa Peninsula in early 2018, when the von Blöms' DirtySexyHappiness Hospitality Group will debut a new culinary concept.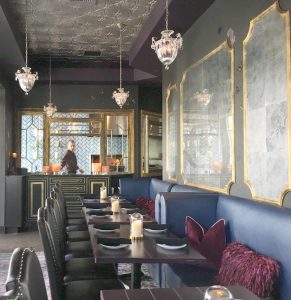 We're looking forward to seeing ARC Pizza House, which we're told is a 750 square-foot space with indoor and patio dining for lunch and dinner. Décor in the expanded space complements ARC with a whimsical feel and bohemian look. The space features leather-backed chairs and banquet seating at black cherrywood tables. The space is finished with contemporary and vintage elements, including a distressed Oriental gothic rug and antiqued gold mirrors and windows.
Catherine is a pizzaholic, and can't wait to sample Chef Noah Blöm's pizzas, which range from The House Pizza Pie with housemade sausage, pepper and mushroom, and The Cheeeeseee Pizza with queso fresco, mozzarella, parmesan and goat cheeses, to the more adventurous Roasted Duck Pizza with romesco, olives and goat cheese, and the Shortrib Pizza with bleu cheese, fresno chiles, basil and parmesan. 
And since the restaurants are next door to each other, diners also have access to ARC's lunch and dinner dishes.
For more information, visit arcrestaurant.com.