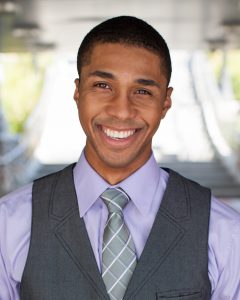 Nathan Andrew Riley remembers being a wide-eyed 12-year-old boy sitting in the last row of the balcony of the Pantages Theater in Hollywood watching a production of "The Lion King" and thinking he wanted to be on stage in a show.
Now, Riley is fulfilling that dream as the Orange County native takes the stage next week as part of the ensemble cast of "Beautiful" that returns to Segerstrom Center for the Arts Oct. 9-14.
"To be on stage, looking out at the audience, seeing people in the back row—I am that dream to somebody else now," said Riley during a recent phone interview while the show performed at the Pantages before heading down to Costa Mesa.
Riley has a lot of ties to Southern California.
"It's almost surreal coming back here," admitted Riley, who grew up in Redlands, won the Grand Prize in Classical Voice at the 2005 Los Angeles Music Center Spotlight Awards, and was featured in the "Aladdin" show at Disney's California Adventure for three years. "This is where my family and college friends and Disney friends are."
Riley said he first saw the musical "Beautiful" on Broadway shortly after it opened.
"It's an incredible story," he said. "What I like most it that it brings such life and joy to so many people."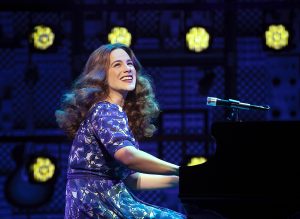 "Beautiful" tells the story of famed singer-songwriter Carole King before her chart-topping successes. Back in the 1960s she was Carol Klein, a Brooklyn girl with passion and chutzpah. She fought her way into the record business as a teenager and, by the time she reached her 20s, had a flourishing career writing hits for name musical acts. "Beautiful" follows her rise from fledgling songwriter to superstar musical act whose 1971 album "Tapestry" is one of the best-selling albums of all time with more than 25 million copies sold.
Beautiful features such hits as "I Feel The Earth Move," "One Fine Day," "(You Make Me Feel Like) A Natural Woman," "You've Got A Friend" and the title song.
"The music is timeless," noted Riley. "It truly spans all generations. The music is crafted so wonderfully. It's poetic, you're not confronted with the subject. And the melodies are so simple but so complex harmonically. It's definitely the best 'jukebox musical' I have experienced, the story matters and her journey is important. We get a story that has heart."
As an ensemble member, Riley portrays some of the singers and musical acts that had hits with King's early songs.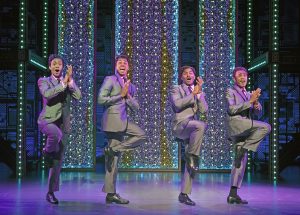 "I definitely love getting to perform and be a showman," he said. "I get to sing, dance, wear fun wigs and costumes—all of us have that little kid inside that loves to dress up."
He noted that the "Beautiful" story is so well crafted that the audience gets invested in the character's relationships and don't anticipate the varied musical performances until they happen.
"They don't see these performances coming, so every time it is a bit of a surprise," said Riley. "They hear the melody they recognize, it sparks memories. The audience reaction is so palpable, we can hear it on stage—there is laughter and gasps. We have completely drawn them in."
"I wake up every morning and think how lucky I am to be in this show."
For tickets to "Beautiful," visit SCFTA.org.