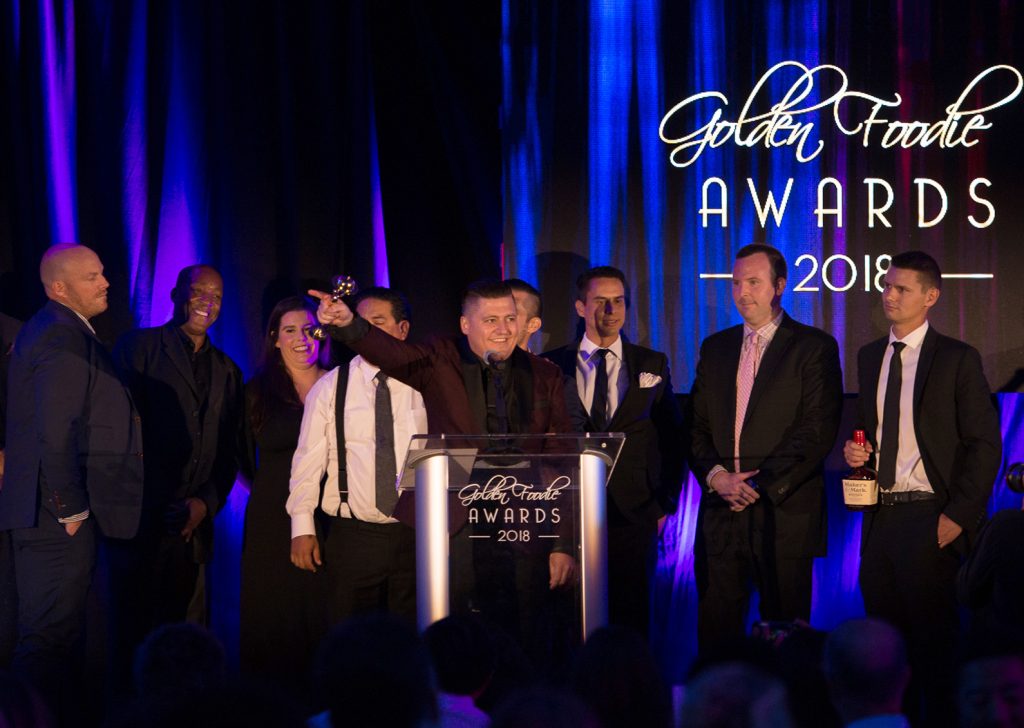 "And the Golden Foodie goes to…"
That was the oft-repeated phrase last Sunday night at the 7th annual Golden Foodie Awards, held at the Newport Beach Marriott Hotel & Spa.
The Golden Foodie Awards celebrate the achievements of local, chef-driven restaurants, as voted on by diners.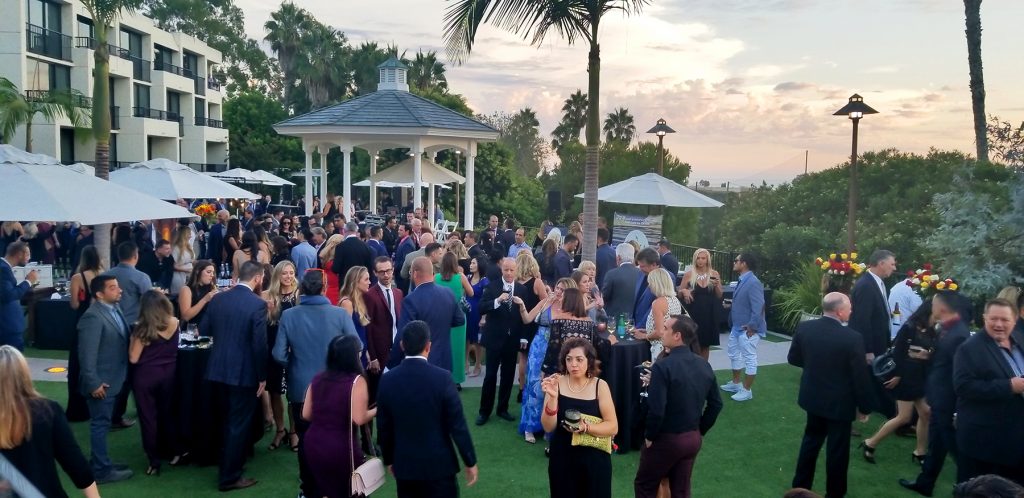 The sold-out event began in the Marriott's Rose Garden, where guests indulged in wine, cocktails, craft beer, and small bites from Angelina's Pizzeria, Filomena's, Pascal & Baja Shellfish Farms, Mix Mix Kitchen + Bar / Terrace by Mix Mix, Legado Bar + Kitchen, Urbana, Haute Productions, Wreckless, AnQi by House of An, Cambalache, Villa Roma and Georgia's.
Then it as on to the Marriott's ballroom, with tables adorned with edible (and drinkable) art from Roederer, cheese and fruit platters from Melissa's Produce, fresh baked bread by OC Baking Co., shortbread sticks by Mixed Bakery, dark chocolate madeleines by Sweet Surrender Specialty Desserts & Pastries, and mini donuts by Miss Mini Donuts. Wines were courtesy of Bouchaine Vineyards.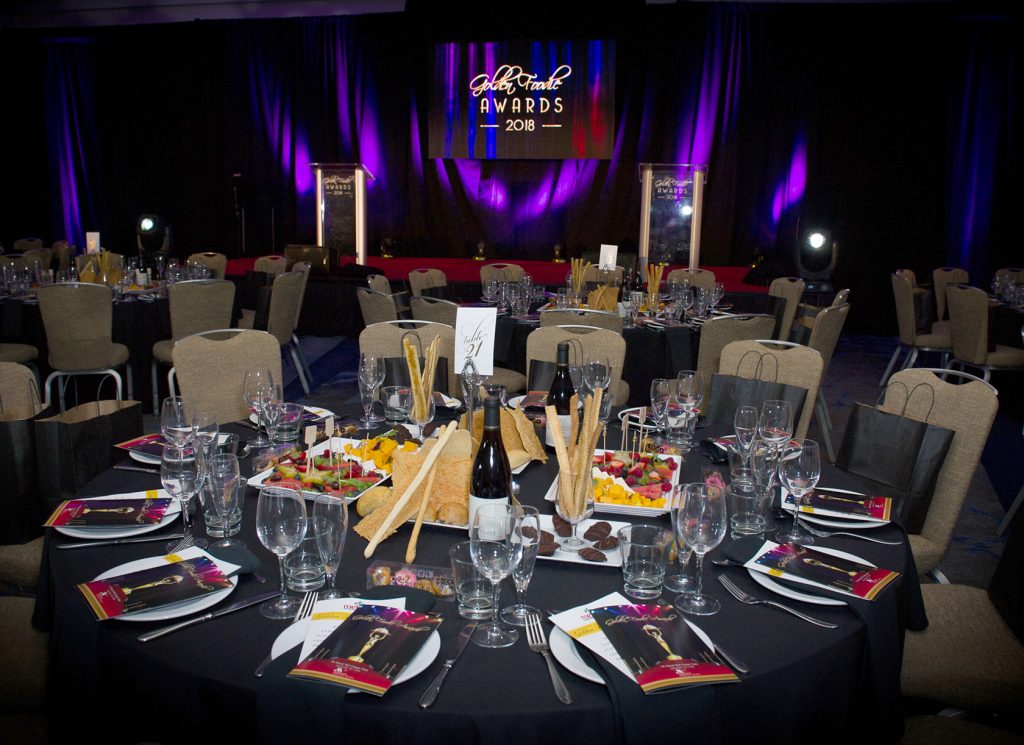 Hosted by Simon Majumdar with help from Neil Saavedra, Golden Foodie statuettes were awarded in 17 categories (in between screenings of several fun videos featuring nominated chefs).
Many Newport Beach and Laguna Beach restaurants were nominated in various categories, with several bringing home the top award.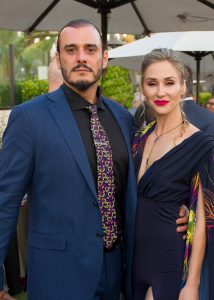 In the category of Chef of the Year, the three nominees were Michael Rossi of The Ranch Restaurant, Blake Mellgren of Craft House, and Noah von Blom of Arc.
Taking home the statue was Noah von Blom, a Newport Beach resident who opened his popular Arc restaurant in Costa Mesa's SOCO several years ago. Noah and his wife, Marin, will be opening Arc Butcher and Baker on the Balboa Peninsula this fall.
In the category of Best Service Award, the nominees were Taco Rosa in Newport Beach, Vine in San Clemente, and The Winery Restaurant and Wine Bar in Newport Beach. The winner: The Winery.
The description of the Best Service category certainly fits The Winery: "Service can make the difference between a terrific meal and a terrible experience. Truly stellar service will make a restaurant unforgettable and have you clamoring to come back."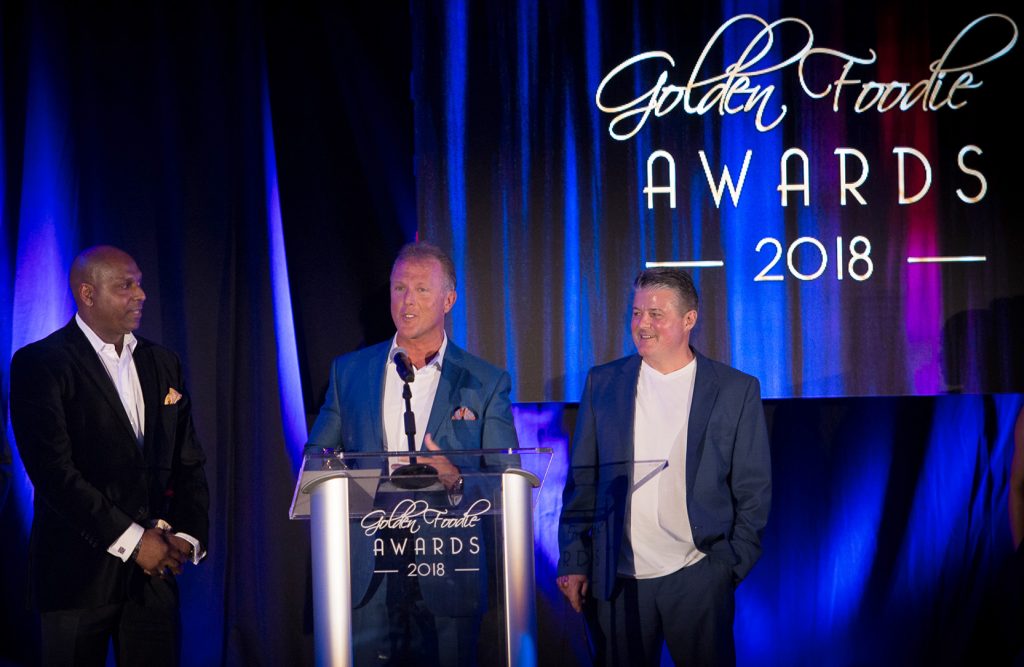 To answer the question of which restaurant has the best wine program in Orange County, the nominees were Selanne Steak Tavern in Laguna Beach, The Winery Restaurant and Wine Bar, and Napa Rose inside the Grand Californian Hotel in Anaheim (where I enjoyed a superb birthday dinner last week). The Winery and Selanne Steak Tavern have both won this award in the past; this year it was Selanne's turn to take home the Golden Foodie.
"Winning the Golden Foodie Award for our wine program is a great honor," said co-owner Kevin Pratt. "Teemu Selanne and I are grateful to the Orange County community and beyond that appreciates the hospitality we offer and our impressive wine inventory curated by Advanced Sommelier Vito Pasquale to pair brilliantly with Chef Joshua Severson's outstanding menus."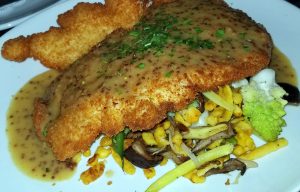 In the category of Best New Restaurant, nominees were Oak Laguna Beach, Cambalache in Fountain Valley, and Olea in Newport Beach. The winner: Olea. I have been a fan of Olea since it opened last November, and have dined there many times. I love the atmosphere, the staff, and of course the cuisine—the chicken schnitzel has become a signature dish, and their burger is one of the best in Orange County.
For the Best Lunch Spot category, a Newport Beach winner was assured as all three nominees are local: Taco Rosa, Farmhouse at Roger's Gardens, and Sgt. Pepperoni. For me, it would be tough to choose just one of those, as I like them all. The winner was Taco Rosa. Coincidentally, I was a judge for a tequila competition at Taco Rosa last month; I'll share details on that experience next week.
While accepting the award. Taco Rosa Chef/Owner Ivan Calderon thanked his staff, and invited everyone to come and enjoy some great tacos—and they are indeed great.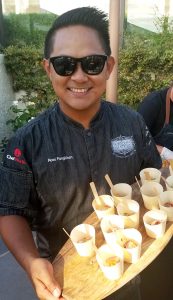 I have to mention Chef Ross Pangilinan, who won in the category of Rising Star Chef of the Year. I have been a fan of Chef Ross since his long stint at Leatherby's Café Rouge before he struck out on his own two years ago to open Mix Mix Kitchen Bar in downtown Santa Ana (Mix Mix won Best New Restaurant last year). He opened his newest restaurant, Terrace by Mix Mix, in South Coast Plaza last month. 
And a quick shout out to Jamon Harper of AVEO Table Bar in the Monarch Beach Resort, who won the Best Pastry Chef award. I had an opportunity to sample his dazzling desserts recently, and they are worth the drive to Monarch Beach!
Among the other Newport Beach restaurants, chefs and restaurateurs nominated in various categories: Mixed Bakery, Chef Pascal Olhats, Russ Bendel (owner of Vine, Ironwood and Olea), Farmhouse at Roger's Gardens, and Lido Bottle Works.
And in case you're wondering, The Golden Foodie Awards are "a people's choice event that recognizes the best chefs, libations and cuisine at chef-driven and independent restaurants. With its focus on involving the Orange County community to serve as judges through their voting, the Golden Foodie Awards serve as the highest honor and is an indication of local culinary trends and consumer preferences."
For more information, visit GoldenFoodieAwards.com.