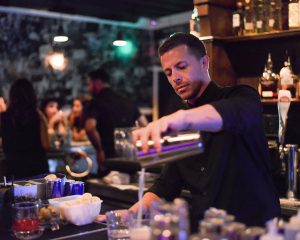 By Christopher Trela & Catherine Del Casale | NB Indy
 It's time for a Holiday.
Holiday, Westside Costa Mesa's new social lounge/speakeasy, has officially opened to the public after several months of soft openings with VIP and charity events.
Holiday's press material offers an apt description: "The concept of Holiday throws it back to a classic environment with a bar program that offers a robust list of 1920s and 30s craft cocktails that have been re-envisioned with a modern edge."
"Our 'Gatsby' cocktail was inspired by the Fitzgerald character himself, being known for his social gatherings and coveted
parties," said Aaron Reid, Holiday's cocktail curator. "It's a classic cocktail with a refreshing twist from naturally sweet coconut water and our house made cinnamon syrup."
Yes, cinnamon syrup, which Reid makes from scratch every week. Other signature libations on the list include "On Holiday" with rye, ginger, orange juice, Angostura bitters and soda, and "Lemon & Lavender" with vodka, muddled lemon, lavender syrup (also made by Reid) and a twist served up.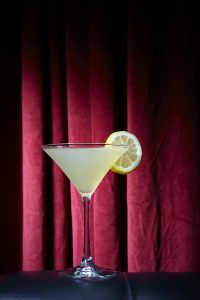 Guests can pair a cocktail with Holiday's complimentary seasoned popcorn that ranges in flavors from white cheddar cheese to southwest jalapeño or cinnamon roll.
The interior of Holiday offers lounge seating, a custom wood bar, a small dance floor, and intimate stage for nightly entertainment ranging from live music to DJs.
From the main room, guests can enter into a "bar within a bar" officially dubbed the Red Room, which has a separate spirits and cocktail program.
Christopher visited Holiday several times during the soft opening, and became addicted to the Gatsby cocktail ($13), made with vodka, cinnamon syrup, lime juice and coconut water.
"It's the cinnamon syrup that makes this such a fun cocktail, and it's perfect for the Holiday ambiance," said Christopher when we went to the official Holiday opening last week.
"You're right, Holiday delivers on great cocktails with unique flavors, like this Lavender and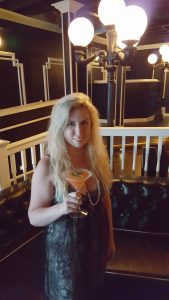 Lemon cocktail ($13) with Tito's vodka, muddled lemon, and lavender simple syrup," said Catherine.
In the Red Room we sampled a Red Betty ($14) with vodka, muddles strawberries, lime juice, cane sugar and fresh basil, and Down the Rabbit Hole ($15) with tequila, muddled pineapple, lime juice and agave nectar.
Holiday is at 719 W. 19th Street in Costa Mesa, a couple of blocks from the Newport Beach border. Visit HolidayCM.com for more information.
After taking a Holiday, we took in a play at South Coast Repertory.
This is the closing weekend for "District Merchants," which SCR calls a "Reconstruction-era remix" of Shakespeare's "The Merchant of Venice."
"District Merchants" is conceived by Aaron Posner, who concocted the delightful and magical production of "The Tempest" at SCR in 2014.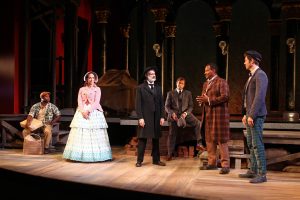 His free (make that very free) adaptation of "The Merchant of Venice" on SCR's intimate Julianne Argyros Stage sets the play in post-Civil War Washington, D.C., with hints at life in America today. As the press material notes, "in the complex and contradictory worlds of blacks, whites, Jews and Christians, money changes hands with dangerously high stakes, philanthropic acts mask blatant opportunism, and would-be lovers hide—and then uncover—their differences. While love gets a chance, does hope remain for a just and kind tomorrow?"
A better question: does the adaptation work?
"'District Merchants' was an interesting adaptation of 'Merchant of Venice,' but I found the parallels between the two a little hard to follow, yet enjoyed the mix of current culture and humor throughout the play," said Catherine.
"Much of Shakespeare's dialogue and basic plot was intact, but it veered off into different directions, yet the staging itself was compelling, and the conviction of the actors helped bring the production to life," said Christopher. "It's not as fun a ride as Posner's 'Tempest' that we saw two years ago, but the concept and theme is surprisingly timely."
For tickets, visit SCR.org.