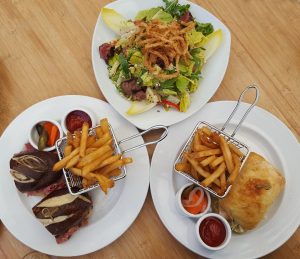 By Christopher Trela & Catherine Del Casale | NB Indy
 Back Bay Bistro at Newport Dunes Waterfront Resort turns 30 this year, and to celebrate the occasion, Executive Chef Bruno Massuger has introduced a new spring menu, one of three menus he plans to unveil this year.
"It's a transition menu," Chef Bruno told us last week when we had lunch at Back Bay Bistro. "We want to get ready for summer, and we wanted to do something that will take us through spring. We have fresh produce this time of year, and all the fish—the halibut, the king salmon. We revised some of the items and made them bigger and better. We're going to roll out another menu the middle of May. It's all based on what our customers demand. The spring menu has some winter dishes because people enjoyed them. We also have daily specials, especially if I get something great at a farmer's market."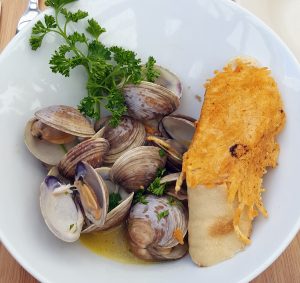 "Back Bay Bistro is a great spot to grab a bite, whether you're out boating or want to sit down and enjoy the great view of the back bay on their patio or indoors through their 15-foot tall panoramic windows," said Catherine. "I suggest grabbing a burger and fries, especially on Wednesday nights, when they have their a la carte burger special."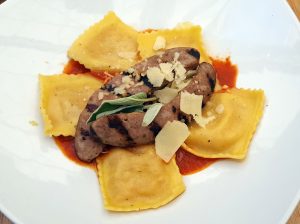 "The retractable roof makes the restaurant seem open and airy, and it is a postcard view," agreed Christopher as he polished off his blackened swordfish sandwich with cilantro lime aioli on ciabatta bread. "The swordfish is more beige than blackened, but still good, and the fries are terrific. So is the bread. I also like the grilled Baja fish tacos with avocado and lime, and the sage ravioli with Italian sausage."    
"We should come back for their Social Hour, which starts at 4 p.m. Tuesday through Sunday," said Catherine. "They have barbecue pork sliders, loaded bistro fries, individual pizzas and other goodies."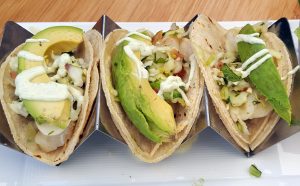 And for those who love wine dinners, Hi-Time Wine Cellars and Chef Bruno are teaming up to present a wine dinner at Back Bay Bistro on Thursday, March 30 at 6 p.m.  
The evening will begin with a welcome reception featuring Maine scallops wrapped in smoked bacon and lamb lollipops along with prosecco, followed by a five-course menu paired with wines curated by Hi-Times Wine Cellars.
Courses include crisp pork belly, Chilean seabass with brown butter pistachio risotto, porcini dusted filet of beef, Bandy Canyon mixed greens, and chocolate cake with cranberry coulis.
Cost is $75 per person. Call (949) 729-1144 or visit NewportDunes.com/bistro.