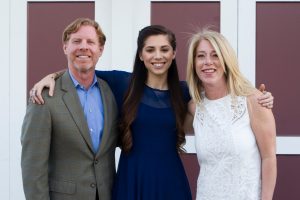 Most nonprofit organizations hold an annual gala, but Project Hope Alliance, which is dedicated to ending the cycle of homelessness for Orange County children and families through innovative education and rapid rehousing programs, decided to go in a different direction several years ago by holding an "Anti-Gala."
The concept worked so well that Project Hope Alliance made its Anti-Gala an annual event.
Last month, Project Hope Alliance held its third annual Anti-Gala at Strawberry Farms Golf Club, attended by more than 250 Orange County philanthropists and local leaders.
Surrounded by an urban garden atmosphere of string lights, organic floral arrangements, textured La Tavola linens,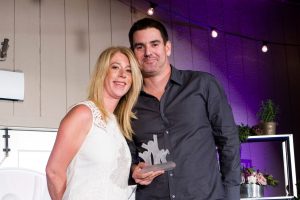 natural wood, and industrial accents, guests enjoyed a delicious picnic-inspired dinner, with comfort food favorites like barbecue chicken, grilled seasonal vegetables, and mashed potatoes.
The Anti-Gala was full of fun surprises including a wine wall where guests could purchase a mystery bottle for $25.
Project Hope Alliance honored Hayes Drumwright with the organization's inaugural "Catalyst of Hope" award recognizing his support and dedication to Orange County's families in need.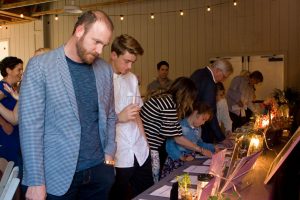 The room was filled with live music by Southern California folk band Faultlines and noted singer-songwriter Christina Perri, who delighted the audience with performances of chart-topping singles like "Jar of Hearts," "Human," and "A Thousand Years."
Guest participated in a lively auction that featured such items as a Costa Rica retreat, Santa Barbara getaway, Pebble Beach golf experience, and the opportunity to introduce Christina on stage and meet her after the show, which went for $5,800.
Sponsored by Trace3 and ConAm Building Co., as well as vendor sponsors ADM Works, Laceroots Floral, Kendra Scott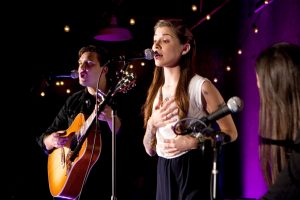 and Cattle Call LLC, the evening netted $250,000 for Project Hope Alliance, enough funds to secure permanent housing for more than 150 Orange County children and making it Project Hope Alliance's most successful event to date.
"We are thrilled to have netted over $250,000, which will go directly to support programs and services," said Project Hope Alliance CEO Jennifer Friend, a resident of Newport Beach. "This was our most successful event ever, and it will have tremendous impact on the children and families we serve. We are incredibly fortunate, and beyond grateful, to have so many caring and engaged community members helping to break the cycle of homelessness, one child at a time."
For more information, visit ProjectHopeAlliance.org.