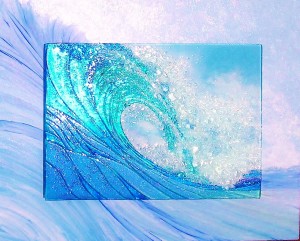 By Lila Crespin, Ph.D. | Newport Beach Arts Foundation
It's always exciting to meet a new artist. When that artist is painting with very ancient material in a new and unique way, it becomes an extraordinary experience.
Susan Marosz was exhibiting her brilliant glass paintings last October at "Art in the Park," an annual event held on the new Civic Center Green and sponsored by the Newport Beach Arts Foundation.
A friend recommended that I visit Susan's booth, and I was immediately drawn to the glass paintings she had created.
Although my art viewing spans more than 45 years, I'd never seen glass used in this way.
Marosz feels that her art has always been a means of personal expression and intellectual challenge. She began her career in Aspen, Colorado where her talent was recognized by friends and others who consistently asked to have her "draw" for them.
However, her artistic career became a full time profession when she began to create custom work for homes and commercial locations. Her early commissions allowed her to hone her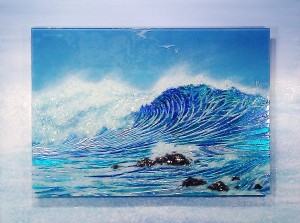 skills as an artist and refine her work over the years. Eventually, her love of the ocean drew her back to Corona del Mar where the beautiful landscapes, seascapes and skies became major themes in her glass paintings.
Her encounters with art during frequent travels throughout the U.S. and Europe inspired Marosz to search for a medium and a method for creating in a unique way.
The medium turned out to be glass, long known to ancient societies for creating objects of great beauty but not usually favored as a painting medium.
The mercurial qualities and pure beauty of glass proved irresistible and allowed for a completely original approach in her art. Susan had to create her own method of cutting, layering, crushing, painting and combining glass. She had to invent a process that is uniquely her own and, quite rightly, she guards that process assiduously.
She feels that when beginning to create, the artist must deal with a certain element of chaos; ordered results can only take place when a combination of delicacy and hardness coexist in the work.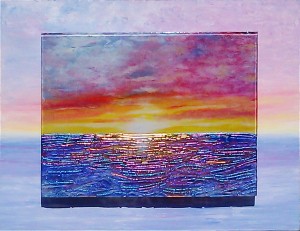 This brings a complexity to the process of using glass as a painting medium and it is often the most difficult part for her to achieve.
Seeing her brilliant work, it is easy to understand why she keeps the process of how to create glass paintings a secret.  Her results warrant her claim to a unique technique from the beautiful results that one views.
Scenes of nature inspire and please the artist and viewer alike. However, for Susan Marosz, it is the essential qualities of warmth, energy, power, purity, and stillness that are the true inspirations.
She transforms these concepts into a delightful visual experience. She wants viewers to enjoy the rich depth and jewel-like beauty of the glass as they view her art as well as to experience a spontaneous connection with their own life experiences with nature.
Her wish is that viewing her work will cause others to feel more connected to that which is in the nature that her art represents. The skies, the oceans, the landforms — all that she has created — certainly did that for me.
Marosz' glass paintings can be found in private and commercial collections throughout the United States.
To learn more, visit SusanMaroszArt.com.
The mission of the Newport Beach Arts Foundation is to promote and broaden cultural activities in the community as the fund-raising organization of the Newport Beach Arts Commission.  We welcome new members.  If you are interested in joining or have comments on this article, please contact Lila Crespin at [email protected]