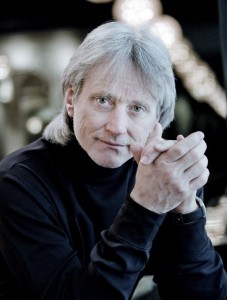 "It's a great honor for me" stated Carl St.Clair, speaking with an innate graciousness fired with fervor of his upcoming 25th anniversary as Music Director for our own Pacific Symphony.
The Texas native – who traded football for music while still in high school – marks his quarter-century as maestro here in Orange County with a Super Bowl of a season studded with amazing guest artists from Itzhak Perlman to Yo-Yo Ma.
It kicks off Sept. 25-27 with the opening concert of the 2014-15 Hal and Jeanette Segerstrom Family Foundation Classical Series featuring a return appearance by virtuoso violinist Joshua Bell performing Alexander Glazunov's popular and technically challenging Violin Concerto.
The program, performed in the Renée and Henry Segerstrom Concert Hall, includes the West Coast premiere of contemporary composer Christopher Rouse's "Supplica," Maurice Ravel's Suite No. 2 from "Daphnis and Chloe," and "Sound the Bells!" by St. Clair's longtime friend, renowned conductor and film composer John Williams.
From start to finish, the coming year conjures visions of where St.Clair and the Symphony have been, and where they might be heading. It's rife with gratitude, growth, depth, and insight.
"I like the idea of bells; bells are celebratory, and all kinds of thoughts and feelings come to mind when you hear them," reflected St.Clair during a phone interview.
He credits Williams as the encouraging voice that changed his life's path: the two met in 1989 when St. Clair was with Boston Symphony, and it was Williams who introduced the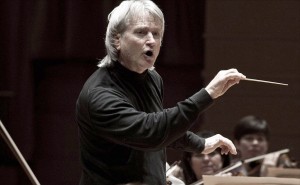 young assistant conductor to Pacific Symphony. It's fitting, then, that he'll be launching the season with a piece of Williams' so resonant for him. It's all been carefully planned, he pointed out, so that as the season progresses each concert is infused with the richness of meaning and memories.
"It's been a long time in the making; every season, regardless of 25th anniversary or not, it's an ongoing process…I'm always thinking of the program, of how and what we want to do for the audience. This year I wanted to put a season together that would honor the artists and composers who contributed to who I am today. It's sort of my personal way of saying thank you. Every piece has personal meaning and every nugget has a reason for being here."
"I feel that there is a real sense of family here," he continued. "What we have done in three different economic downturns is continued to grow and develop and thrive; we have a very dedicated board of directors who are totally committed to creating the kind of cultural institution that our county deserved. As Music Director, one of my obligations and also privileges is to be the dreamer, to envision the future and to envision the path of the orchestra. I would say that what Pacific Symphony has accomplished in the past quarter century has been miraculous and meteoric."
For more information or to purchase tickets, call (714) 755-5799 or visit PacificSymphony.org.