NOTE: Crystal Cove Alliance's STEM programs have been selected by PBS to be featured as part of the National Science Foundation-funded "SciGirls" series, a new show for kids ages 8 – 12 that showcases bright, curious real tween girls putting science and engineering to work in their everyday lives. One of only a handful of programs selected from across the nation, CCA's programs were filmed last week for a 30-minute episode that features three local tween girls as they experience snorkeling, kayaking, observing and data analysis at Crystal Cove State Park in Newport Beach.
Over the decades, Newport Beach has been both residence and respite for major film and TV celebrities.
Come early 2015, three new local "celebs" will be added to that list as they grace home screens across the nation in the season's final episode of the award-winning, educational PBS-TV "tween" series, "SciGirls.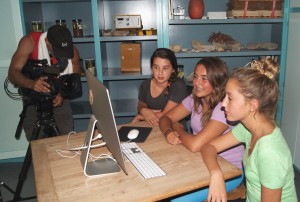 Bracing for the accolades and autograph requests sure to come – at least from their friends – are Chloe Hyde, 14, and Taylor Magee, 13, both of Newport Beach, and their Crystal Cove Junior Life Guard buddy, Ellah Hess, 14, of Irvine.
The trio was selected from a casting-call of 55 girls following initial SKYPE interviews conducted by the series' producers at St. Paul, MN-based Twin Cities Public Television.
"This experience sure gave me a new love and respect for science," Taylor enthused. "Also some new perspectives: it's interesting to have cameras right in your face."
Ellah found it interesting to "see what it was like talking to the cameras" rather than face-to-face with family or friends. "But I eased into it," she beamed, like the comfortable actors they all became over the six days of filming both on and off shore at Crystal Cove. Before their TV debuts, none had realized how many different camera angles had to be shot for each scene so that an editor could keep the visual pace popping.
"SciGirls," a multimedia, STEM-based production, features "bright, curious, real tween girls putting science and engineering to work in their everyday lives," said the series' on-line description, adding that "…each half-hour episode follows a different group of middle school girls (from around the country) eager to find answers to their questions that will inspire children to explore the world around them…and discover science and technology are everywhere."
STEM stands for Science, Technology, Engineering and Math – the new buzz-acronym in national K-12 curricula.
According to "SciGirls" Producer Marie Domingo, the team couldn't have hoped for a better location or weather.
"We were really concerned that rough seas produced by Hurricane Marie off Mexico, would cancel the entire production. On top of that, we didn't know if the girls would be able to go in the water, or if they were even strong swimmers."
Domingo needn't have worried: all three girls are ocean veterans with three successive summers of experience in water safety, recreation and environmental learning as part of the intensive Crystal Cove Junior Life Guard program.
Although the weather and seas calmed to the visual promises promulgated in Newport travel brochures, the girls were always accompanied by two senior lifeguards whenever they were on or under the water, where their studies of flora and fauna aided actual research continually conducted by the Citizen Science Group of the Crystal Cove Alliance within the Crystal Cove Marine Protected Area.
As an example, on one day of taping, Chloe, Taylor and Ellah ditched traditional hook, line and sinker to go "digital fishing" with an underwater camera as part of the CCA's Sea Floor Explorer Program – their imagery e-mailed to UC Irvine's Donovan German, PhD, who is studying the area's fish biodiversity. As part of the learning experience, the girls also had to go on-line to identify their submarine subjects.
The girls were learning under the careful guidance of 28-year-old Holly Fletcher, the Newport Beach born-and-raised Educational Coordinator for Crystal Cove Alliance.
A graduate in Marine Biology from UC Santa Cruz, Fletcher opted out of the enclosed laboratory world of beakers and white coats in favor of "teaching and working in informal science. I just rather be around people and
 out of doors than in a lab," she admitted.   That she grew up on Newport Bay, surfing, sailing and stand-up paddling probably also fueled her need for salt air and endless horizons in her everyday job.
Prior to CCA, Fletcher worked for five years at Dana Point's Ocean Institute.
Other studies in which Chloe, Taylor and Ellah immersed themselves included water temperature, salinity, and acidity; as well as nutrient levels in the water and plankton (the generic name for a broad variety of microscopic marine animals).
"Plankton is an indicator of our ocean's condition," Fletcher shared. "What's really cool is that the girls are looking at unusual plankton species that we can't identify. We send those to Dr. Peter Bryant at UCI, who is taking the plankton's DNA 'fingerprints.'"
Similar studies are conducted throughout the year at Crystal Cove by up to 30,000 middle and high school students from all over Orange County, due in large part to the successful public-private partnership between Crystal Cove State Park, UC Irvine the Crystal Cove Alliance.
Of the park's 29 renovated beachfront cottages, Number 22 has been outfitted with state-of-the-art equipment to become the CCA's learning and research facility — featuring a wet lab with tanks, dry lab with benches and microscope stations.
Appearing in this "SciGirl's" episode ties right into Ellah's introduction to Biology this semester, she said.
Chloe learned "…to respect the ocean more after going out on the Western Pride," a fishing boat out of Newport Landing Sport Fishing that runs in partnership with CCA's educational programs.
Taylor chimed in with "I just love the life sciences and Marine Biology. It is so cool to learn that phytoplankton partially gives the water its color; and I love learning through the experiments and experiences."
For more information, visit crystalcovebeachcottages.org.