I had an opportunity to take a sustainability tour of Pelican Hill Golf Club as Earth Day approaches, its first ever eco-tour.
We "took the one less traveled by, and that has made all the difference."
The South Course at the amazing resort – on 504 acres in Newport Coast, a breathtaking legacy of the 150-year-old Irvine Ranch – was temporarily closed in preparation for a healthier course in the summer stress periods.  With the course in year-round high demand, this electric vehicle guided tour of the resort provided rare moments to stop and smell the coastal sage.
The entire resort has grand scale with intimate Italian influences.  The Irvine Company, long stewards of the environment, "re-perfected" Pelican Hill during a two year closure ('05-'07) to implement an advanced water management system as part of its redesign by architect Tom Fazio.  The goals are long-term, to preserve and sustain the resort for future generations.
Mike Ahmer is the water quality manager, perhaps better defined as an environmental resource manager.  His humble passion as a biologist was a tranquil counterpoint to the Irvine Company's substantial investment in sustainability.  Ahmer stops the tour by a tree to allow us to experience a project to provide habitat.  Ahmer's bluebird boxes facilitate the process from nests to eggs and baby birds to produce a thriving community of bluebirds.
We then stand on a tee box under revitalization, observing one of five engineered cisterns.  Some take shapes of the North and South lakes to filter and retain runoff water.  Some you will never notice.  Ahmer's comments capture the moments.
"In three days when this reopens, the average golfer will be gazing at the ocean, feeling the coastal breeze, thinking, 'How do I make it onto that green, and not three-putt?'"
The average golfer will experience the coastal sage scrub only as a hazard, and not the home of the endangered gnatcatcher. When Fazio re-perfected the course, there were 15 acres of mitigated sage scrub required in the redevelopment phase.  Fazio added another 3 acres by removing and replacing ornamental landscape.  Ornamental landscape simply looks pretty, requires maintenance and drinks lots of water.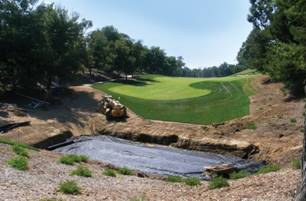 Pelican Hill's water-quality management system conserves more than 50 million gallons of water annually and protects the area's most important asset: the Pacific Ocean.  As part of the system, runoff is captured and diverted from a portion of the golf course, as well as Pacific Coast Highway and two nearby Newport Coast neighborhoods.
Garry Brown, President and CEO of Orange County Coast Keepers, has great a philosophy on this topic, "I do not mind anyone building a hotel or golf course.  You just cannot pollute our ocean in doing so."
The water quality efforts were introduced out of necessity to preserve the sustainability of the resort and ocean, not a result of regulatory necessity.  The system is the most advanced on the California coast, and will likely become a model for the state
The 25-year-old irrigation was upgraded with the best available technology so the groundskeepers can turn on a sprinkler head for a hot spot, instead of an area.  Hybrid Bermuda grass has been expanded to reduce water consumption and prevent the need to overseed, yet maintain quality and standards.  The cart paths contain custom drains that screen debris and filter water. Soon an investment in 7,000 LED lights will yield energy conservation benefits.  Recycling bins, bailing and compactors improve zero-waste outcomes.  Just some of the many proud accolades of sustainability achieved at Pelican Hill.
Wildlife is abundant.  From the 18 North Tee Box you can see the nest of the red-tailed hawks, year after year.  We were lucky to see the bird of prey hunting.  There is a bobcat camera, "Caution, Rattlesnake" signs, owls, roadrunners, squirrels, ducks, shore birds, and more.
The olive trees are the focus of an annual event. Depending on the year, olives are harvested onsite, for fresh-like-no-other olive oil used in the resort's restaurants.  When guests are shuttled to Crystal Cove Beach, a treat bag is accompanied by a message encouraging preservation of beach and ocean.
The sustainability tour concludes in the delicious elegance of Pelican Grill and Lounge.  This demonstrates community, a necessary function of sustainability.  Bruschetta topped with locally grown vegetable delights from nearby Irvine Ranch farmers with a sustainably harvested salmon BLT were part of the seasonal menu prepared by Chef Dubray.
Pelican Hill has sustainably crafted a convenient meeting place for a business meeting or casual drinks, to watch a USC football game with locals on a 9-foot screen, or the Masters in a cabana by the Coliseum Pool, complete with a flat screen TV and Bose sound system.
Ah, sustainable heaven on earth.
Green thoughts?  [email protected]