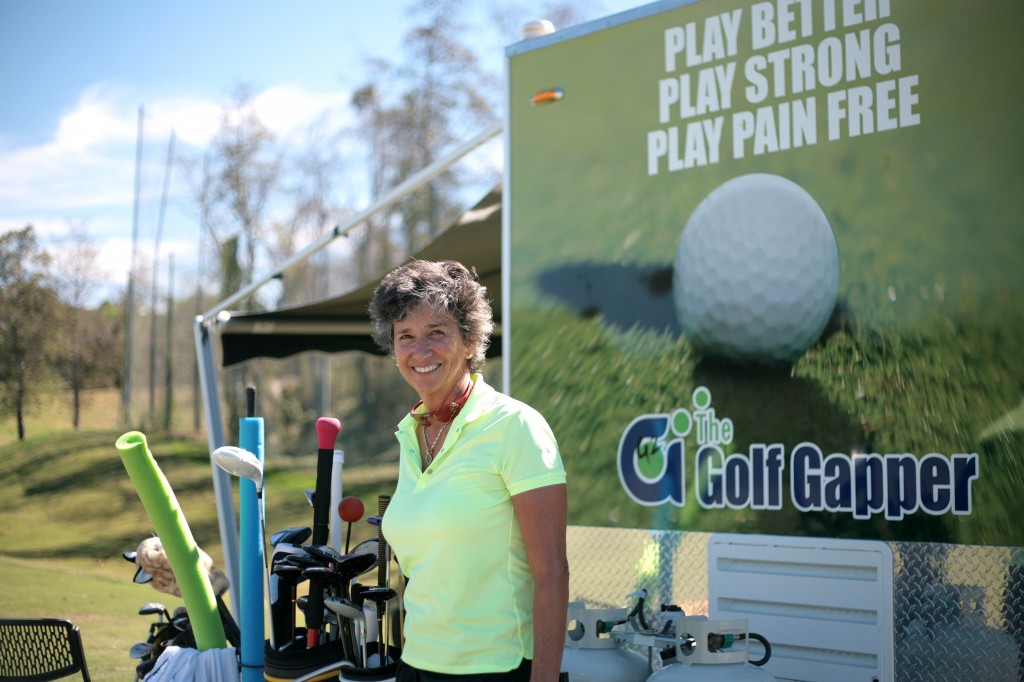 A Balboa Island woman is using her unique background of golf pro and chiropractor to improve the golf game of others.
Jenni Martin, who was born and raised in Orange County, started the Golf Gapper in Northern California several years ago. She's recently brought the program with her as she moved back to Newport Beach.
Golf Gapper is a "comprehensive golf swing and body positioning analysis system."
"I love doing this," Martin said. "I get to take my passion for golf and knowledge of the body and combine them."
She had a facility in Sacramento, where she taught the Golf Gapper program for the last six years.
"It was popular," she said. "People came from all over."
Wanting to be closer to her family, taking it mobile was a way she could move back down south and not have to open up another facility. She's been taking the program on the road since February.
The mobile trailer is actually more efficient, she added.
Martin has to be requested by a club in order to offer her services to members, who then pay her directly. She brings all of the necessary equipment and sets up camp on the golf course for two weeks. The first session is two hours for $400. Clients can come back for one hour $100 follow-ups.
She encourages interested golfers to ask their club to inquire about bringing the Golf Gapper program to their club.
Places like Big Canyon and Shady Canyon would really benefit from this program, she added.
Sessions include a full golf fitness evaluation, take home exercises, stretches and a personalized video of the swing analysis, k-vest 3D swing efficiency study and graph interpretation of Kinematic Sequence, a club analysis, a foot plate (swing catalyst) balance study and foot evaluation, a review of putting, chipping and bunker play, if requested, and a  check list of suggestions and finding for your club professional, fitness trainer, or medical provider.
Any injuries, whether it's in the golfer's ankle, knee, hip, neck or other areas, will show up, and potentially screw up, their swing.
Martin's background helps identify any areas of weakness and the high-tech equipment helps her fine tune that information.
"I don't care if you have a funny looking swing, I just want you to have an efficient swing," Martin said. "I'm trying to see if you, physically, can do your most efficient swing."
It's about understanding the person's goals, physical needs and limitations, body and swing.
Her equipment, designed specifically for golf, will record, analyze and provide data. Martin uses her knowledge and unique combination of expertise to apply of that information and help the golfer.
"I'm not messing with your swing," she clarified. "We're just changing some physical things to get to your perfect swing."
Her goal is for the golfer to leave with a "simple road map of change."
Although she is most popular with golfers over the age of 60, the program can help anyone serious about improving their game.
The Golf Gapper can help people of all ages, experience and fitness levels.
The oldest person she's worked with was 87.
"It's rewarding to help people keep playing," Martin said, "anything you can do to help them stay in the game."
For more information, visit thegolfgapper.com.