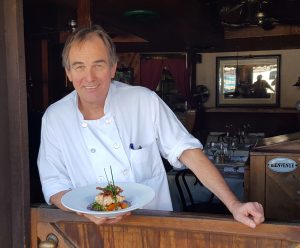 Several new restaurants have opened recently on Balboa Island, but there's one familiar Island bistro that's celebrating its 20-year anniversary: Basilic.
Swiss native Bernard Althaus founded the 24-seat Basilic Restaurant (named after Bernard's favorite herb) in 1997, and it's remained popular for two decades thanks to a classic Swiss-French menu and the hospitality of Bernard and his wife, Arlette.
The restaurant has become synonymous with fine dining on Balboa Island, and is a landmark destination for the island's locals and visitors.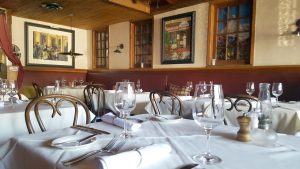 "We have loyal employees and many repeat customers," said Bernard. "In fact, we see the same people every year for Valentine's and New Years, so we save them a table. The loyalty of the island people has been very helpful. We know everybody here, which is hard to do in a small restaurant."
It's also a family affair—Bernard's wife is often there greeting customers, and his daughter helps out.
The Basilic menu has changed a bit over the years, but many dishes have become so popular they've stayed on.
"People get used to one dish so they come back for it," noted Bernard, who said he makes seasonal menu changes depending on what ingredients become available. He also brought back some old favorites as nightly specials, and is still hosting his ever-popular monthly raclette night, featuring all-you-can-eat raclette (melted cheese) served with fingerling potatoes and cornichons for $25.50.
For more information, visit basilicrestaurant.com.
Mix Mix Bento Lunch
He's been garnering rave reviews and awesome accolades from critics and customers, so you'd think Chef Ross Pangilinan of Mix Mix Kitchen Bar might start to ease back on his rigid restaurant schedule (he's usually in the kitchen preparing cuisine and garnishing plates), but no, he's busier than ever.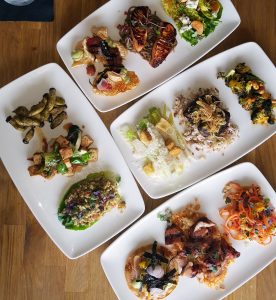 After adding Sunday brunch, Chef Ross is now open for lunch Tuesday through Friday, but it's not your typical lunch menu.
Chef Ross is offering a $15, three-course bento box lunch featuring favorites from his globally inspired menu, including Pork Cheek Adobo and House Made Chitarra "Carbonara" Pasta.
During lunch, which runs from 11:30 a.m. to 2 p.m., diners now have the luxury of creating their own modern bento box.
"Our modern bento boxes offer lunch guests a variety of global flavors on one plate," said Chef Ross. "Mix Box Kitchen is a pop-up concept that we will run to test the waters. If it's successful, we may even consider making it its own entity as a smaller sister concept to Mix Mix Kitchen Bar."
The modern bento box is also available for take-out and features one salad, one snack, and one main.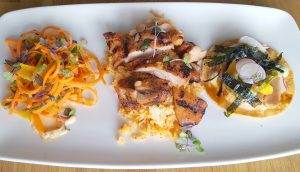 "I love this modern take on the bento box," said Catherine when we dropped in for lunch recently. "You can mix items from three categories, and the portions are perfect—they leave you feeling full but not sleepy, so you can continue on with your day. My favorite mix was the morocco carrot salad with harissa yogurt, albacore tostada, orange, sriracha mayo and avocado and the miso salmon with soy ginger soba noodles. Usually, I'm all for the meat dishes but Chef Ross did an amazing job on the salmon and I'm now obsessed with the soy ginger soba noodles, which have a nice little kick to them from the ginger."
For more information, visit MixMixKitchenBar.com.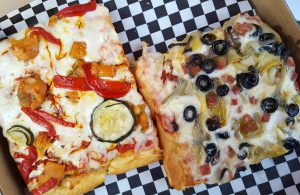 Barone To Go
Franco and Donatella Barone are plenty busy these days—they took over the kitchen at Ti Amo restaurant in south Laguna Beach, and they're moving their flagship Il Barone restaurant to a new location on Bristol Street in Newport Beach.
Now, they've opened Il Barone Sicilian Street Food in Pacific City, the popular food and boutique mall on Coast Highway in Huntington Beach.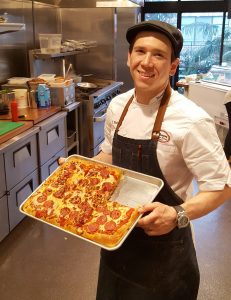 Their oldest son, Jonathan, is running the Pacific City location. It's a casual spot serving whole pizzas or by the slice, to eat on-site or to go.
Christopher popped over to Il Barone Sicilian Street Food and grabbed two slices of deep dish pizza to go. He learned from Jonathan that the pizza was made using focaccia bread, which explained why it was so thick and delicious.
The menu includes some pasta dishes, salads and desserts. They are open late on the weekends—a perfect spot for those late-night cravings.
For more information, visit gopacificcity.com/il-barone.