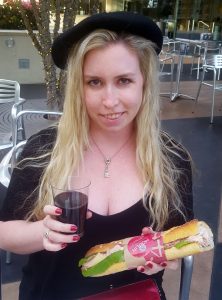 One of the most famous movie musicals is the classic Gene Kelly film "An American in Paris," which in turn was inspired by the classic 1928 orchestral composition of the same name by George Gershwin.
Two years ago, "An American in Paris" was transformed into a Broadway show that won four Tony Awards, among other accolades. It follows (somewhat) the original movie plot, and includes the Gershwin tunes "I Got Rhythm," "Liza," "'S Wonderful," "But Not For Me," "I'll Build a Stairway to Paradise," and orchestral music including "Concerto in F," "Second Prelude," "Second Rhapsody/Cuban Overture" and "An American In Paris."
The touring production has flown into Segerstrom Center, where it plays through May 7.
We had tickets to opening night, and wanted to dine somewhere that kept to the French theme. We came up the perfect idea: a Parisian picnic, courtesy of Moulin.
We found out that Moulin can put together simple picnics for any occasion, with prices that vary depending on how elaborate you want to get.
We ordered two meals to go, which included two different baguette sandwiches with prosciutto, cheese, and other ingredients, plus three salads, and dessert. Cost per person was around $20.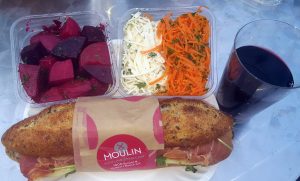 We took our authentic picnic over to Segerstrom Center for the Arts and sat at small tables outside South Coast Repertory. For the American ingredient in our picnic, Christopher brought Tobin James Zinfandel (poured into empty water bottles for easy transportation).
"This reminds me of my days in Paris, sitting in front of the fountain in Tuileries Garden Park," said Catherine as she donned her beret.
"Oui," agreed Christopher. "This is fun and relaxing, and reminds me of sitting by the Seine river sipping wine and eating bread and cheese. It's also nice to know that we can go to Moulin any time and grab a picnic for a summer concert or other occasion."
After putting our soft-side cooler back in the car, we strolled to Segerstrom Hall for "An American in Paris."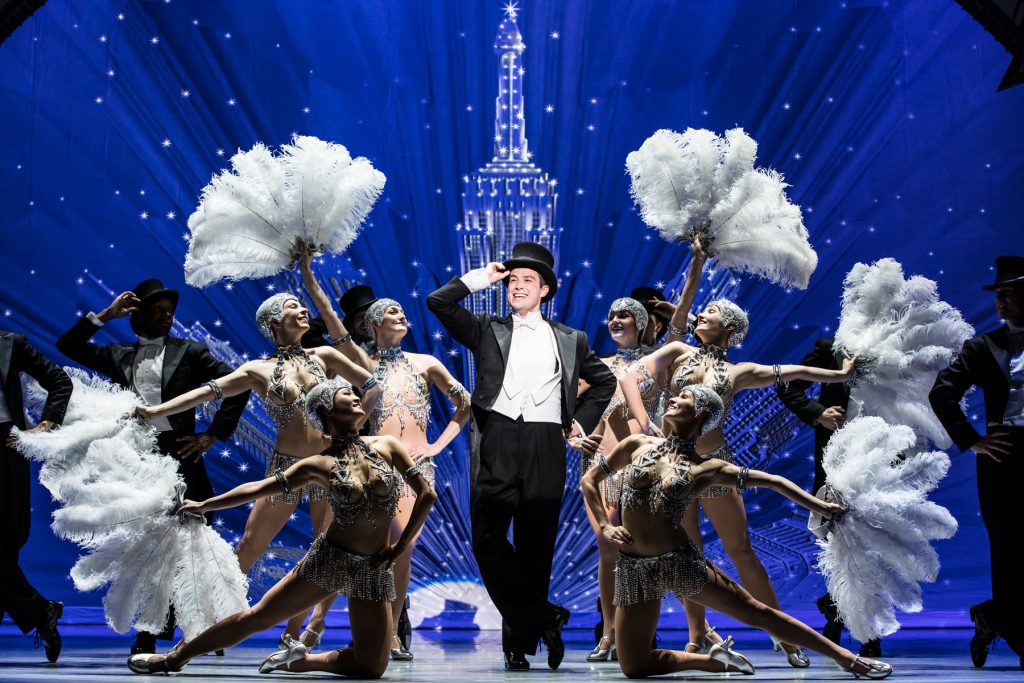 The show proved to be thoroughly enjoyable, with a healthy dose of dancing and a slim plot about a romance between an American soldier and a mysterious French girl shortly after WWII that served its purpose of getting from one song to another.
"The dancing was beautiful," noted Catherine. "I loved the incorporation of ballet throughout the show. The sets were simple but elegant and the set changes moved flawlessly throughout the show. The digital elements projected in the background really enhanced the feeling that you were in Paris and drew you into each scene."
"I had forgotten how much dancing there is in this show," said Christopher. "You can tell the dancers had strong ballet backgrounds—their leaps and poses were well executed."
"I was a little disappointed with the chemistry between the lead actors," admitted Catherine. "There didn't seem to be a lot of emotion there, but the male lead was the understudy, so it could have been that they don't often perform together. However, they were both wonderful performers and dancers in their own right."
"True enough, but overall it's a very enjoyable show—even with its three hour run time (including intermission)," said Christopher.
For information on Moulin, visit MoulinBistro.com.
For information on Segerstrom Center, visit SCFTA.org.