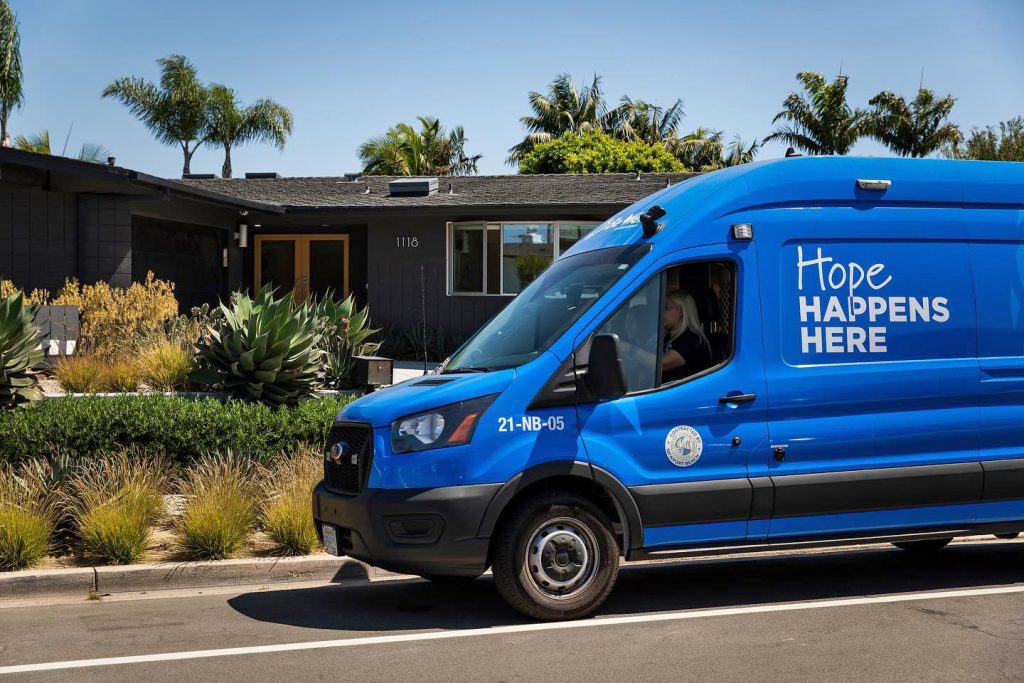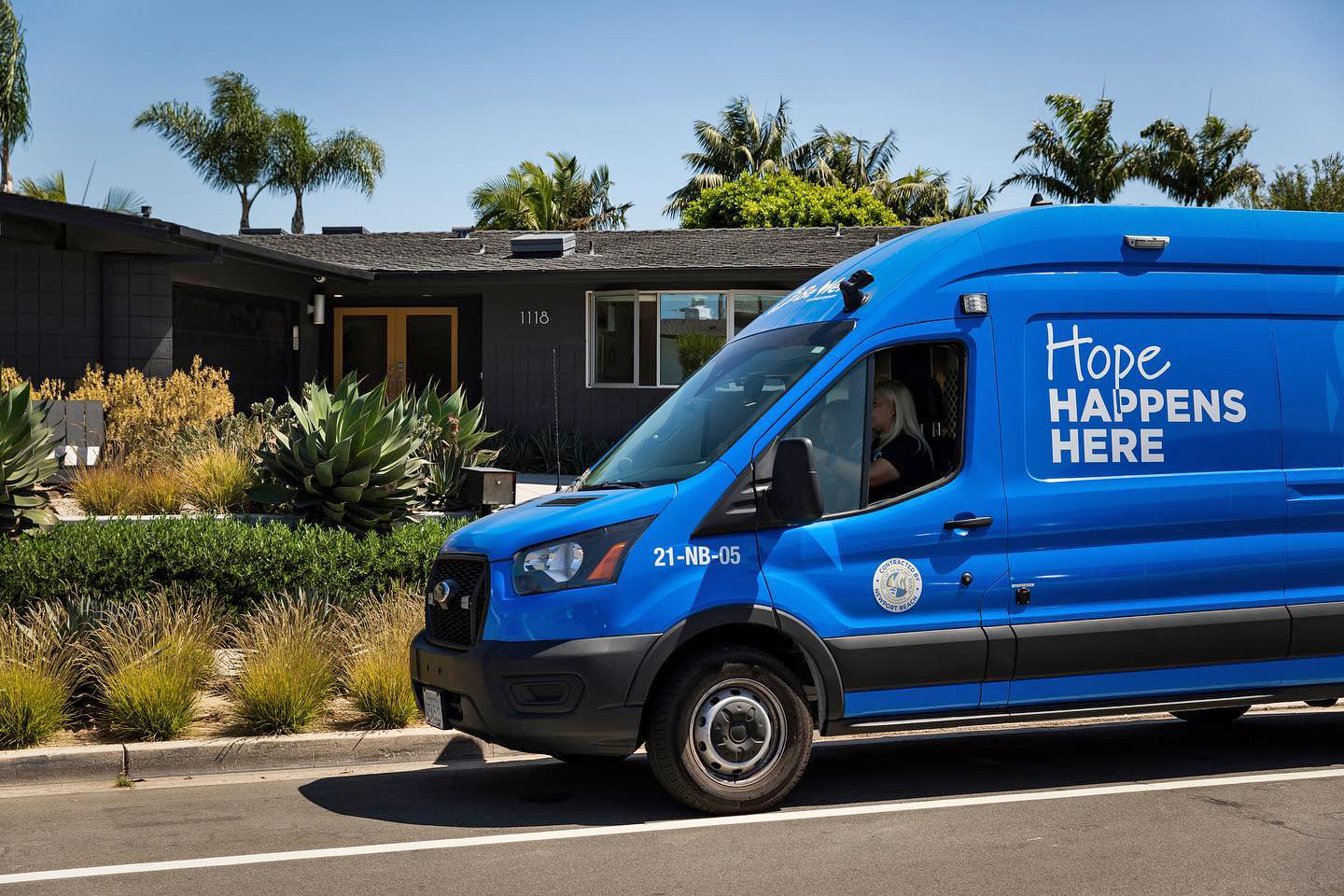 There are two definitions for the term "Be Well," plus more than 80 verbs that can express the same, each with its own nuance.
Definition one: To develop or progress rapidly and successfully. Definition two: To recover or improve, especially from an injury or illness.
There now also exists a new, and very impactful proper noun called "Be Well."
That is the name (and wish) emblazoned on the side of a seemingly omnipresent, blue- and-white van of a one-year-old social service contracted to Newport Beach that can respond to the "immediate mental health care needs" of all citizens in the community.
This is accomplished regardless of income or insurance status, be they "the unhoused" spotted throughout the city, students at school who may be experiencing a mental crisis, or aged residents possibly threatening suicide.
Headquartered in the city of Orange, Be Well's Mobile Response Program currently operates in five OC cities and employs close to 60 full-time staff, with eight assigned to      Newport Beach.
Newport's mobile response team has a small office at the Newport Beach Police station and serves 12-hour shifts (7 a.m. to 7 p.m.) seven days a week. Two to three specially trained Crisis Intervention Specialists are on duty at any one time, plus a Client Liaison person to follow-up on any calls Monday through Friday, explained Alyssa Guerrero, MS, LMFT, Supervisor of the Newport Beach HOPE team.
Be Well works closely with Newport's other contracted social service nonprofit called City Net, both of which work closely with the police department, said Natalie Basmaciyan, the city's Homeless Coordinator. City Net aids the homeless with social, health and housing needs—everything other than calls for mental health assistance.
Both City Net and Be Well respond to directions transmitted by the PD's Dispatch Department, who determines through interviews with callers if a situation is safe for the social services to respond — a huge responsibility. These assessments most often free up officers who otherwise would have to be on-scene to do what they need within law enforcement mandates.
Be Well is consistently active within their communities, always making their presence known as they drive, as well as in their daily connections to businesses and clients, Guerrero apprised.
In addition to outreach, Be Well actually is in the "education" business, informing the public who they are whenever and wherever possible, such as at the bi-monthly "get-to-know-us" Mobile Cafe public gathering sites throughout the city hosted by the Newport Beach police department. Coffee and donuts are offered to citizens, some of whom occasionally are the unhoused, who feel okay approaching and asking for the snacks.
"Creating relationships and building trust is one of the important things we do," Guerrero said. "We've been getting positive feedback from the community; people often flag us down to report someone needing help, or call to thank us."
On average, Be Well receives seven calls a day, normally four proactive calls from the community, and three from Dispatch. The majority of those calls focus on Newport's unhoused population, often transient, which averages between 40 and 60 individuals. Summer counts increase to around 90.
In terms of the unhoused, both Guerrero and Basmaciyan explained that there is no one reason why people fall into homelessness: it could be medical issues, mental health challenges, substance use disorders, substance abuse, or financial bad luck.
As far as substance abuse, they confirm that hard-core drugs such as fentanyl, cocaine and crystal meth are now common throughout the community, along with alcohol and prescription drugs.
"Prescription drugs play a large roll," shared Guerrero, "and that often translates to the streets."
People often self-medicate, while diabetics who have uncontrolled blood sugar management often present like drug addicts. Identifying both behavioral and causal issues remain a challenge to both Be Well and City Net personnel.
In terms of service calls, Be Well most often can respond to a scene within seven minutes of a call, at which time Crisis Intervention Specialists will spend 45-50 minutes attending to a client.
"Up to 85 percent of our business is handled on scene," attests Guerrero. "Only 15 percent require a higher level of care," either transported to the full-care Be Well center in Orange, or to Hoag Hospital in the Be Well van or via ambulance. Some of those clients may also include those just-released from jail, who may be in need of some immediate mental attention."
Receiving care is purely voluntary; and most are connected to human services nearby. "Everybody does have the ability to choose to receive those services," Basmaciyan underscored.
Both Be Well and City Net are success stories unto themselves:
In one instance, two Be Well staffers kept a resident engaged on the phone so that he wouldn't kill himself. Aid arrived in time.
An elderly man suffering early onset dementia called for assistance when his wife, also afflicted with a more advanced stage of dementia, went missing…again. Be Well staff helped the husband to develop a care plan and both seniors underwent couples counseling. Be Well connected to the couple's out-of-town adult children, then "looped" one son into the parents' care regimen.
Basmaciyan focused on one heart-warming case of a homeless woman in her early 30s (a victim of domestic violence) who arrived in Newport Beach seeking to enroll in the well-known literacy program at the Newport Library. City Net connected her to Be Well due to the woman's "stress, anxiety and uncertainty." City Net then lined her up to stay temporarily at the 20-bed Costa Mesa Bridge Shelter, where she remained through January, 2023. While sheltering there, the woman recognized her need for psychological care, at which time Be Well was there.
Today, she is in her own apartment, albeit receiving General Relief assistance and Disability income, while pursuing an education at Orange Coast College.
"This person is at the library door first thing every morning," Basmaciyan reported. She is well on her way to a new life — and off the street.
Though nearly 85,000 citizens populate Newport Beach, these are just three of many stories that unfold daily for City Net and Be Well.
For information on City Net, go online to www.Newportbeachca.gov. For Be Well, go online to https://wwwbewell.org.