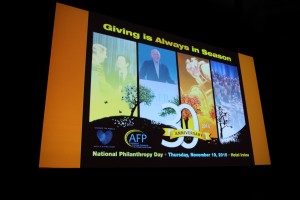 Orange County's top philanthropists, business leaders and individuals were honored at the 30th Annual National Philanthropy Day Orange County Awards Luncheon, held on Thursday, November 19, at Hotel Irvine.
Attended by 820 guests and hosted by the Association of Fundraising Professionals, the event was one of many National Philanthropy Day celebrations worldwide.
National Philanthropy Day founder and Newport Beach resident Doug Freeman, whose resourcefulness established the special day of philanthropy in cities across the country in 1986, was presented a special Founder Award.
Others making the event happen included co-chairs Mitchell Spann and Catherine Spear; AFP OC President Sheri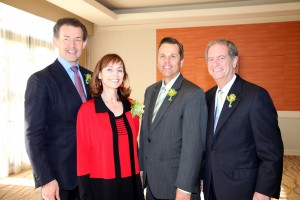 Nazaroff, community philanthropist and Honorary Chair Pat Poss, Mistress and Master of Ceremonies PBS SoCal's Maria Hall Brown and Rick Reiff.
PBS SoCal was the 30th Anniversary Broadcast Media Sponsor, and the Orange County Register was Print Media Sponsor, represented by Publisher Rich Mirman.
The Orange County Council Boy Scouts of America lead the Pledge of Allegiance, and Sweet Charity Cookies, which dedicates half of its net proceeds to nonprofits in the area, presented cookies to each attendee.
Outstanding Philanthropist Donnie Crevier gifted each attendee with the book, "The Ultimate Gift," which he said inspired him to give.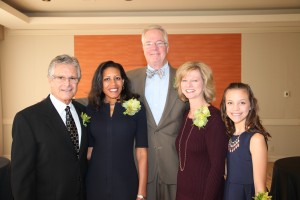 The 2015 National Philanthropy Day Orange County Outstanding Honorees included Legacy Award recipient Sandy Segerstrom Daniels of Newport Coast, who is passionate about supporting children's causes, in particular the Festival of Children and Festival of Children Foundation, for which she is founder.
Other honorees: Donnie Crevier of Laguna Beach, Outstanding Philanthropist; Fed-Ex Cares, Outstanding Philanthropic Group; James F. Amato, Outstanding Volunteer Fundraiser; Rusty Kennedy, Outstanding Founder (OC Human Relations); HKA, Inc. Marketing Communications, Outstanding Small Corporation or Business; KIA Motors America, Outstanding Mid-Size Corporation or Business; The Word & Brown Companies, Outstanding Large Corporation or Business; Anika Ortiz, Outstanding Youth.
National Philanthropy Day Orange County honors those who have demonstrated philanthropy and enhanced their communities and the world. Each year, more than 240 Association of Fundraising Professionals chapters throughout the U.S. and Canada honor the philanthropic efforts of individuals, businesses and groups.
Net proceeds from the event support the ethical advancement of philanthropy in the community by the Orange County Chapter of AFP.
For more information, visit npdoc.org.