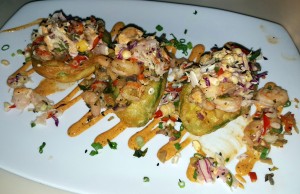 By Christopher Trela & Catherine Del Casale | NB Indy
Pre-theater dining is almost mandatory for us before we go see a play, concert or ballet because it adds to the experience.
In Laguna Beach, dining options abound due to how many restaurants are within a short walk of Laguna Playhouse, which has a delightful holiday show called "A Snow White Christmas" running through December 27.
We've dined at most restaurants in downtown Laguna, and like most people we have our favorites. However, we just added a new favorite to our growing list: Skyloft at 422 Coast Highway, above Tommy Bahama.
The description on the restaurant's website is perfect: "Skyloft offers ocean views and rooftop dining in a relaxing atmosphere with fast and friendly service. The menu features a balance of seafood, steaks, salads, sandwiches and specialty smokehouse BBQ items. Skyloft also boasts two full bars that offer a selection of hand-crafted cocktails, California coastal wines, and local craft brews. Guests can also enjoy nightly live performances from the state-of-the-art music stage or watch their favorite team on the high definition TV's throughout the restaurant. Skyloft also offers various options for private and semi-private events."
After our visit last Tuesday evening for a special media menu tasting, that's an accurate description, but we'd add "spectacular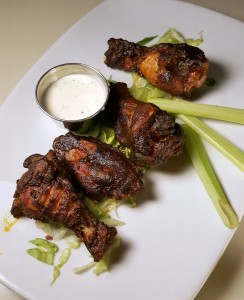 nighttime city lights views," because after dining on the spacious upstairs patio, we can't imagine a more serene yet upbeat atmosphere with views to match.
The cuisine is far from serene. We were able to sample several appetizers and entrees, as well as desserts, and found the food distinctive and fun, with a bit of spice and lots of flavors.
After starting with signature crafted cocktails (an old fashioned with Makers Mark, a Day Spa with muddled cucumber, basil, blackberries with citrus and Hendricks gin, and the Silver Fox with Patron Silver, citrus and agave nectar plus a splash of cranberry), we sampled smoked chicken wings tossed in barbecue sauce, traditional buffalo sauce, and spicy firecracker BBQ sauce ($11.50 per order). They all had a nice amount of heat.
We also tried the shrimp ceviche ($12) and the steamers (Manila clams in a savory white wine garlic herb broth–$14.50), both excellent, but it was the stuffed avocado ($12) that got our attention: half a tempura-battered avocado with chilled shrimp and crawfish tails, topped with roasted sweet corn relish and drizzled with Cajun aioli. Yum!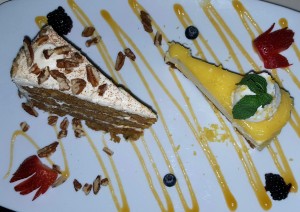 Then it was on to entrees. We sampled the chicken gumbo ($8) and jambalaya ($26 for a full order), and found them a fun marriage of New Orleans and OC.
We also had the firecracker ribs ($23.50 for full rack): Tender pork ribs, slow-cooked with sweet hickory smoke, then grilled and basted with spicy firecracker style, although you can also get them with regular or mustard base. Again, a nice combo of heat and sweet.
Somehow we saved room for dessert, and shared the flourless dark chocolate decadence ($9), the lemon curd cheesecake ($8), and carrot cake ($8). We enjoyed all three.
Skyloft is open 11 a.m. to 1 a.m. daily, although the kitchen closes one to two hours earlier depending on the night.
And the best thing—the restaurant is still a short walk to the Laguna Playhouse.
For more information, visit SkyloftOC.com.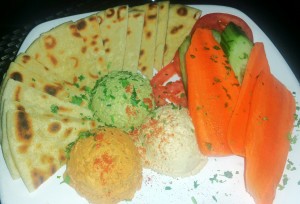 LUMBERYARD
The closest restaurant to Laguna Playhouse is Lumberyard, another one of our favorites. We dined there last week before walking to Laguna Playhouse for opening night of "A Snow White Christmas."
Perhaps dined is a misnomer, because we arrived early enough to nab seats at the bar and enjoy happy hour, something we've not done before (happy hour is Monday through Friday until 6:30 p.m.).
For happy hour, draft beer is $5, house wine (which is very good) is $6, and specialty cocktails are $8.
The happy hour menu features a variety of $4 fries and $6 bites (most of which are much more than bites), plus oysters and fish and chips ($10 to $12).
We ordered house cabernet, garlic fries, Lumberyard planks (deep fried zucchini strips), pulled pork sliders, and hummus dip trio.
"If you need somewhere to have a bite before a show or just to enjoy a good meal, Lumberyard's happy hour menu is perfect," said
Catherine. "You can't go wrong with any of their items which are affordable and good sized portions. The pulled pork sliders and garlic fries are at the top of my list—along with a great glass of wine."
The hummus was a generous serving of three different types of hummus and plenty of pita bread slices, while the planks are one of the restaurant's most popular signature items. 
We have heard that the bread pudding is a must have, but we were so full from our quartet of appetizers that we vowed to return just to sample that.
For Lumberyard info and reservations, visit LBLumberyard.com.
LAGUNA PLAYHOUSE 
A brief three minute walk took us to Laguna Playhouse for a new show called "A Snow White Christmas," billed as an English Panto.
"Never heard of a panto? Neither had we," stated Catherine. "A Panto is a British family tradition complete with songs, dances, jokes, exaggerated characters and lots of audience participation. Audience members are actually encouraged to participate, booing the bad guy and cheering on the good guy. Any audience additions make the show more interesting, especially with such great actors who can improvise on the spot."
The great actors (who are indeed masters of improv) include Lindsay Pearce as Snow White ("Glee"), Marina Sirtis as The Wicked Queen ("Star Trek: The Next Generation,"), Jonathan Meza as Muddles ("The Jumpitz" on Nickelodeon), Neil Dale as Herman the Huntsman, (West End Les Miserables), and James Royce Edwards as Prince Harry (Broadway and National Tours of Hairspray).
"A Snow White Christmas" is an updated version of the classic tale that plays like an extended Saturday Night Live skit with music and dancing. It's laugh-out-loud funny, and features contemporary music from Katy Perry's "Firework" to Lady Gaga's "Born This Way" to Michael Jackson's "Thriller."
"If you and your family are looking for a new type of holiday tradition, you should check out 'A Snow White Christmas,' said Catherine. "It's a great introduction into theater for younger children that maybe can't stay still or quiet during a show."
And while there's plenty for children to enjoy, much of the humor is aimed at adults.
 For more information, visit LagunaPlayhouse.com.