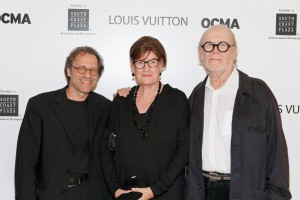 The Orange County Museum of Art unveiled a tasty masterpiece on May 30 when 350 supporters enjoyed Art of Dining 2015, the museum's most important fundraiser and one of Orange County's more sought-after social events.
Presented by Louis Vuitton, this year's black-tie affair was held on the Bridge of Gardens at South Coast Plaza.
Celebrating excellence in creativity, this year's gala honored renowned Corona del Mar artist Tony DeLap and the late Orange County visionary real estate developer, patron of the arts, and philanthropist, Henry T. Segerstrom of Newport Beach. Both men have contributed significantly to the art world, locally and nationally.
The evening began with a champagne toast in the Louis Vuitton boutique, followed by a lavish cocktail reception at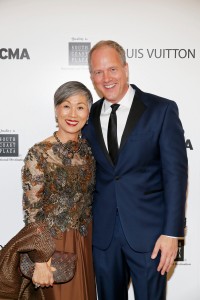 South Coast Plaza's Garden Terrace.
Director and CEO Todd D. Smith announced the 2015-2016 exhibitions and celebrated honorees Tony DeLap and the late, Henry T. Segerstrom.
Guests then proceeded to the Bridge of Gardens, with décor by White Lilac influenced by the art of Tony DeLap.
The artistic dining experience for the evening was created by celebrated chef Joachim Splichal, founder of Patina and Pinot Bistro, at elegant tables spanning the bridge.
The dinner featured arctic char with cucumber, and sweet corn agnolotti with lime brown butter, both served with 2013 Duckhorn Sauvignon Blanc, and rack of lamb on an artichoke, accompanied by spring peas and fava beans, accompanied by 2013 Talley Vineyards Estate Pinot Noir.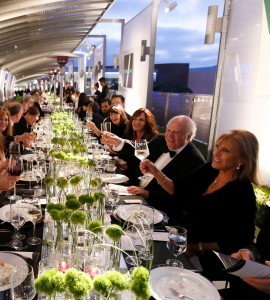 Dessert was individually handcrafted confections by BomBom Brigadeiro.
Following dinner, guests joined a late-night crowd (who purchased separate tickets to attend just the after party) to enjoy Art After Dark, which featured entertainment by Jason Bentley and performance artists, plus tray passed hors d'oeuvres, desserts, and cocktails featuring Duke Bourbon.
The evening netted $440,000, which benefitted OCMA's exhibitions and education programs—more than 6,000 Orange County students experience special gallery tours and innovative, hands-on art activities every year.
The Art of Dining Executive Committee included Marsha Anderson, Irene Martino, Sally Crockett, Jeri McKenna, Susan Etchandy, Jennifer Segerstrom, Deborah Lake, Jennifer Van Bergh, and Twyla Martin.
2015 Art of Dining Honorees
Artist Tony DeLap, who attended Art of Dining, was born in 1927 in Oakland and studied at the San Francisco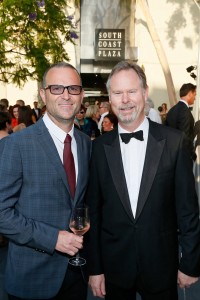 Academy of Art in San Francisco, and the Claremont Colleges in Southern California.
He began showing his work in the early 1960s, and by the middle of the decade was being included in major national surveys of contemporary art. In 1965 he moved to Southern California to help start the University of California, Irvine, studio art program (he remained active with the program until retiring in 1991)
In the 1960s he began developing a very personal hybrid of painting and sculpture. His interests in painting, architecture, the graphic arts and the practice of the magical arts led to his illusionary installations of the 1970s, and on to the coolly elegant paintings of the present.
His artwork has been exhibited nationally and internationally and is in many private and public collections including the Los Angeles County Museum of Art; Museum of Modern Art, New York City; Museum of Contemporary Art, San Diego; the San Francisco Museum of Modern Art; Laguna Art Museum and OCMA.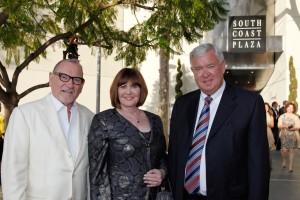 Visionary Developer and Arts Patron Henry T. Segerstrom, who passed away earlier this year, was a transformative figure in the history of Orange County, leading and inspiring its evolution from an agricultural community into a cosmopolitan center of art, culture and commerce. He and the Segerstrom family developed South Coast Plaza on the family's farmland, and they donated land and funds to the arts organizations that today form Segerstrom Center for the Arts. He was the founding chairman and led the capital campaign to build 3,000-seat Segerstrom Hall, which opened in 1986. He personally donated more than $50 million toward the construction of the 2,000-seat Renée and Henry Segerstrom Concert Hall. It debuted in 2006, and that same year Henry and Elizabeth Segerstrom commissioned Richard Serra's monumental sculpture Connector, one of many works of public art and sculpture that Segerstrom and his family commissioned, including Isamu Noguchi's masterpiece California Scenario.