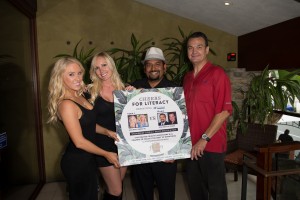 The money poured in to The Literacy Project earlier this month when the organization held its "Cheers for Literacy" bar battle event at 3-Thirty-3 Waterfront in Newport Beach.
The competition pitted guest bartenders Katie Smith, a local philanthropist, and Kimberly Vig from The Literacy Project, against Al Freeman from Diamond Productions and Steve Virgen from the Daily Pilot to see which team could collect the most tip donations.
Proceeds went to The Literacy Project, a Newport Beach nonprofit organization dedicated to helping struggling readers at schools in Southern California.
Both teams were kept busy because more than 100 thirsty patrons plied them with cocktail orders throughout the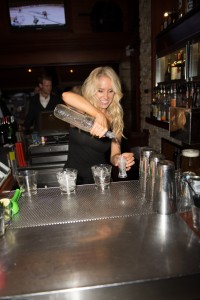 evening.
As the event ended, Kimberly Vig and Katie Smith pulled ahead of Al Freeman and Steve Virgen in amount of tips raised, but the combined effort by both teams brought in over $1,700.
To-date, The Literacy Project has helped more than 3,500 struggling readers throughout Long Beach, Orange County, Los Angeles, and Coachella Valley. They offer a comprehensive instructional program that improves both academic and attitudinal levels of students performing well below English proficiency standards.
The academic segment utilizes a reading game, which was co-developed by The Regents of the University of California. The program is provided at no cost to both the school and at-risk students in the second grade. The program teaches the fundamental principles of phonics and literacy in all three learning modalities (auditory, visual and tactile), critical to children with varying learning styles.
For more information, visit LiteracyProjectFoundation.org.