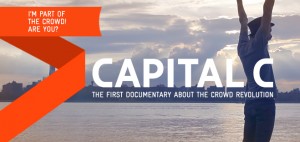 "We don't really know the impact that crowdfunding will have on raising capital, but 100 years from now we'll look back and judge this is as the most significant social tool we've ever seen."
That quote from the documentary "Capital C" says it all.
You may not be familiar with the term crowdfunding, but you may have heard of Kickstarter or Indiegogo, two of the biggest crowdfunding sites. They act as a middle man to help those seeking capital, usually to fund a business. But those websites can be used to produce a movie or album, expand a current product line, or a host of different business and creative needs.
Capital C was co-directed by Jørg Kundinger and Timon Birkhofer and claims to be the first feature length documentary about the subject. The irony is that the movie itself was funded on Kickstarter, through 586 backers, and generated $84,298.
The movie focuses on three business that are looking for cash. Freaker is a woolen covering for water bottles to personalize a normally boring product. Federal 52 is a new design for the Bicycle Playing Card Company with beautifully hand drawn artwork by Jackson Robinson. Project number three profiles Brian Fargo, a Newport Beach resident, as he raises money for an updated version of a video game, called Wasteland, which he originally created over 20 years ago.
Crowdfunding is a new way to raise money, not by going to a single large investor, but by tapping into social media and peoples' desires to be engaged and involved. Rewards are offered to those that pledge money and can range from as little as $5 to much more. Five dollars gets you a little trinket or a t-shirt, and the gifts increase as the money increases.
Crowdfunding sites differ in scope and fund distribution. With some, like Kickstarter, if you do not reach your designated goal, no money gets collected or disbursed. Other crowdfunding sites will fund regardless of the intended goal (but take a larger percentage, or fee, from money raised).
The collection period is limited and typically runs from 30 to 90 days. A compelling project can be funded in just days or hours, and dollars collected often exceed the targeted amount.
Brian Fargo started Interplay games in 1983, one of the first electronic games on the market. "Wasteland," their first major hit, was published by Electronic Arts in 1987 and is set in a futuristic, post-apocalyptic America that was destroyed by nuclear holocaust generations before. Fargo wanted to make a sequel for more than a decade but was unable to raise money and still retain creative control.
He traveled to video game conventions and everyone asked, "Where is the sequel to 'Wasteland?'" He knew there was an audience and surveyed the users of the original game for ideas and suggestions. These young kids that got hooked on early video games were now 25 years older. And they had money.
The Kickstarter campaign began in March 2012 with a target of raising $1 million. They raised $600,000 in just 24 hours and hit their million in less than two days. It finished with the backing of 385 investors of every shape, size and dollar amount and ended up being the third highest crowdfunded video game ever with more than $4 million raised. "Wasteland II" was released in September, 2014.
If you are intrigued by this new method of raising money and are interested in viewing entrepreneurship at its finest, this movie is interesting, engaging and fun.
Mr. Fargo will be at the film's premiere (April 26) and host a Q & A session afterwards.
"Capital C" screens on Sunday, April 26 at 4:45 p.m. at Regency South Coast Village, and Wednesday, April 29 at 5 p.m. at The Triangle. Visit NewportBeachFilmFest.com for more information.