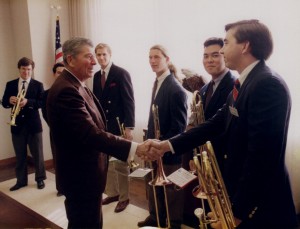 When high school friends Randy Wallen, Jeff Gould and Eric Vandeveld started the Balboa Bachelors back in 1984, they never guessed that their five trombone choir with percussion would eventually go on to perform for literally millions of holiday revelers, be featured on national television, and play for a private reception for President Ronald Reagan.
But that they did, and lucky for all of us, they are still going strong.
"The group has blossomed into 30 years of great music and friendship," says Randy. "Since 1984, millions of holiday revelers have enjoyed our trombone choir's unique sound and spirit. Whether on or around Balboa Island or at any one of the thousands of public events, private parties, restaurants or other establishments where we have performed, it has truly been a blessing to pass along our gift of music all these years."
I was fortunate enough to see the Bachelors up close and personal this year when they showed up at our home one evening over the holidays to serenade me, a special Christmas gift from my hubby. What a treat!
In addition to playing for audiences along the Balboa Island boardwalk and at private parties during the Newport Beach Christmas Boat Parade, the Balboa Bachelors always carve out time each year to visit and perform for the patients and staff at Hoag Cancer Center and during the holiday meal at Someone Cares Soup Kitchen to name just a few.
Wallen tells me that community service is always a factor when planning for their performance schedule, and he welcomes requests from organizations who would like them to perform.
These days, they're not all bachelors anymore. The band is made up of husbands, fathers and grandfathers, and the rest have girlfriends. But Randy tells me that audiences love the band's original name so it's never going to change.
The Balboa Bachelors is made up of a tight knit group who, despite their lives moving in different directions since their formation, have stayed close – an important aspect of this unique and talented ensemble for which they are rightfully proud.
When I asked Randy his favorite part of being a founding member of the Bachelors, he replied, "The best part of it all is that I get to spend time with dear old friends – some dating all the way back to high school."
Watching them play together, there is a refreshingly deep sense of their constancy and friendship that pairs well with their clever trombone arrangements of familiar holiday tunes.
Randy, who has played every gig since the group's inception and manages and books performances, resides on Balboa Island and works in commercial real estate research.
Other members include Newport resident Gary Haendiges, an electronic technician; Jeff Gould who now lives in Redlands and is a music teacher and a member of the California Air National Guard and plays for their Band of the Southwest; music teacher Tim Johns now living in Yucaipa; and Jeff Shimamoto, a private equity attorney who lives in Pasadena and who for many years flew in specially from Tokyo; artist Chris Clark from Phoenix; and stay at home dad Eric Vandeveld of Green Bay, who flies in every year from Wisconsin to play his drum.
If you missed them over the holidays, the Balboa Bachelors will be playing in the Balboa Island Parade on Sunday June 1. Organizers of the parade awarded the group the "Perpetual Award" for being part of the popular island tradition since its earliest days.
With the help of long-time friend and local musician Rick Sherman, the Bachelors are working on their next CD – hopefully they'll be available for purchase at the parade.
The Balboa Bachelors are available for public and private performance and are always willing to be of service in the community. Please contact Randy Wallen at (949) 548-8608 for details.
Columnist Lynn Selich resides in Newport Beach. Check out her commentary of the NB Christmas Boat Parade for NBTV at newportbeachca.gov.