Spring is the time for renewal, de-cluttering and redoing the interior of a home—perfect timing for the launch of Blackband Design's new interior design service called Concierge by Design, which saves time, money and provides beautiful new interiors in a snap.
Owner Wendy Blackband of Balboa Island talked to Indy writer Gina Dostler about her new endeavor.
Q: Tell us about Concierge by Blackband Design?
A: We're focusing on a distinct niche found within the interior design market that highlights a gray area between the retail customer and full-service design client. Right now Orange County lacks companies with concierge or accessory services that actually bring items to a client's doorstep. Where many of these smaller budgeted clients get over-looked, Concierge by Design fits perfectly in this area where homeowners seek to simply update their interior with a new look versus a complete makeover. We have hundreds of items to choose from our showroom that we bring right to their home.
Q: What does the service consist of?
A: We offer big ideas in three small packages – Snap, Crack or Pop. Snap brings in a fresh look that includes accessories, decorative pillows, artwork, lamps, and window treatments. Crackle adds a few more items, maybe some furniture such as occasional chairs, ottomans, side-tables, nightstands and benches and requires a little more planning and time. And Pop steps it up even more with added upholstery, layouts, elevations and more to your design without redoing the entire room. Maybe a new sofa, coffee-table or suggestions on space with floor plans and of course requires more time than the other two.
Q: And how does it work?
A: We speak with the client over the phone and look at any pictures they send. Then bring items from our showroom based on our discussion. Working together with them as they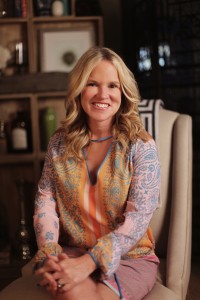 choose their pieces, we place the accessories and other items in their home to freshen the look. Other times we show up at their home to speak with the client, take pictures and measurements and then go back and choose the items to bring. A variety of items are always brought, all based on the tier level targeted to meet the specific needs and budgets.
Q: What are some common requests you get from customers seeking your help?
A: We get three basic ones: An update is needed with the furniture and accessories that are currently in the home without redoing the entire space; Help is needed to tie-in new items together with their own furniture or accessory pieces so everything looks cohesive; a drawn-out interior design project needs completion and we simply come in and do those final touches.
Q: If you only could change one room inside a home, what would it be and what would you do?
A: Definitely the family room, the heart of the home where everyone spends most of the time. Create a beautiful and practical space for the whole family to enjoy with a cabinet or built-in that has open shelving up top to display family photos and keepsakes; and closed storage below for game, cards, legos, hamster food. Make a special area for photo albums where it is easy to pick up and reminisce. Lighten up the walls and put in a tray for all the remotes such as a coffee table with drawers. Re-stuff sofas, loose the old rug for a new one and place a separate section homework station with paper, pencils, flash cards, encyclopedia and thesaurus all in one easy-to-reach place.
Q: What influences in your life do you find reflected in your work?
A: Both Greg (Wendy's husband) and I have traveled the world and enjoy working quirky, interesting items into our interiors. Many people have items with special meaning and we encourage our clients to hold on to them so we can find creative and more updated ways to showcase them. And we like to keep it real. We have two kids, live on Balboa Island, and know square footage is a commodity. So we are constantly seeking the best way to use space in our own home which spills directly into our work.
For more information, call Blackband Design at ((49) 872-2234 or visit blackbanddesign.com.