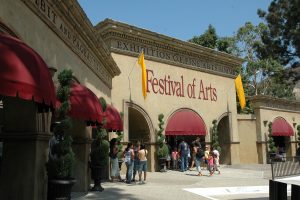 The Laguna Beach Festival of Arts is back for the summer, and this year, it brought with it a new attraction. "Books and Brunch," designed to allow attendees to connect with some of today's most popular authors in an informal setting, over brunch.
This Sunday, July 24, will offer just that opportunity, when Books and Brunch hosts renowned TV writer and humorist, Steve Hely.
Known for his work on shows such as "American Dad!," "The Office," "Last Call with Carson Daly," and "Late Show with David Letterman" (for which he received an Emmy nomination), Hely will be in town to discuss his new book, "The Wonder Trail:  True Stories from Los Angeles to the End of the World."
Hely previously penned the part travelogue/part journal/part tongue-in-cheek observation on life, "The Ridiculous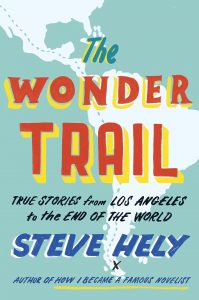 Race," in which he chronicled, along with co-author, Vali Chandrasekaran, their journey around the world.
The two set off on a race around the world, for which they both began in Los Angeles, and departed in opposite directions. The race had only one rule: no airplanes. As they both made their way to the finish line, they took note of the people and places they encountered along the way, resulting in Hely's authorial debut.
On the heels of "Ridiculous Race," Hely published his first novel, "How I Became a Famous Novelist," for which he won the 2010 Thurber prize for American Humor.
In the days between books, and aside from his gig in Hollywood, Hely also co-hosts "The Great Debates," a weekly podcast discussing current issues in America, and publishes the Helytimes digest via his website, stevehely.com.
Now, in "Wonder Trail," he chronicles his journey from L.A., to the bottom of South America. Billed as a blend of travel writing, history, and comic memoir, the book is presented in 102 short chapters that regale readers with the mix of amazing, unusual, inspiring, and downright weird experiences he had along the way.
From Mayan ruins, to the Panama Canal, to rainforests, beaches, and coffee plantations, his itinerary ensured that he came home with enough anecdotes to fill the book and then some.
One reviewer said, "Reading this book was like sitting down with an old friend over a beer or two and listening to his tale of the interesting things he has just done."
Library Journal says the book is, "Fast-paced, informative, and funny…Hely's hilarious descriptions of the stunning sights and quirky people he encounters along the way will delight experienced globetrotters and armchair travelers alike."
Sounds to me like the makings of a great Sunday brunch conversation.
Those who concur, and would like to become a part of Hely's inner circle, if only for a day, should check out Books and Brunch. Taking place from 11:30 a.m. to 1 p.m. on Sunday, July 24, tickets to attend are $75 each, and include an author reading and discussion, brunch, a hardcover copy of the book, and book signing, as well as admission the Fine Art Show.
In a nod to the part of the world Hely visits in the book, the brunch menu will be inspired by South American cuisine, and will feature Passion Fruit Iced Tea and Cucumber Lemonade, Mango and Chipotle Chicken Lettuce Cups with Cucumber and Jicama Slaw, Pickled Veggie Guacamole with Lime Tortilla Chips, and dessert.
Good company, great food, and even better conversation, with a little art mixed in? Sign me up.
More information on the event, as well as a link to purchase tickets and information on the festival in general can be found by visiting foapom.com.
Edie Crabtree is an avid reader and the mother of three active boys. She can be reached at [email protected]