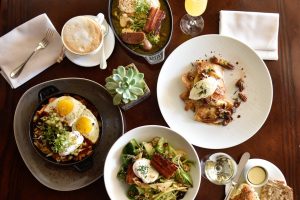 By Christopher Trela & Catherine Del Casale | NB Indy
 We don't dine at Montage Laguna Beach as often as we should, but that could change thanks to the new weekend brunch being served at The Loft every Saturday and Sunday from 9 a.m. to 3 p.m.
It's an a la carte menu from Chef de Cuisine Michael Campbell, who has combined brunch favorites with dishes that incorporate interesting twists.
New Brunch items include Apple & Mascarpone Crepes; Chile Verde with Pork Belly and Sausage;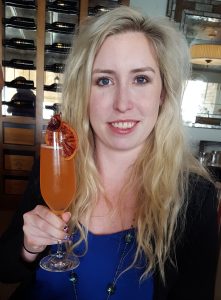 Mortadella Eggs Benedict; and Pastrami Hash with Guajillo Chile and Dill-Pickled Green Tomatoes.
We were invited to a media tasting last Saturday at 11 a.m. to sample the new brunch menu as well as several signature libations including a traditional bloody Mary and a blood orange mimosa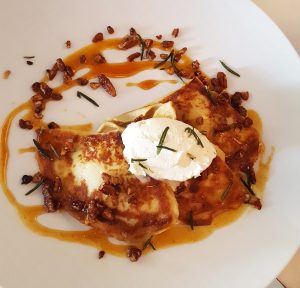 .
That worked out perfectly for our schedule, as we had tickets to see Cavalia's "Odysseo" at 2 p.m., and we knew if we left Montage by 1 p.m. we'd easily make it to the show with time to spare.
"The view alone is enough to have you dining at The Loft, but wait until you try the food—you'll be hooked," said Catherine. "The Pastrami Hash ($32) had crisped pieces of pastrami and hash baked to perfection and topped with sunny side eggs, horseradish and chile caramelized onions. The dish is a great addition to whatever other breakfast item you order, and easy to share. I know I would order this every time. I really enjoyed the Bananas Foster Waffle ($21) with salted pecans and peanut butter cream, which surprisingly didn't make the dish heavy but gave it a nice saltiness to balance out the sweet."
"I love a good Croque Madame, and the one served here is superb," stated Christopher. "It's $32, which is a bit pricy for this type of dish, but it's perfectly
executed and practically bursting with flavor.  
"If you like to start of your brunch with a little bubbly like I do, the blood orange mimosa ($17) is perfect with its Piper Sonoma Sparkling Wine, St. Germain Elderflower Liqueur and blood orange," said Catherine.
Dining reservations can be made by calling (949) 715-6420, or visit montagehotels.com/lagunabeach.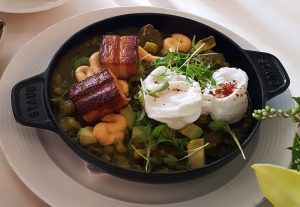 We left Montage before 1 p.m., more than enough time to drive to the large white tent erected off of the I405 Freeway and the 133/Laguna Canyon Road.
That's where Cavalia's "Odysseo" performed a month of sold out shows earlier this year. The touring production has returned for another series of performances through January 8.
So what is Odysseo? Perhaps the show's press material describes it best: "65 horses and 48 artists lead the viewer on a great journey in yet another world – a world of dreams where together they discover some of the planet's most unforgettable landscapes. Odysseo marries the equestrian arts, stage arts and high-tech theatrical effects at never-before-seen levels. A veritable revolution in live performance, Odysseo comprises a list of superlatives: the world's largest touring production and traveling big top, the biggest stage, the most beautiful visual effects, and the largest number of horses at liberty."
With those superlatives swirling in our minds, we too our seats in the tent and watched the show unfold.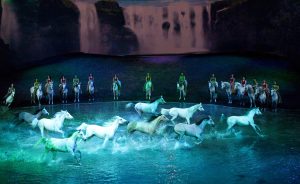 "A mix between Cirque du Soleil and equestrian brilliance, this is a show you don't want to miss," gushed Catherine after the show. "I find something majestic about horses when they are running free in the wild, and somehow this is captured throughout the show as they move as one with and without human performers. The show combines demonstrations of jumping, dressage, trick riding, acrobatics and more than that, it demonstrates love, adventure and trust."
"I agree—a show unlike anything I've ever seen," added Christopher. "Even though there were acrobatics and trick riding, and a few other Cirque-like moments, the horses took center stage. This was a show ears in the making, and it shows in the amazing theatrical effects, and in the way the horses were trained. This is indeed a show not to be missed. It wil linger in your memory for a long time to come."
For tickets to "Odysseo," visit Cavalia.net.