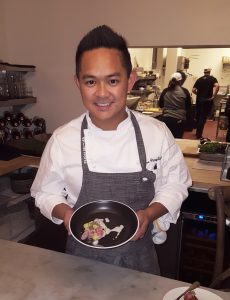 By Christopher Trela & Catherine Del Casale | NB Indy
 Leatherby's Café Rouge at Segerstrom Center for the Arts has long been our go-to restaurant for pre-theater dining, especially for musicals, because Chef Ross Pangilinan always created a themed menu to match the show.
More than that, Chef Ross is a master at combining distinct flavors and textures in every dish. Even his soups (which are more thick purees than mere broths) stand out for their intensity of flavors.  
We had heard rumors that Chef Ross was thinking about leaving Leatherby's and opening his own restaurant. Those rumors have turned out to be true.
Last week, we were invited to a special media tasting at Chef Ross' new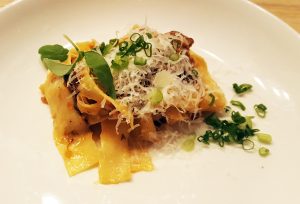 restaurant, Mix Mix Kitchen Bar, in the downtown Santa Ana space formerly occupied by Little Sparrow. It's a vastly different ambiance than Leatherby's, including an open kitchen and a casual, upbeat atmosphere that invites robust conversation.   
Mix Mix offers a menu of global dishes with influences from France, Italy and the Philippines.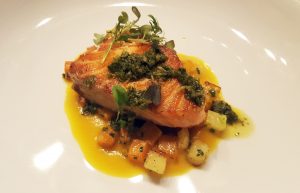 The restaurant officially opens this weekend, and based on our menu sampling, Mix Mix will be a hit hit.
We tried seven different dishes, from snacks to small and large plates, plus dessert, and have to admit we cleaned our plates with each course.
"I am thrilled that Chef Ross is back and has his very own kitchen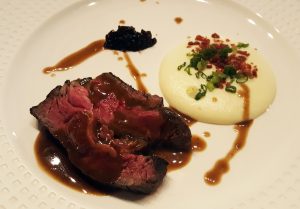 to work in and make magic culinary happen," said Catherine. "For those who like something on the sweeter side to start, I recommend the local goat cheese toast topped with pears, honey and petite herbs ($8). For an entree the hanger steak ($23) is tender and flavorful. It's topped with a peppercorn sauce and plated with loaded potato espuma and shallot marmalade. Surprisingly, one of my favorite dishes was the salmon ($21). It was cooked perfectly and was delicious when mixed with the cooked potato and vegetable medley and some of the sauce (which Chef Ross revealed was the previous day's butternut squash soup). The slight sweetness really elevated the dish for me."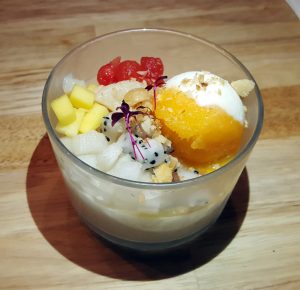 "I agree, the salmon really stood out," said Christopher. "The best salmon I ever had – and I've had a lot – was at Emeril Lagasse's Delmonico restaurant in Las Vegas, followed by The Winery in Tustin (and now Newport). This dish ranks up there. The salmon was melt in your mouth tender without falling apart on the fork, the flavors blended perfectly, and the butternut squash pureed soup made the dish complete."
We also had a housemade pasta ($19), which that night was pappardelle with beef & pork bolognese, parmesan cheese, and Genovese basil, plus Filipino ceviche  ($12) with coconut lime, avocado, pork cracklings and Thai chile. 
"I also have to rave about the cocktails since they were all so unique and well balanced," noted Catherine. "My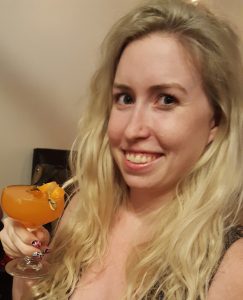 favorite was the Silly Rabbit ($11) with Reposed tequila, Thai chile carrot syrup, lemon-lime, clove, Vanilla Madagascar liquor and dehydrated chile. The drink had a tiny bit of a kick at the end and was all together refreshing without being overly sweet."
"My new favorite is the Smoked and Oaked cocktail ($12)," said Christopher. "It has bourbon, gran classico, housemade sweet vermouth aged in 'Beyond Barrels' staves, and smoke."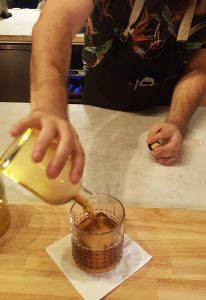 Three and four course menu tastings are available, as is a chef's table experience for $65 per person.
Mix Mix Kitchen Bar is located at 300 N. Main St. in Downtown Santa Ana, about 15 to 20 minutes from Newport Beach and well worth the drive. Mix Mix is open for dinner Tuesday through Thursday from 5 p.m. to 10 p.m. and Friday and Saturday from 5 p.m. to 11 p.m. Brunch is offered every Sunday from 11 a.m. to 3 p.m.
For more information, visit mixmixkitchenbar.com.