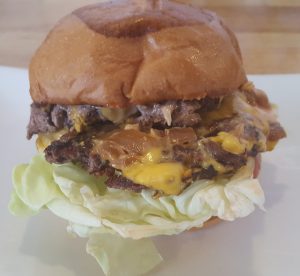 Seems like everyone these days is trying to build a better burger—or at least something that's different from the norm.
Umami Burger at The Camp in Costa Mesa recently unveiled a burger that's impossible to describe—but that's a good thing, since it's called the Impossible Burger.
Billed as a burger made entirely from plants for people who love meat, the Impossible Burger looks, cooks, smells, and even tastes like a regular hamburger.
However, the ingredients are completely unlike a regular hamburger, and in fact sound like an odd combination: wheat and potato proteins, coconut oil, and heme—a natural molecule found in plants and animals that gives meat its meaty flavor.
Because it is plant based, it uses much less land and water than traditional beef, and helps lower greenhouse gas emissions.   
The meat is made by Impossible Foods in the Bay area, and is shipped to Umami.
We were invited to Umami Burger to try the Impossible Burger, so of course we were curious and said yes.
Christopher went solo to Umami (Catherine had just started her diet) and after taking a seat at the counter, promptly ordered an Impossible Burger.
It arrived looking every bit like a traditional burger. Christopher took a bite, and his eyes widened in surprise.
"Wow—this is fantastic," he said, taking another bite. "It looks like a beef burger, tastes like one, and is fabulously messy like a good burger should be."
Christopher finished his burger in record time, then chatted with Umami COO Gregg Frazer, who was on hand for the media event.
"I had heard about Impossible Foods and was very interested in being the first burger chain in California to offer this burger," explained Frazer. "Umami is founded on innovation and creating delicious food. Aside from sustainability, which I believe in, it has to taste delicious. We [experimented] with different size burgers, and I knew I could do something with this."
The Impossible Burger was introduced to the Umami menu three months ago, and the results have been surprising.
"The sales numbers speak to it—it's something our guests love," said Frazer. "We knocked it out of the park. At this location, for 11 weeks in a row, it has been the number one selling burger. At the vast majority of our restaurants, it is number one. It is incredible, I never would have believed that a plant based patty would dethrone a beef patty. Over time it will be a nice balance, but so far it has not shown any signs of weakening."
Impossible Foods is ramping up production to be able to supply their Impossible meat to more restaurant, but for now get over to Umami Burger and find out why the Impossible Burger tastes impossibly good.
Visit UmamiBurger.com for more information.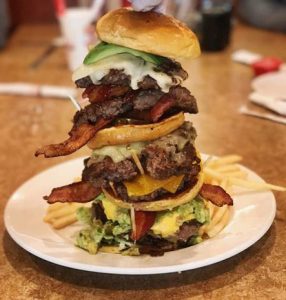 Ruby's Stack Attack
To celebrate its 35th anniversary, Ruby's is introducing a new burger. A big burger. A really big burger.
Loaded with six 8-ounce patties and topped with onion rings, cheese, guacamole, tater tots, jalapenos, bacon and more, eating this monster burger in one sitting is no easy feat, but that's exactly what Ruby's wants you to do.
Ruby's Stack Attack Challenge takes place every Wednesday at the South Coast Plaza, Irvine Spectrum and Laguna Hills locations.
The Ruby's Stack Attack challenges burger lovers to devour this $35, 3.5 lb. burger – plus fries and a shake – in 35 minutes.  
If you can beat the burger buzzer, you'll win a $35 Ruby's gift certificate, an exclusive t-shirt and social media recognition.
For more information and to sign up for the challenge, visit rubys.com/stackattack.