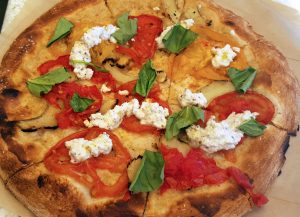 After eating our way through the OC Fair several times this summer, Catherine realized it was time to say no to bacon and yes to healthy dining.
She has launched into a multi-week diet (a tough thing for a dining writer to do) with dietary restrictions that require serious menu research.
Fortunately, the health-conscious environment of Newport Beach does include several restaurants that focus on foods that not only taste good, but are good for you.
Last week, we visited two of those healthy restaurants: True Food Kitchen and Cafe Gratitude.
True Food Kitchen
Renowned physician Dr. Andrew Weil helped establish True Food Kitchen on a set of principles known as the Anti-Inflammatory Diet, which encourages simple changes in eating habits to counteract chronic inflammation.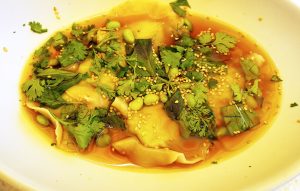 We interviewed Dr. Weil several years ago when the Fashion Island restaurant first opened, and were instant believers—especially after sampling the cuisine, which did not taste like typical health food (meaning bland and uninteresting). Even the kale salad (which has become a menu staple) tasted fresh and delicious.
We dined at True Food Kitchen last week at the perfect time—the restaurant just added a handful of summer dishes to its menu, so naturally we had to try them.
We started with Edamame Dumplings ($10), which Catherine said was "a light and delicious starter that can be shared between two people. This vegetarian dish is set in dashi (a clear broth), with white truffle oil and Asian herbs. Then again, I'm slightly bias when it comes to anything with truffle."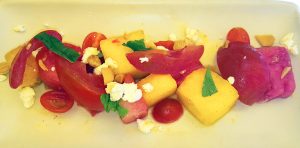 We also tried the new heirloom tomato and watermelon plate ($10), which was lovely, light and summery.
Because Catherine loves pizza but has not been able to eat her standard pepperoni pie, we ordered the vegan Heirloom Tomato pizza ($16).
"The crisp and tasty crust is topped with grilled artichoke, roasted garlic, vegan almond ricotta and black truffle," noted Catherine. "The almond ricotta is light and fluffy, and tastes just like the real thing. The crust is like a flat garlic crouton with a light garlic and truffle flavor. I could have eaten the whole pizza by myself but I let Chris have a slice or two."
Catherine also ordered the Poke Bowl ($22), which came with heaping amounts of wild caught albacore, mixed in with avocado, quinoa rice, mushrooms, snow peas, cucumber, cashews and a slightly spicy turmeric ponzu.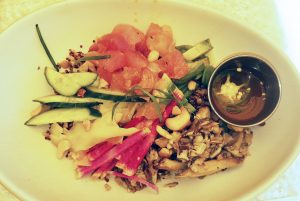 "This is a great dish to order for summer when it's hot out and you want something cool and refreshing," said Catherine. "The portions are very large so I ate all the albacore and then saved half of the other ingredients to bring home for lunch the next day so I could add chicken to the mix."
True Food has remained wildly popular since it opened—we dined on a Tuesday and arrived at 11:30. By noon, both the patio and the inside dining area were filling up fast.
For more information, visit TrueFoodKitchen.com.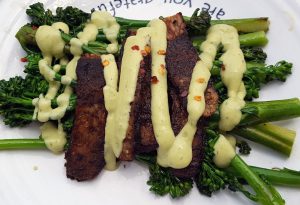 Café Gratitude
"I was reminded of how much I love Cafe Gratitude while searching the internet for local restaurants who had menus with dishes that taste delicious but can still fit within a strict healthy diet," said Catherine. "Cafe Gratitude met my challenge and succeeded in making my meal options a lot more interesting than steamed broccoli and chicken.",
Catherine started with the Effervescent drink ($4), a house made ginger ale that's a mixture of cold-pressed ginger juice, agave, lemon and sparkling water. Catherine called the drink "refreshing and revitalizing."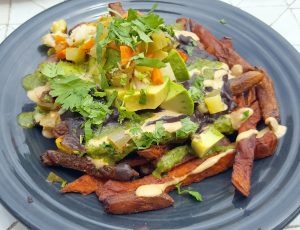 For an appetizer, we ordered the Bright spicy sautéed broccolini ($13) sprinkled with red chili flakes, a hearty drizzle of coconut avocado cream and tasty tempeh crisps. "The dish was light but still filling, and the best broccolini I've ever had," stated Catherine.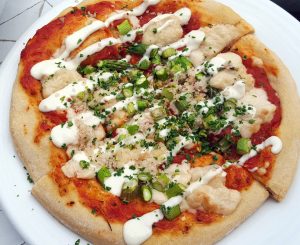 After ordering the seasonal pizza ($16.50) with ancient grain einkorn and kamut flatbread with locally sourced ingredients, we added the Humble Indian curry bowl ($16) with red lentil dal, spinach, roasted garnet yams, coconut mint chutney, spicy tomato jam and a mixture of sprouted probiotic brown rich and quinoa.
"I'm absolutely in love with this bowl!" declared Catherine. "It has so much flavor, I found the spicy tomato jam more sweet than spicy but it really just added to the flavor of the dish, which was overall refreshing and light. My entire meal was in fact effervescent, humble and bright."
And because we dined on a Monday, we ordered the nacho fries ($10) of off the Mule Monday menu. The fries included cashew nacho cheese, black beans, salsa verde, avocado and escabeche.
Café Gratitude is on Westcliff Drive. Visit CafeGratitude.com for more information.