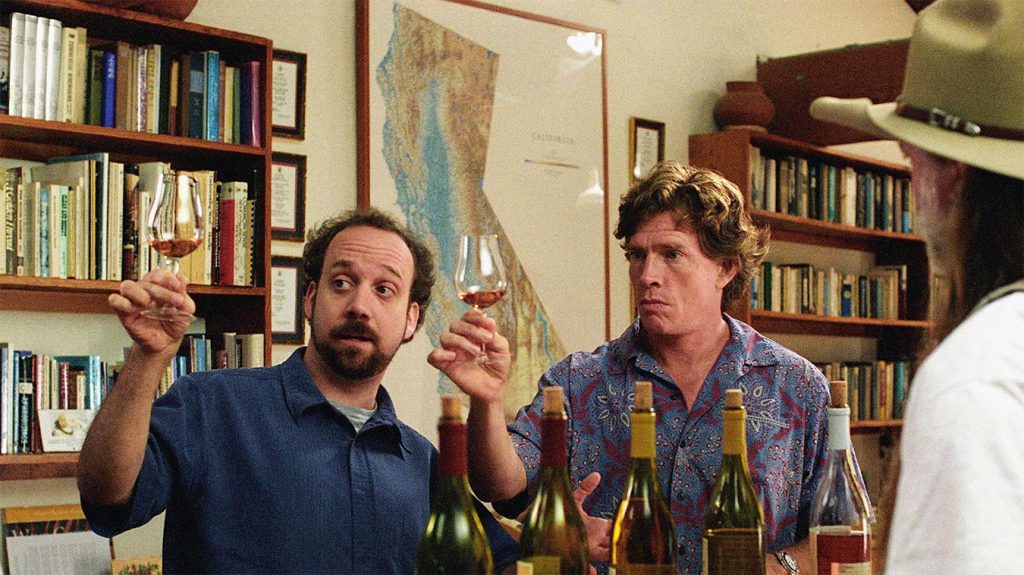 "If anyone orders Merlot, I'm leaving. I am NOT drinking any F***ing Merlot!"
That emphatic declaration from one the characters in the 2004 movie "Sideways" helped hasten the decline of Merlot in the U.S. marketplace.
Conversely, the film boosted Pinot Noir sales thanks to the lead character's praise of the finicky grape varietal: "It's a hard grape to grow, it's thin-skinned, temperamental, ripens early…Pinot needs constant care and attention. Only the most patient and nurturing of growers can do it, really. Only somebody who really takes the time to understand Pinot's potential can then coax it into its fullest expression. Then, its flavors, they're just the most haunting and brilliant and thrilling and subtle and ancient on the planet."
Fortunately, Merlot has made a comeback, while Pinot continues to be praised, especially along California's central coast—a perfect cool-climate growing area favored by Pinot grapes.
"Sideways" was set in and around the Santa Ynez and Santa Rita Hills viniculture areas of Santa Barbara County, which counts wine as the County's number one finished agricultural product. The County's wine grape crop is the second most valuable agricultural crop.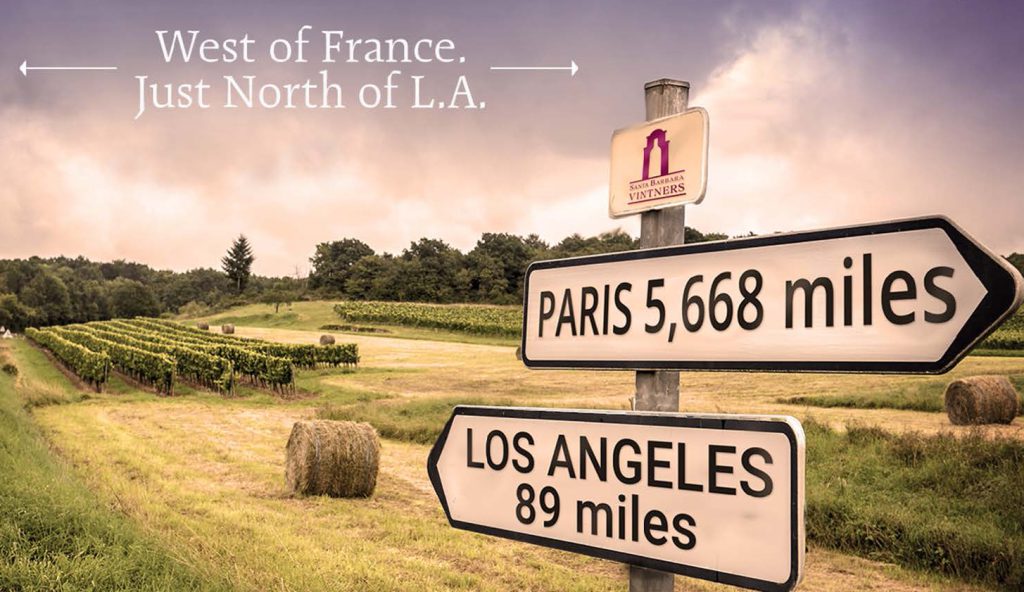 Pinot Noir is still the star of the show. According to the Santa Barbara Vintners Association, 5,500 acres of Pinot grapes were planted in the county as of last year.  Chardonnay comes in second with 4,176 acres planted. After that comes Syrah, Sauvignon Blanc, Cabernet Sauvignon, and many others.
There are 70 different wine grape varieties grown in Santa Barbara County, and more than 275 wineries.
How good are the wines? Santa Barbara Wine Country was named Wine Enthusiast Magazine's Wine Region of the Year for 2021.
That's one of the reasons Solvang (and the central coast) has become one of my favorite weekend getaway spots.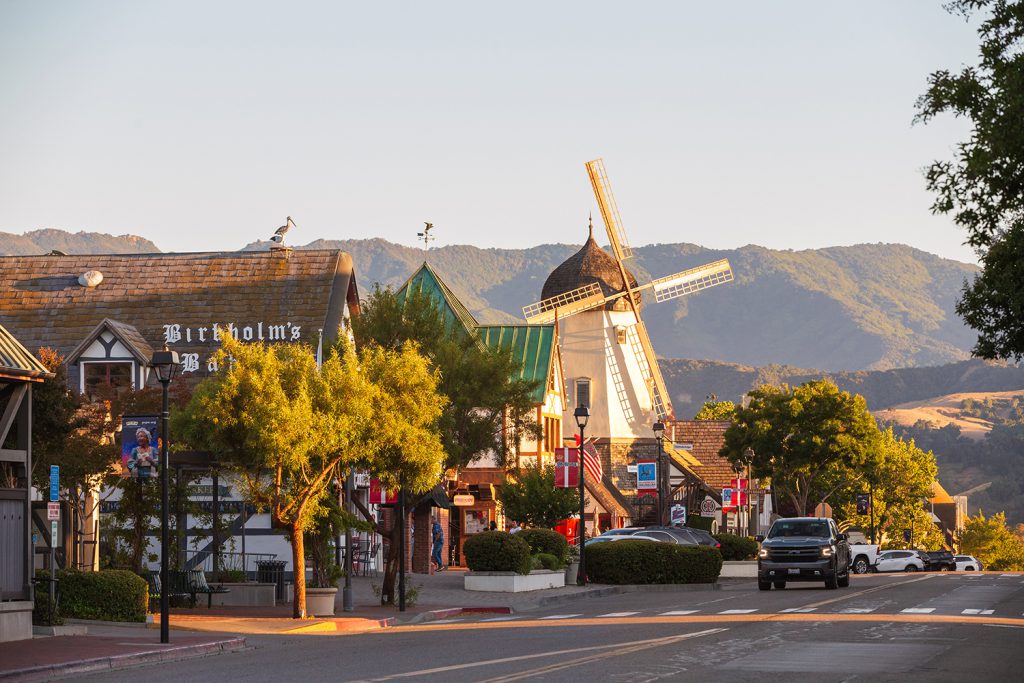 Solvang
This charming Danish-themed town in the Santa Ynez Valley is only three hours from Orange County and is the gateway to great wine tasting experiences.
Yes the town has beautiful buildings and bakeries as well as a handful of wine tasting rooms (and a museum dedicated to writer Hans Christian Anderson!), but it's a short drive to myriad wineries that have made Santa Barbara Wine Country a destination of choice for wine lovers.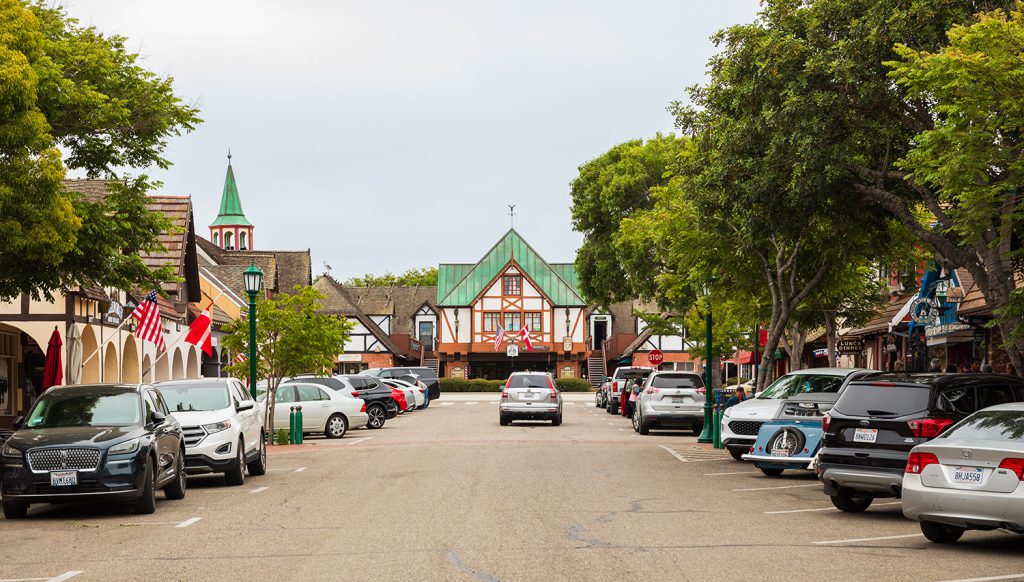 Solvang and surrounding areas offer a variety of lodging options. Many are dog friendly, which is a must for me as I travel with my small maltipoo, Spencer. Fortunately, most wineries also welcome dogs in their tasting rooms. Some restaurants have dog-friendly patios. But with or without your pup, Solvang is the perfect spot to call home base.
And if you really want to get immersed in Solvang culture and heritage, celebrate the 86th Anniversary of Solvang Danish Days September 15-17. The event includes a parade, Aebleskiver breakfast, and other Dansh delights. Visit https://www.solvangdanishdays.org.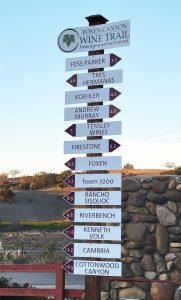 Wine Tasting
Like many wine aficionados, I have my favorite Santa Barbara County wineries (and I am a wine club member at three of them), but I also enjoy visiting those not on my usual list.
A few months ago, Santa Barbara Vintners and The Wine Militia set me up with tastings at three wineries: Zaza Mesa, Foley and Roblar.
I also visited a trio of my favorite wine haunts: Foxen, Babcock and Blackjack (their tasting room is featured in "Sideways").
But with 275 wineries and tasting rooms, trust your palate to find its favorites.
And in case you're wondering the best time to go wine tasting on the central coast, September is fun because vintners are picking their grapes to get them processed so the area is "ripe" with activity. But really any time is the best time. I prefer a Sunday through Tuesday trek because the tasting rooms are not as crowded.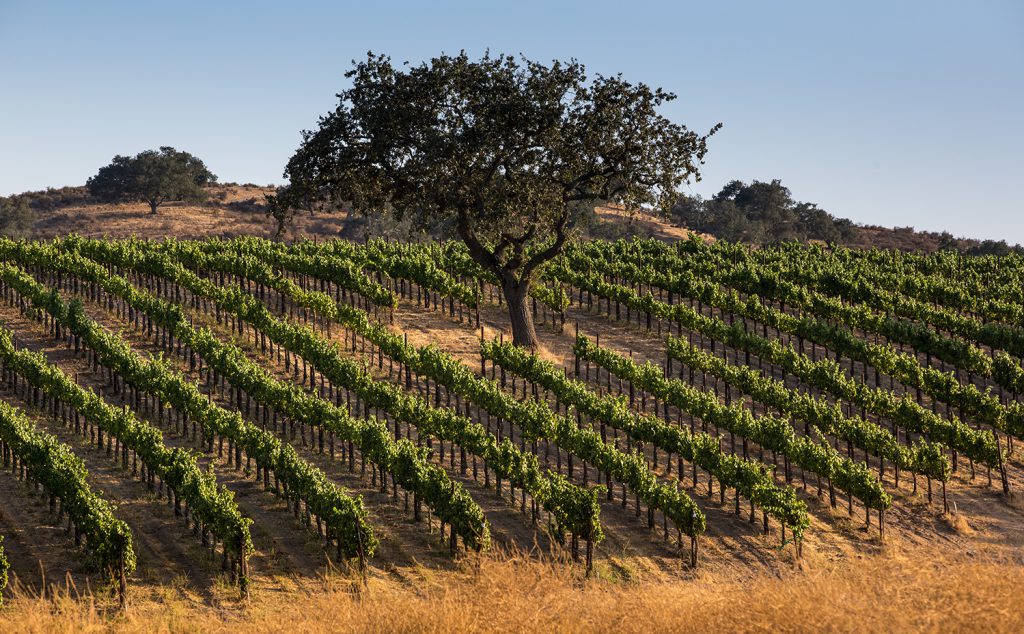 Zaca Mesa
Established in 1973 and celebrating their 50th anniversary this year, Zaca Mesa is a family owned and operated winery with a longstanding history in Santa Barbara County. As the first vineyard to plant Syrah in the area in 1978, Zaca Mesa has since helped pioneer the Santa Barbara Rhône movement through an unwavering dedication to Syrah (Rhone wines are those planted in the Rhone region of France, especially Syrah, Grenache and Mourvèdre).
Winemaker and general manager Kristin Bryden, who has been with Zaca Mesa for 12 years, told me they make some two dozen different wines and many are 100 percent varietal specific because she "wants to show the true character of the wine."
"What is unique about Santa Barbara County is that we can grow so many different grape varietals here, both Rhone style and Bordeaux," said Bryden. "That makes it a fantastic place to visit for anyone who enjoys Pinot Noir, Cabernet Sauvignon, and Syrah."
Bryden said that 50 years ago nobody really knew what grapes to plant in this area so they planted a variety of varietals to see what worked.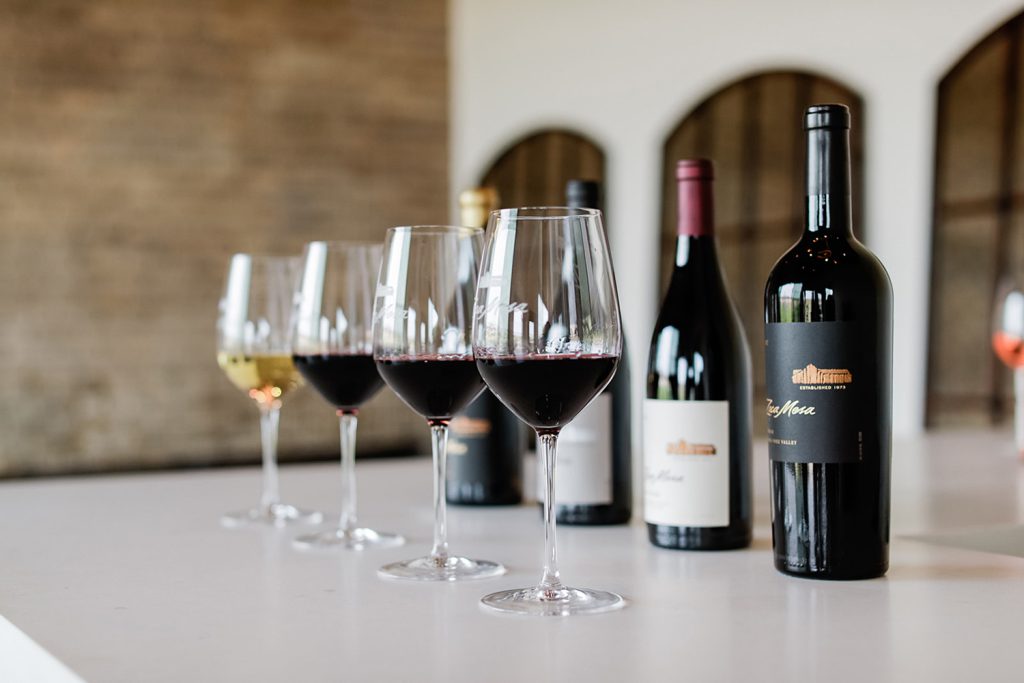 "It took time to figure out the climate and the soil and what was well suited to plant," said Bryden.
As to the secrets of growing and producing good Pinot Noir, Bryden said the Santa Maria Valley and Santa Rita Hills AVAs (American Viticultural Areas) offer cooler soil and climate, and produce phenomenal wine with wonderful, velvety structure.
While Zaca Mesa is technically in Los Olivos (a charming small town with dozens of tasting rooms and vintage boutiques), they are actually a few miles down Foxen Canyon Road.
"It's a destination—you don't just happen upon us," said Bryden. "It's a beautiful drive if you want to experience wine country and the vineyards."
Zaca Mesa has two 50th Anniversary events coming up this fall: an elegant Harvest Wine Dinner on October 28, and the 50th Anniversary Fall Fiesta on November 18.
Visit https://www.zacamesa.com.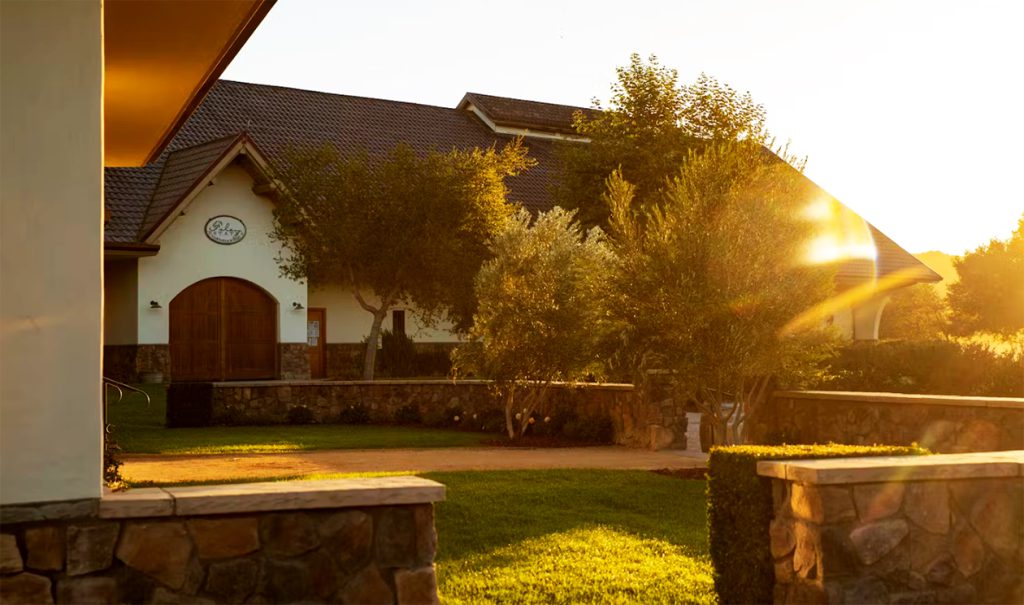 Foley Estates
Any visit to Santa Rita Hills should include a visit to Foley Estates—although while I have enjoyed Foley wine, I had not been to the winery until this media trip.
Founded by vintner Bill Foley in the late 1990s, the winery totals 500 vineyard acres planted to primarily Chardonnay and Pinot Noir.
The quality of fruit that comes off this ranch can be attributed to strict winemaking protocols and the unique terroir of the vineyard sites. To guarantee the best possible fruit, the viticulture and winemaking teams have developed a unique micro-farming program that involves the mapping of soils and topography using soil pits and aerial photography.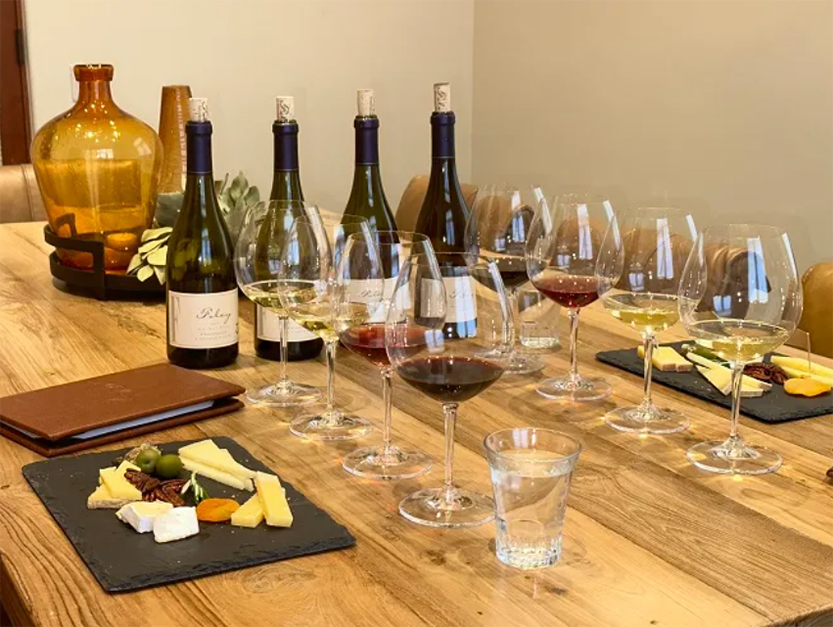 Perhaps even more impressive than the attention to winemaking details: one of Wine Enthusiast Magazine's annual Wine Star Awards was given to Bill Foley, considered one of the most influential vintners in California. His Lifetime Achievement Award was presented at the Wine Enthusiast Awards Dinner earlier this year.
As founder and owner of Foley Family Wines, Foley owns Lincourt Vineyards, Foley Estates Vineyard & Wine, and Firestone Vineyard, among others.
Before I began tasting Foley wines, I was given an ATV tour of the property including the vineyards, and gained a greater understanding of the essence of Foley winery. I also did a walkthrough of the barrel room and learned the history of the Foley winery and the land, which goes back to the mid-1880s when settlers moved to the area and established ranches. As people moved out in the 1990s, the land opened up for planting grape vines.
The ATV tours are open to the public, as are a wine and cheese pairing experience. You can also reserve a tasting for up to six guests. And like Zaca Mesa, Foley is dog friendly.
Foley is within the city limits of Lompoc along Highway 46. Visit https://www.foleywines.com.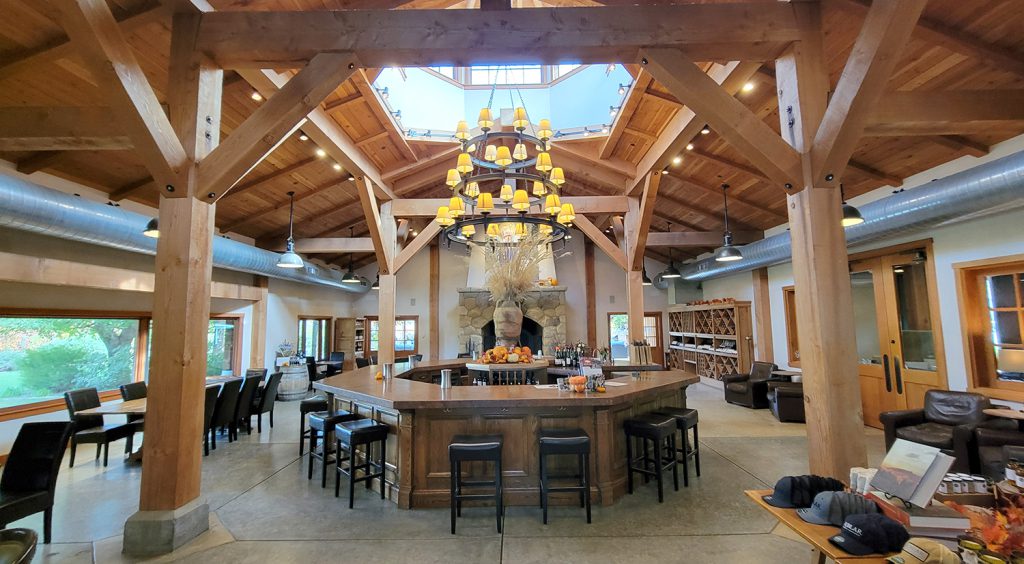 Roblar Winery & Vineyards
One step into Roblar's majestic 5,000 sq. ft. tasting room tells you that you're in for something special.
Roblar produces a variety of wines on the estate property, including Sauvignon Blanc, Chardonnay, Cabernet Sauvignon, and Pinot Noir.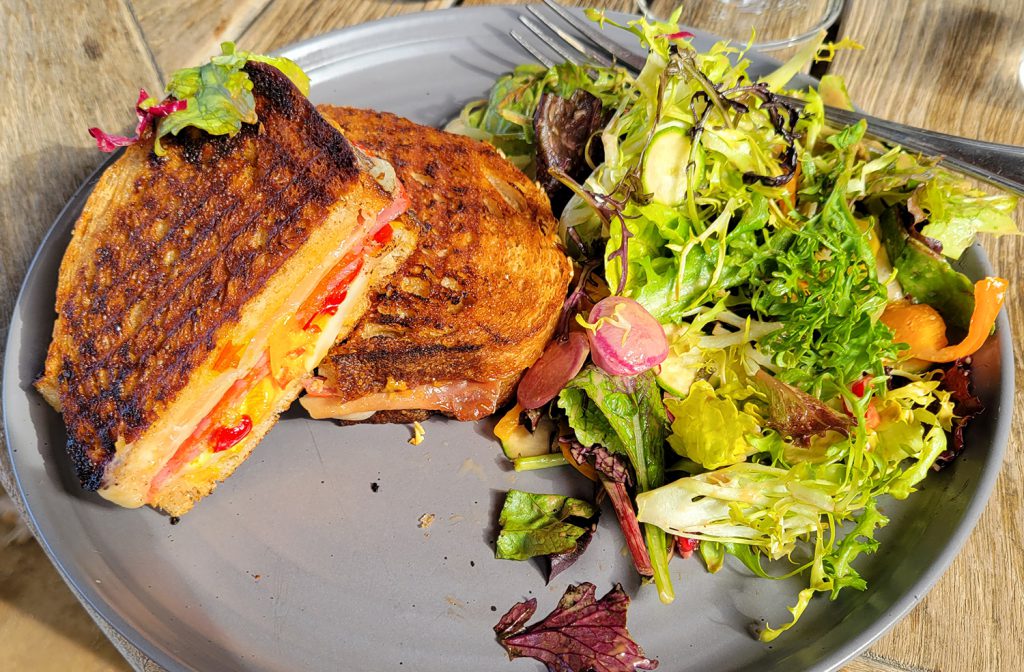 Roblar also has a charmingly rustic patio where lunch is served Monday through Saturday, supper on Tuesday through Thursday eves, and Sunday brunch.
The Gleason family owns Roblar as well as Refugio Ranch, which has a tasting room in Los Olivos, a few miles from Roblar.
According to Callie Gleason Bieszard, Director of Marketing, her parents fell in love with the central coast and its renegade spirit 20 years ago. They purchased property that became Refugio Ranch and planted Rhone-style grapes. In 2017, they acquired Roblar, and the family created Gleason Family Vineyards as an umbrella company.
"When we took over Roblar, there was a lot of diversity and it came with beliefs we wanted to focus on—the health of the vineyard and making it a more sustainable model," she said.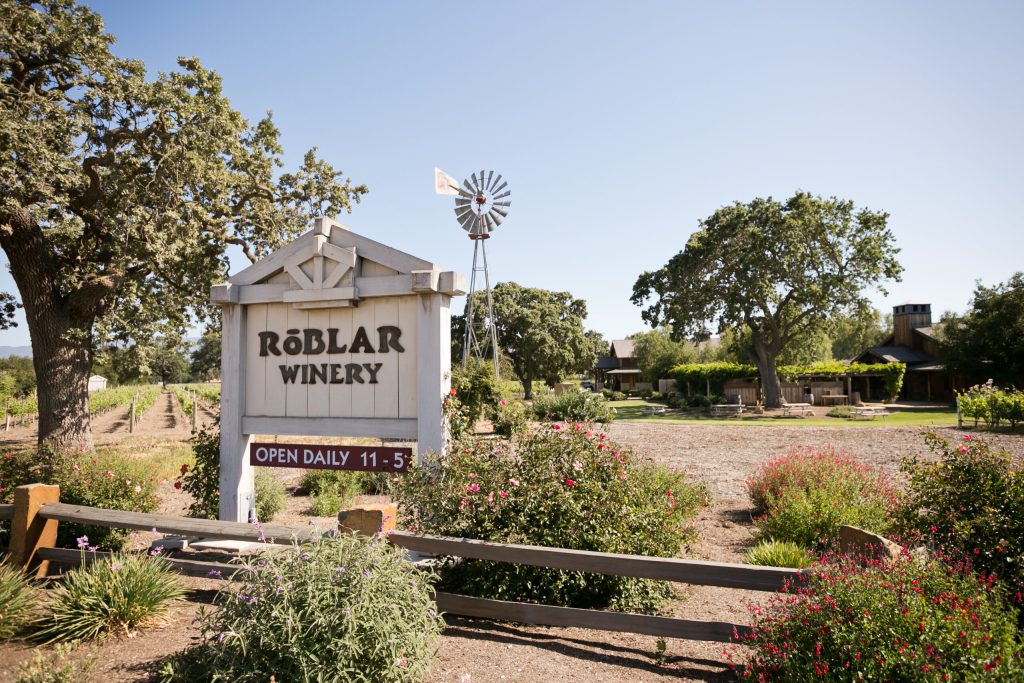 Roblar was trucking their grapes to Napa Valley for processing, but the Gleason Family brought the process home and now all the wines are made on site.
According to Callie, "Roblar is a place people can come and experience the Santa Ynez valley and see what it has to offer. We have a serious focus on the quality of the wine, and the land and the fruit."
While at Roblar I did a tasting and also had lunch. The menu was creative yet simple thanks to executive chef Peter Cham.
"His vision is fresh, simple, on point. It utilizes the produce we grow on our farm."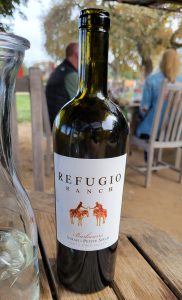 Yes, part of the Roblar acquisition included land that is now Roblar Farm, with three acres of produce, a collection of chickens and sheep and pigs, plus a guest house that sleeps 10 and a casita that sleeps six.
Callie noted that Santa Rita Hills and Santa Ynez have become robust wine regions that have a lot to offer visitors, from beautiful tasting rooms to fun experiences.
"We are three hours from Orange County, our wines are competitively priced. We have a Syrah for $50, and you can't even do a wine tasting for that in Napa. People tell me they are not as excited to go to Napa anymore."
Roblar has a fun event planned for later this month: the 3rd Annual Hoedown at Roblar Farm on Saturday, August 26. Wear your dancin' shoes and bring your cowboy hat. Enjoy a delicious BBQ-style meal alongside fantastic wine selections, followed by live music from Teddy Spanke & the Tex Pistols, along with Country 2 step and line dancing instruction from local instructor Vanessa Robertson.
Tickets are $70 for Members and $85 for Non-members, and include a full meal, live entertainment and dance instruction, and one glass of wine. Additional wine is available for purchase.
Visit https://roblarwinery.com.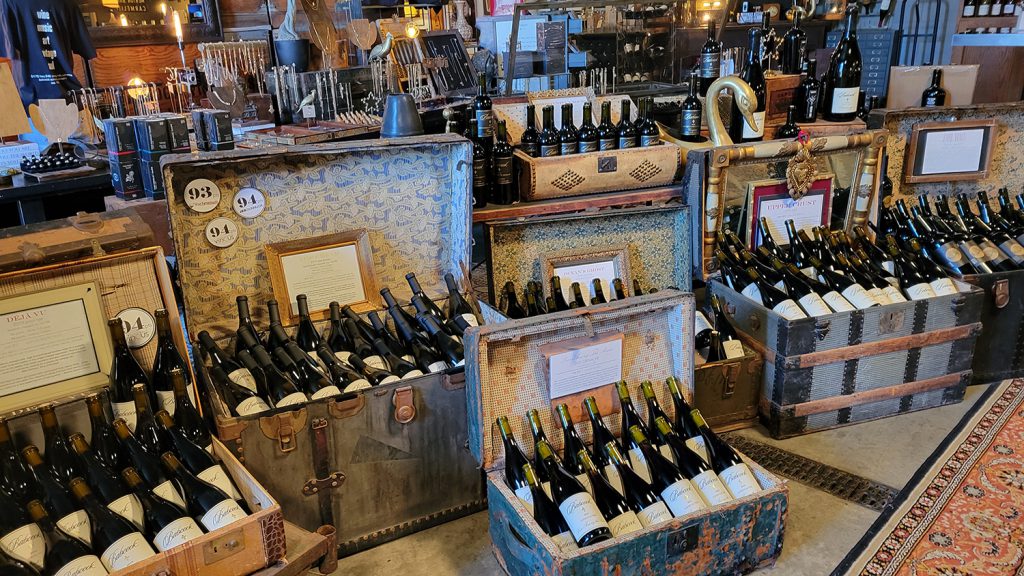 Others
I'd be remiss if I didn't mention several other Santa Barbara County wineries I usually visit when I'm in the area.
Babcock Winery (on Hwy. 46 between Buellton and Lompoc) not only makes fabulous wines (especially reds) but their tasting room is adorned with rock and roll posters and records—all for sale, as well as themed clothing and other unusual souvenirs.
Foxen Winery on the Foxen Canyon wine trail was founded by Bill Wathen and Dick Doré in 1985. As their website says: Minimalist winemaking. Sustainable winegrowers. Solar-powered winery. I have been enjoying their wines for over 20 years (and finally became a wine club member last year).
Blackjack Ranch Vineyards & Winery became famous as one of the wineries in "Sideways," and their sign along the highway touts that fact, but they make good wine regardless of the film notoriety. Many of the wines they sell are 15 to 20 years old, which shows how well they age.
And a special shoutout to Los Olivos Tasting Room & Wine Shop. Chris is the owner, a transplant from Costa Mesa who offers tastings of small production labels (especially Pinot and Syrah) that are always excellent. The tasting room itself is fun and funky, with wall-to-wall wine-related posters that are for sale. Chris knows his stuff, and I never leave without buying a few hard-to-get bottles.
And if you're visiting on a weekend, be sure to check out the Lompoc Wine Ghetto, an industrial area where small wine producers offer tastings and sales of limited production wines.
Visit https://sbcountywines.com for more information on Santa Barbara County lodging, restaurants, and of course, wineries.