By Megan Forrester | Special to the NB Indy
Back in the first grade, Newport Beach resident Emma LeSieur told her very first joke. "Why did the chicken cross the road? To get more diapers," LeSieur said.
Sure, it might not have been as sophisticated as most jokes, but to LeSieur at the time, it was pure comedy gold. She recalls even receiving a few chuckles from her parents, even though she now recounts them as pity laughs.
All these years later, now about to start her senior year at Newport Harbor High School, comedy is still an extremely integral part of her life. She told The Newport Beach Independent how comedy brought light to her and her family during dark times: when she struggled to make friends after switching schools in the fourth grade and when the isolation of the COVID-19 pandemic began.
"My whole childhood, we spent so much time laughing, and that's when I feel the happiest," LeSieur said. "Comedy is what brings my family together. That was something I wanted everyone to have the opportunity to experience."
LeSieur was eager to combine her two loves of science and comedy, but was unsure of how to execute it properly. It wasn't until last spring when she shadowed a nurse at one of Hoag Hospital's oncology centers where she read countless articles on the health benefits of laughter, including its ability to increase oxygen intake and boost the immune system.
A perfect relationship between her two passions led to the creation of her community service project: The Comedy Lab.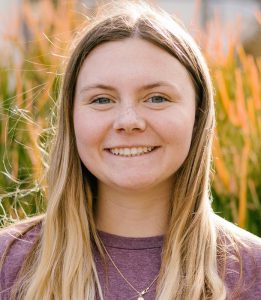 LeSieur said the name The Comedy Lab spawns from the connection between laughter and medicine, but the name also coincides with the endless possibilities of comedic relief – whether that be balloon animals or stand-up.
"Comedy is something you can experiment with, it's not a set thing," LeSieur said. "You can change the formula. It's like a science experiment, where you can add a little bit more prop comedy or wordplay. You can experiment with comedy."
The Comedy Lab originally began with LeSieur self-publishing workbooks on the history and power of comedy on Amazon, with all donations going to the YMCA and the Friendship Circle.
But LeSieur wanted to create a bigger impact in her community. That was when she discovered the Orange County-based Dragon Kim Foundation, a social entrepreneurship program for high school youth. LeSieur was accepted to the program in March of this year and has since been able to expand The Comedy Lab to in-person and virtual workshops for pediatric patients and children in underserved communities –all thanks to the education and funding that has been provided by the Dragon Kim Foundation.
This year, co-founder of the Dragon Kim Foundation Daniel Kim said the organization has accepted 47 projects across California, Nevada and Arizona, with each one receiving leadership and business training, mentorship and $5,000 in funding for the six-month program.
Kim told The Newport Beach Independent that even the most niche ideas, including teaching comedy to children, can still make a significant difference.
"Particularly for a little kid from underprivileged communities, it may be the first time that they're learning about some in depth art concepts, in this case comedy and comedy techniques," Kim said. "Being able to find and spread that joy and laughter (shows) the lesson that somebody cares."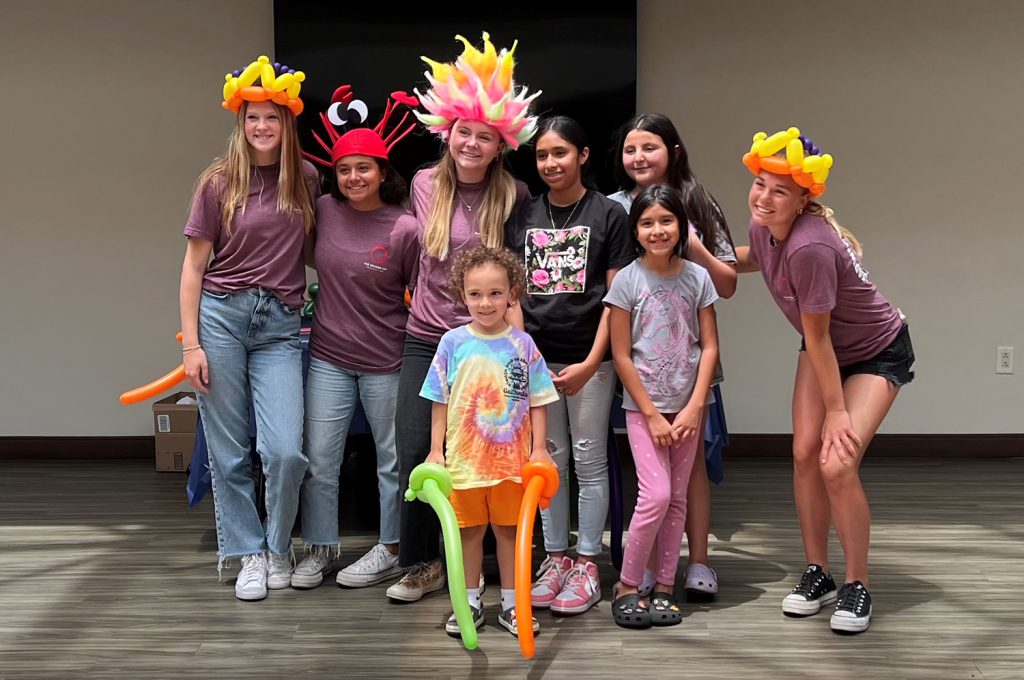 When LeSieur hosted her first workshop at Newport Beach-based organization The Friendship Circle in June, needless to say she was a little nervous. Despite the nerves, LeSieur said her training through the Dragon Kim Foundation allowed her to confidently teach and entertain the children and families in attendance.
Since then, The Comedy Lab has also brought in-person workshops to The Ronald McDonald House of Los Angeles, The Mix Academy in Santa Ana and a virtual workshop at Miller Children's Hospital of Long Beach.
"Every time I'm a little nervous before I start, but once the kids start laughing and you realize it's all for fun and we're just trying to bring some smiles, you calm down," LeSieur said. "Dragon Kim has helped me so much with getting over fear of rejection or making mistakes, so that I can just go in calm and do what I'm there to do."
Each workshop consists of asking the children what they think comedy is (with their responses shared through an inflatable chicken microphone) and a series of comedic activities. Within an hour-long workshop, the children participate in a caption contest, performance comedy and balloon animal comedy inspired by Steve Martin.
Whether she is wearing a silly troll wig or holding a balloon sword, LeSieur said the goofiness in her behavior allows for other children to feel more comfortable.
"Kids can be shy, so if you look silly, they are willing to come up to you and be silly too," LeSieur said.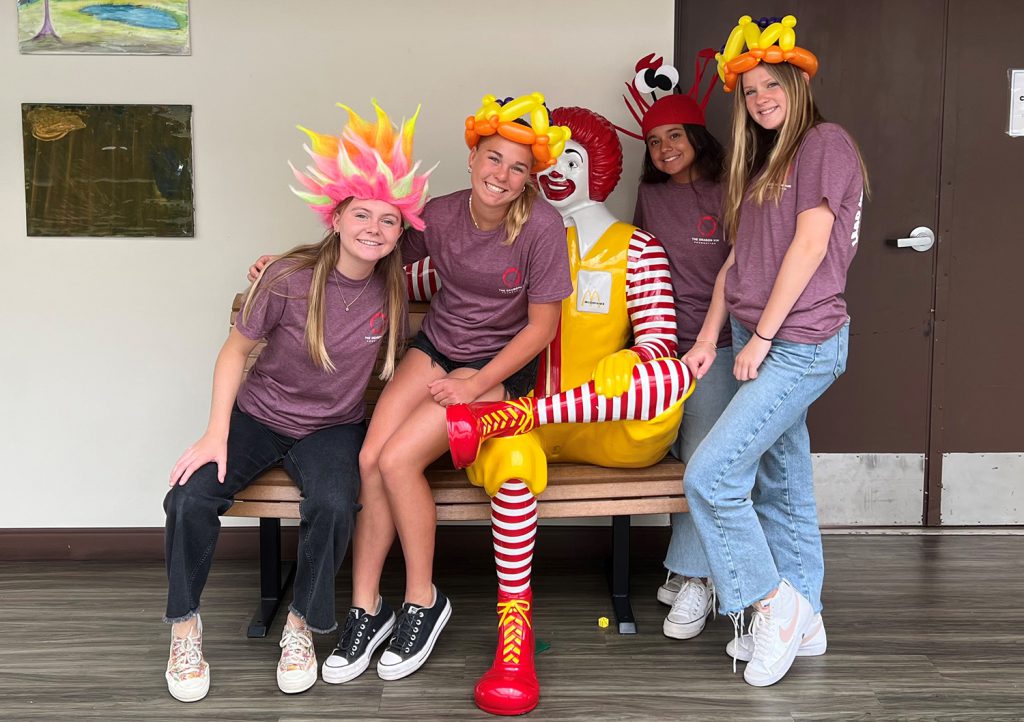 A favorite memory of LeSieur's was during The Comedy Lab's week-long workshop at The Mix Academy. With over 125 kids in attendance, it could be daunting for a child to let down their guard. But, LeSieur said one child slowly overcame their fear and embraced the workshop, which reaffirmed her goal to spread laughter to those who may not always experience it.
"I had one student the first day who was kind of shy, not raising his hand," LeSieur said. "But then the second day, he said something and everyone started laughing. As the days went on, he was more excited to participate. Then on the last day when he got his balloon animal, he asked for an extra one so he could bring it home to his sister, so he could teach her about comedy too."
As for the future, LeSieur said she hopes to continue The Comedy Lab workshops wherever she decides to attend college next year and also will update the project's website with new jokes on their Joke Gallery.
The Dragon Kim Foundation hosted the program's Dragon Graduation on August 6 and will reward one of the 47 projects with an additional $5,000 on September 9. Whether or not The Comedy Lab is selected as a finalist, LeSieur aspires to see the project grow for many years to come.
"It's something that I want to keep doing my whole life," LeSieur said. "I don't know if The Comedy Lab will last 50 years, but I think bringing laughter to hospitals is something I want to keep doing."
Even though LeSieur said that she is planning on becoming a pediatric oncologist one day, she still will always have a soft spot for comedy. Every time she watches the Steve Martin film "Dirty Rotten Scoundrels" or attends a stand-up comedy show, LeSieur said she will think fondly of The Comedy Lab – a project that is truly fueled by smiles.
"I hope (The Comedy Lab) inspires people to laugh a little bit more, make the most out of every day and try to find something to be joyful about," LeSieur said. "It's not just about the health benefits. Laughter builds human connection. It just makes us feel good and I hope everyone gets to experience that."
For more information on LeSieur's project, The Comedy Lab, visit their website https://www.thecomedylab.org.
For more information about the Dragon Kim Foundation, including application details, visit their website https://dragonkimfoundation.org