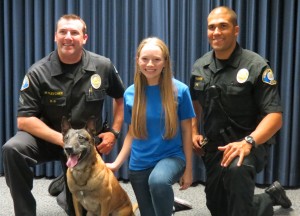 By Elizabeth Greenberg | NB Indy
Everyone knows that man's best friend is a dog, but some dogs take the relationship a bit further.
The police dogs of Orange County protect their cities, finding narcotics and catching criminals, and are often sent into danger before their human partners. And often, there is nothing protecting them.
Vest-A-Dog aims to change that.
Vest-A-Dog is a student-run club dedicated to providing bullet and stab proof vests to all the police K-9s of Orange County.
Jennifer Conde, an incoming sophomore at Corona del Mar High School who serves as club president, founded the club during her freshman year. She first learned about the national Vest-A-Dog Network when she was in the second grade.
"A lot of people wouldn't normally think that police dogs need to be protected, but they do because they're often sent out in front of their human partners to investigate dangerous situations," Conde said. "So, the idea of Vest-A-Dog stuck with me, and when I got the chance to stat a program like that at CdM, I did."
The students in the school club worked tirelessly to meet their goal of purchasing vests for both of the police K-9s at the Newport Beach Police Department. They set up donation containers at several local stores, contacted local businesses, sold their Halloween candy, and participated in local events.
They set up tables at the opening of Top Dog Barkery, and had an event at JustFoodForDogs, where the two NBPD dogs were vested.
The club was even contacted by people who wanted to donate money–Keith and Florence Smith contacted the club and gave them $500, then California Scents sent an unexpected check for $250.
"It's always exciting when something like that happens," reflected 14-year-old Conde. "It gives me the feeling that Vest-A-Dog is more than just a school club. It's an organization that is affecting the lives of people across Orange County and is really making a difference in the community."
Jardo and Elko, the two dogs of the NBPD, both have their vests. But several people are skeptical on the needs of the vests, and how the vests will affect the dog's abilities while on the job.
The vests that Vest-A-Dog purchased will only be used when the dog is going into a situation where the suspect is armed.
The vests are purchased from "Cover Your K-9," a non-profit organization that is based in Northern California. Each vest is custom fit to a specific dog, and usually cost $18,000, but Vest-A-Dog gets the wholesale price of $12,000.
Designed by Landshark K-9, these vests are high tech, bullet and stab proof, and allow flexibility and movement other designs do not permit. They come equipped with a hook for repelling and an IR/LED light, which allows the handler to see the dog if it is searching far away. The IR light also allows the dog to be seen from helicopters while hiding from suspects.
"They're actually a lot lighter than other vests," Conde commented. "A lot of people think the vest would weigh the dog down, but the vest is specially designed so it won't do that as much as other vests."
Conde and the rest of her club have not stopped working for their ultimate goal of vesting every dog in Orange County.
Conde gave a presentation at the Newport Beach Police Department Teen Academy on July 18, along with Officer Mike Fletcher and Officer Roland Stucken, the handlers of Jardo and Elko.
Conde and several other club members, along with the two officers and their dogs, came to the Newport Coast Community Fair held on Sunday, July 21. There, the club members collected donations and sold items such as See's Candies, and plush police dogs with their very own vest.
At both events, Officers Fletcher and Roland gave a presentation with their dogs. Jardo and Elko are Belgian Malinois, a popular dog breed with Police Departments. Trained in Holland, the two dogs spent their lives preparing to do police work.
Nine-year-old Jardo searched for hidden narcotics, and six year old Elko "bit" Officer Fletcher, who was clad in a bite suit. He even had to wear an extra layer underneath because Elko's teeth are so huge.
Throughout the entire presentation, Jardo and Elko appeared to be having a great time.
"It's all about making it fun for them," Officer Fletcher said.
Elko wagged his tail and even whined when his handler, Officer Stucken, pulled him out of his bite of Officer Fletcher.
Officers Fletcher and Stucken will be doing another presentation with their dogs at the Orange County Fair on August 4, where Vest-A-Dog will also be accepting donations and selling items.
Conde and Vest-A-Dog are working vigorously to vest additional police dogs, thereby providing protection to the dogs that protect their communities.          
 For more information and to make a donation to Vest-A-Dog, visit vestadogoc.wix.com/cdmhs.