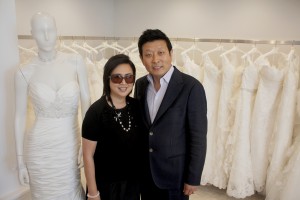 Every bride wants to have that one perfect moment where she tries on a wedding dress and everything falls perfectly into place.
Casablanca Bridal provides those moments.
An award-winning designer and manufacturer of custom fit, made to order gowns sold in bridal stores around the country, Casablanca Bridal just opened its flagship store at the Crystal Cove Promenade on Coast Highway.
Owners Kevin and Gloria Lu were inspired to create a flagship store that not only provided brides with beautifully designed gowns, but also with an exceptional experience that includes such amenities as quiet dressing rooms with multiple phone charges and a go-pro camera that captures their special moment on film.
This flagship store features styles that really fit with Casablanca Bridal's vision and voice that aren't seen in everyday bridal salons.
"We're going to have styles that haven't been out in the mainstream, designs that Gloria and the design team really feel strongly about," said Store Director Kim Stuart.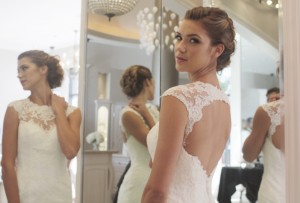 "We'll be able to test things that maybe our retailers aren't willing to take the chance on, so we'll be able to prove those styles within our own confines and then roll those out to the other stores."
The gowns range in price from $780 up to $4,500 for the couture line, with the average falling around $1,300. Kevin and Gloria are able to have such impressive prices because they own the factory and can dictate the price of the gowns.
Each gown created by Casablanca Bridal can have an unlimited amount of custom changes to fit any wedding theme, venue or personal taste. They are all custom fit and available in any size needed.
When creating the various areas of the shop, the design team really thought of every aspect of the customers experience once they step through the doors.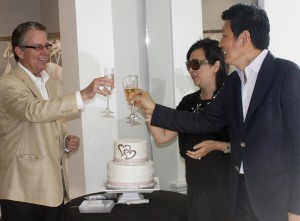 After making their appointment, brides come in and have a consultation with one of the experience staff members about what type of gown their looking for and any requirements that need to be met depending on their venue. The consultant projects suggestions on a touch screen monitor to help narrow down the gown selections the bride will try on.
"We want to have brides feel welcomed and comfortable; to enjoy the experience," says store co-owner Gloria Lu.
The fitting rooms themselves are well insulated so that the bride can try on dresses in a peaceful and quiet environment. Each gown is customizable whether a bride wants to add more support or add more material to make for a more modest church dress but with a modern style. Brides can feel free to let their creativity flow.
One of my favorite features of Casablanca Bridal is the choreographed bridal gown fittings where they project images of the bride's venue on the wall behind her, play specially selected music and use a go-pro camera to help capture the moment when she finds her perfect dress. The salon will then print the photo out or email it to the bride so she can share the special moment with friends and family.
Another element that shows the Lus' unique charm is the launching of their non-profit organization, Celebrate Forever Foundation, which promotes healthy relationships through relationship education and skill building. The organization's goal is to provide couples with all the tools they need to have a successful and long-lasting relationship.
For more information or to book an appointment visit casablancabridal.com or call (949) 715-8228.
To learn more about Celebrate Forever visit celebrateforever.org.