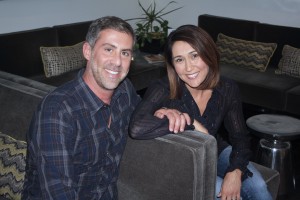 October is Domestic Violence Awareness month, and awareness is at the forefront of Human Options' mission of working with the community to break the cycle of domestic violence.
The domestic violence statistics are staggering.
According to Human Options, one in four women will be physically assaulted by a jealous boyfriend or husband during her lifetime, and one in five teenage girls will experience dating violence.
Children who grow up in homes with domestic violence are more likely to become abusers or be abused, and one third of all 911 calls reporting domestic violence are made by children.
The cost of domestic violence to American businesses is $6 billion a year in sick and medical leave, and lost productivity.
Combating domestic violence is the goal of Human Options, which has provided a safe haven and programs to help abused women, their children and families for more than three decades.
One of Human Options' key fundraising events is an annual luncheon, held this year on October 17 at The Westin South Coast Plaza. Keynote speaker at the luncheon is Drew Pinsky, M.D., better known as Dr. Drew, a radio and television personality and board-certified physician who hosts the nationally syndicated radio talk show, "Loveline."
Chairing the luncheon are Newport Beach residents Dr. Todd and Moujan Walkow. Dr. Walkow is one of Orange County's leading orthodontists; his Walkow Orthodontics has locations in Newport Beach, Irvine and Aliso Viejo.
The couple got involved with Human Options several years ago, and Moujan Walkow served on the luncheon committee last year, so it was a natural progression for them to chair the event.
"The more you know about the organization and the programs and outreach and all the people it touches, the more passionate you become," said Moujan Walkow. "That's what drew us to Human Options. When we introduce people to the organization, they know someone who is going through that and they want to help because it touches them. Even if you don't know someone, it can affect you place of employment. It's everywhere, unfortunately."
"A lot of people I know had heard about Human Options, but did not have a deep understanding of what they did," said Dr. Walkow. "Our keynote speaker is high profile and that got them more interested to learn more. It helps to have a name like that as a guest."
"The luncheon is a thought provoking event done in a short period of time," noted Moujan Walkow. "It's on a Thursday, noon to 1:30 p.m., so working people can make it to the lunch, learn something, be entertained, and come away having learned something." Nearly 600 people are expected to attend the luncheon this year. For more information, call (949) 737-5242 or visit humanoptions.org.