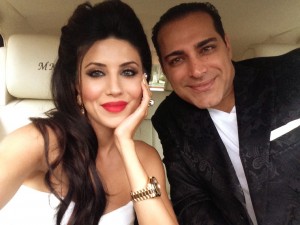 If seven is a lucky number, then the 7th annual Ante Up for Autism charity event on October 12 should be the luckiest one yet.
This noted gala and casino night benefits Talk About Curing Autism (TACA), a national non-profit organization with a mission to educate, empower and provide support to families affected by autism.
The event, held at the St. Regis Monarch Beach Resort, features a full poker tournament plus cocktails, creative culinary concoctions, live and silent auction items, and tips from poker stars including event co-host and professional poker player Michelle Lau.
Supporters and participants this year are Newport Coast resident & real estate entrepreneur Manny Khoshbin and his wife Leyla Milani, a former model/actress best known as "Lucky 13" or "Lucky Leyla" on the hit NBC game show, "Deal or No Deal."
"We attended the first Ante Up event and really liked it, and have been to each one since, " said Khoshbin.
"We had a fundraiser for TACA n our home and became attached to the cause," added Milani. "We love children, and this organization does great work with families."
"And I love poker," added Khoshbin. "When you see celebrities, poker stars–that's what's fun for me. But there's also great music, great food, good energy. It's an all around great evening."
Khoshbin said that Commerce Casino is underwriting the entire poker tournament.
More than  350 people are expected to attend Ante Up for Autism, including co-host Joseph Reitman ("Married with Children," "Charmed," "Hudson Street" and "The Shield"), Rich  Sommer (Mad Man"), Lauren Potter ("GLEE"), Edi Gathegi ("Twilight" and "House"), actress/pro poker player Shannon Elizabeth ("Dancing with the Stars"), and many more.
Last year's event raised more than $264,000, but Khoshbin and Milani are feeling lucky and hope to surpass that figure this year.
For more information, visit anteupforautism.org.