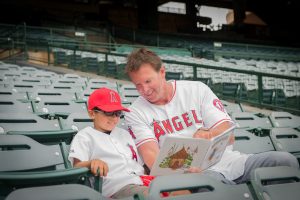 Legendary Angels pitcher Chuck Finley of Newport Beach is the Angels all-time career leader in wins (165), and he's going to try to extend his win streak by waging a bar battle against another Angels: Dennis Kuhl, Chairman of Angels Baseball.
The bar battle, dubbed "Cheers for Literacy," takes place Thursday, Nov. 2 from 6 to 8 p.m. at The Winery Restaurant Newport Beach, and is a fundraiser for Newport Beach-based The Literacy Project, a non-profit organization dedicated to enabling disadvantaged youth to increase their reading skill levels.
Kuhl, who sits on the board of directors for The Literacy Project, will compete against Finley as guest bartenders, with the goal to collect more cash tips than the other during their allotted bartending hour. All proceeds from the event will be used to expand The Literacy Project's mission to bridge the literacy gap and provide at-risk students with the tools necessary to learn how to read.
"The Literacy Project provides a much-needed program that significantly betters a child's chance of success, and I am proud to support such an impactful organization," said Kuhl. "I'm looking forward to having some fun behind the bar with Chuck, engaging in a friendly competition, and raising funds needed to offer the program to even more struggling students."
"We are thrilled to have Dennis and Chuck play the role of bartender at our Cheers for Literacy event. We're looking forward to a fun evening and seeing these guys work their magic behind the bar," said Sue Grant, Founder and Executive Volunteer for The Literacy Project.
Kuhl's team will be behind the upstairs Winery bar from 6 to 7 p.m., while Finley's team takes over from 7 to 8 p.m.
To learn more about The Literacy Project, visit literacyprojectfoundation.org.