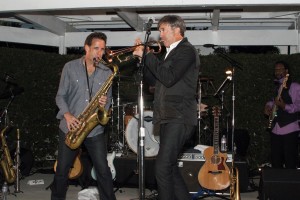 Hopes were high on Sunday, July 20, when noted musicians Eric Marienthal, Al Stewart, Peter White, and Rick Braun performed at the 16th Annual Eric Marienthal & Friends Benefit Concert at the Hyatt Regency Newport Beach.
The event raised close to $100,000 for High Hopes Head Injury Program, a nonprofit organization dedicated to helping brain-injured adults regain their independence through low-cost rehabilitation and care.
Nearly 1,000 people came out for the concert, which was emceed by Talaya Trigueros from 94.7 The WAVE and Mark Desmond, the Director of High Hopes.
There were a number of great live and silent auction items, including a trip to New York and Broadway, and a Sonoma Valley Winemaker experience.
Plans are already under way for next year's 17th Annual Eric Marienthal & Friends Benefit Concert, scheduled for July 12, 2015. Sponsorship opportunities are available by calling High Hopes at (949) 733-0044.
For more information on High Hopes, visit HighHopes.ws.