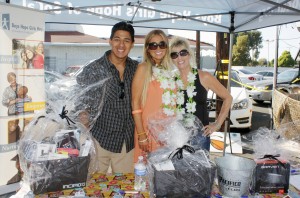 Wild Goose Tavern in Costa Mesa has raised thousands of dollars for charity since the popular restaurant opened its doors in 2012, and they've done it again with their 2nd Annual Luau & Pig Roast held June 22.
Proceeds from this year's event totaled more than $11,000, and benefitted Irvine-based Boys Hope Girls Hope of Southern California.
In addition to 100 percent of the proceeds raised from the event's silent auction and raffle, Wild Goose donated 20 percent of the day's sales.
The event was attended by hundreds of people, and featured a large outdoor beer garden and pig roast by newly appointed chef Chris Rubinstein.
"We're pleased to know that the money raised is going to a very good cause with Boys Hope Girls Hope," said Wild Goose co-owner Mario Marovic. "We had a great event this year, the turnout was bigger than we expected. We love teaming up with local charities, and Boys Hope Girls Hops is a great organization."
Boys Hope Girls Hope helps academically-motivated teens meet their full potential by providing them with safe homes and environments, educational opportunities, and academic, financial, and spiritual support through college.
"Boys Hope Girls Hope takes care of six boys and six girls at a time," explained board member Cameran Lindee, who attended the event at Wild Goose. "They live in our facility full time. Our value proposition is to take kids from challenged backgrounds and give them a platform to get through high school to college. They get food, shelter, moral support. And 100 percent of the kids who have gone through the program have gone to college. We are very focused, very hands on. We spend a lot of time on a few kids. Our kids have high aptitude, they want to do something with their lives. Our goal is for these kids to be normal. These were kids who were eating food out of trash cans, kids who otherwise might never have seen a classroom."
For more information, visit boyshopegirlshope.org/SoCal.