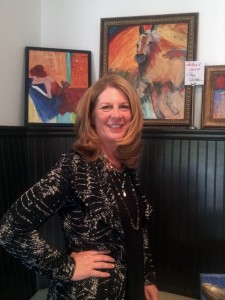 Haute Cakes on 17th Street is one of my favorite local restaurants, so when my talented budding artist friend, Pam Selber, invited me to attend an artists' reception there, I was all for it. Little did I know the treat I was in for—and it wasn't just the great food and wine they were serving.
Pam's been taking art classes at the Godbey School of Art here in Newport Beach and I was impressed by both the art on display by the group of students and the large turnout for the show. My parents owned art galleries for most of my life, so I've definitely seen my share of artwork. This group displayed considerable talent, and no style was the same.
Godbey School of Art is run by artist Stephanie Godbey, in a light-filled, colorful studio that reflects her bubbly, enthusiastic personality.
"My goal is to provide all my students, whether they are 6 or 60, with an enriching and esteem-building experience while learning to paint."
Pam, who has been taking Stephanie's classes for over 4 years, told me, "Stephanie's teaching allows each student to work in their own style. She doesn't try to change the way we paint, she focuses on guiding us, helping each student express their individual creativity. Even if you are a total novice like I was when I started, if you've dreamed of painting, she can help you. She is a great teacher and brings out the best in us."
From the minute I arrived at Haute Cakes, I noticed that the energy of the reception's crowd was upbeat and it was fun to see the artworks selling at a good clip. Nothing better to boost your creative confidence than when someone actually wants to buy your work!
When describing her own style, Stephanie identifies herself as a contemporary impressionist. She has illustrated several children's books throughout her career and is a diverse artist that works primarily with acrylics and oils. Her work that has been exhibited throughout Southern California for the last 20 years.
In 2006, Stephanie followed her passion and started The Godbey School of Art, teaching both adults and children a variety of painting techniques with acrylics on canvas, while incorporating art theories. As a result, she says, "the students garner a complete enrichment experience."
At the end of each year, Stephanie has an annual art show for her students' work with a percentage of the sales going to a charity the students chose together.
Her 9th Annual Children's Art Show will be held on June 1. All of her young artists will be selling the art they've been working on all year. Each painting is $35, and similar to the adult students, 10 percent of the sales will go to a charity that the kids vote to support.
Stephanie offers groups, private and semi private lessons and classes for all ages. Her summer schedule starts June 24. For more information, visit stephaniegodfrey.com or call (949) 351-3048.
Columnist and future art student, Lynn Selich, resides in Newport Beach. Tune in to KOCI 101.5FM every Sunday at 11AM for Sunday Brunch with Tom and Lynn. Reach her at [email protected].