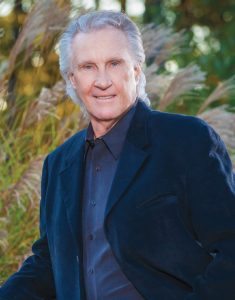 Rock n' Roll Hall of Famer Bill Medley will return to Newport Beach, his home of nearly 40 years, on Monday, Sept. 18, to host A Simple Evening with Bill Medley, a benefit for Lupus International.
The annual event, held at the Lido Theater, honors Medley's late musical partner Bobby Hatfield and his wife Linda, who lost her battle with lupus in 2010. Sept. 18 would have been Linda Hatfield's birthday.
Now in its eighth year, the fundraiser will feature a cocktail reception, a raffle, and a live auction by Kent French of the Anaheim Ducks.
The highlight of the evening will be a concert by Medley, accompanied by his daughter McKenna Medley. Medley will perform the Righteous Brothers classic hits "(You're My) Soul and Inspiration," "You've Lost That Lovin' Feeling," "Unchained Melody," and many others.
Sponsored by Via Lido Plaza and Fritz Duda Company, the evening will begin with cocktails and gourmet bites from The Cannery, Bluewater Grill, Newport Rib Company, Campus Jax and Sabatino's.
Tickets for the evening start at $100 per person or $150 per couple for general admission seating for the concert.
Companies and individuals can also become Gold Sponsors for $1,500, which includes 10 tickets with VIP concert seating. Platinum Sponsorship is $2,500 and provides 12 tickets with VIP concert seating, and Double Platinum Sponsorship is $5,000 with 12 front row seats for the concert.
All sponsors receive recognition on the Lido Theater movie screen and in the program.
Proceeds from the evening will benefit Lupus International, which provides funding for support and research for this chronic autoimmune disease, as well as pediatric rheumatology fellowships at major teaching hospitals and leading research centers throughout the country.
Medley, who has supported Lupus International for 29 years since the Hatfield family began fundraising for the organization, hosts this annual concert to carry on the Hatfield family's legacy.
In addition to hosting A Simple Evening with Bill Medley and other charity fundraisers, Orange County's iconic Lido Theater has been the setting of many special events over the years, including corporate presentations, private parties, and the Closing Night Gala for the Newport Beach Film Festival.
The Lido Theater is located at 3459 Via Lido.
For tickets or more information, visit lupusinternational.com.
To purchase tickets or for more information about A Special Evening with Bill Medley, please visit www.lupusinternational.com.